With drivers fuming over low pay, Mayor Garcetti takes heat for celebrating with Lyft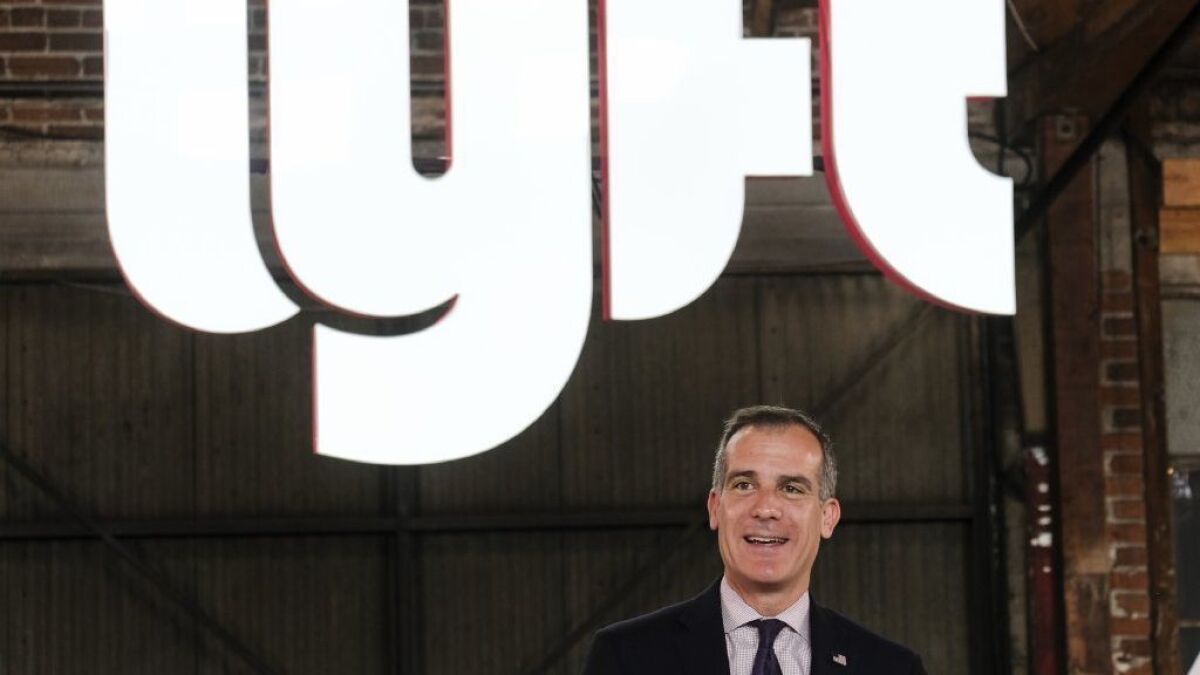 If Los Angeles Mayor Eric Garcetti had hoped to share in the excitement over San Francisco-based Lyft becoming one of the first gig economy companies to begin trading on public stock markets, he may be disappointed.
Garcetti is facing criticism for appearing with Lyft executives at an event to celebrate the company's initial public offering. Garcetti's official mayoral account tweeted photos of him standing at a podium adorned with a Lyft logo and a flurry of pink-colored confetti.
The event, held Friday morning, came days after Uber and Lyft drivers went on strike in L.A. to protest low wages at ride-hailing companies.
"L.A. is leading America's transportation revolution, and @Lyft is a part of that promising future," the mayor tweeted Friday. "Their spirit of corporate responsibility will guide the future of public-private partnerships that benefit residents first."
Last Monday, drivers for ride-hailing companies staged a 25-hour strike in Los Angeles to protest Uber's decision to slash their per-mile pay from 80 cents to 60 cents in Los Angeles County and parts of Orange County. Lyft also has been criticized over its wages.
Groups representing Uber and Lyft drivers are pushing the California Legislature, as well as Gov. Gavin Newsom, to grant them tougher job protections.
Currently, Uber and Lyft drivers operate as "independent contractors." Assemblywoman Lorena Gonzalez (D-San Diego) has introduced a bill that would clarify the difference between "independent contractors" and "employees" under state law, potentially forcing the ride-hailing companies to pay their drivers overtime, family leave and other benefits granted to "employees," increasing labor costs.
Gonzalez linked to Garcetti's tweet and wrote: "Last I checked 'corporate responsibility' includes treating their workforce with dignity & respect. There were LA Lyft drivers on strike this week. We will fail as Democrats when we choose corporate decadence & greed over workers."
Gonzalez, through her spokeswoman Sami Gallegos, declined an interview request. Gallegos said the tweet speaks for itself.
Rideshare Drivers United spokeswoman Nicole Moore said she was "extremely surprised" by Garcetti's appearance at Friday's event. The group represents more than 3,000 drivers in the Los Angeles metro area, she said, and helped organize the recent strike.
"Our mayor stood with a company that is profiteering from the labor of many good people in Los Angeles," Moore said. "This is a challenge to him to reach out to us."
Garcetti spokeswoman Anna Bahr said in a statement that the mayor went to the Lyft event to celebrate the City Works program, a new initiative that Lyft launched on Friday.
The program, Bahr said, will "help fund bridge housing and services for our homeless neighbors, and solve the first mile/last mile challenge that affects L.A. commuters in low-income communities."
Lyft has committed $5 million toward the city's transportation initiatives, including funding rides for staff working with the city's new "A Bridge Home" shelter program and for rides on electric scooters in low-income areas.
Nationwide, the company said it will commit $50 million — or 1% of profits — to cities where it operates. Lyft, like Uber, is currently not profitable, however.
The mayor regularly courts technology companies in a bid to expand the city's business base. Garcetti used his 2015 State of the City address to announce a proposal to allow Uber and Lyft to pick up customers at Los Angeles International Airport — news that at the time thrilled fans of the ride-hailing services.
Garcetti also led a push to increase L.A.'s minimum wage and supported L.A. County's efforts to do the same.
A Lyft spokeswoman declined to comment on Assemblywoman Gonzalez's tweet. In regards to the $5 million for Los Angeles, she said that "Lyft's policy team worked directly with the mayor's office to determine the areas our investment can make the greatest impact."
Staff writer Johana Bhuiyan contributed to this report.
Twitter: @dakotacdsmith
---
Life is stressful. Our weekly mental wellness newsletter can help.
You may occasionally receive promotional content from the Los Angeles Times.