California bill curbing use of contractors would not exempt Uber, Lyft, other tech firms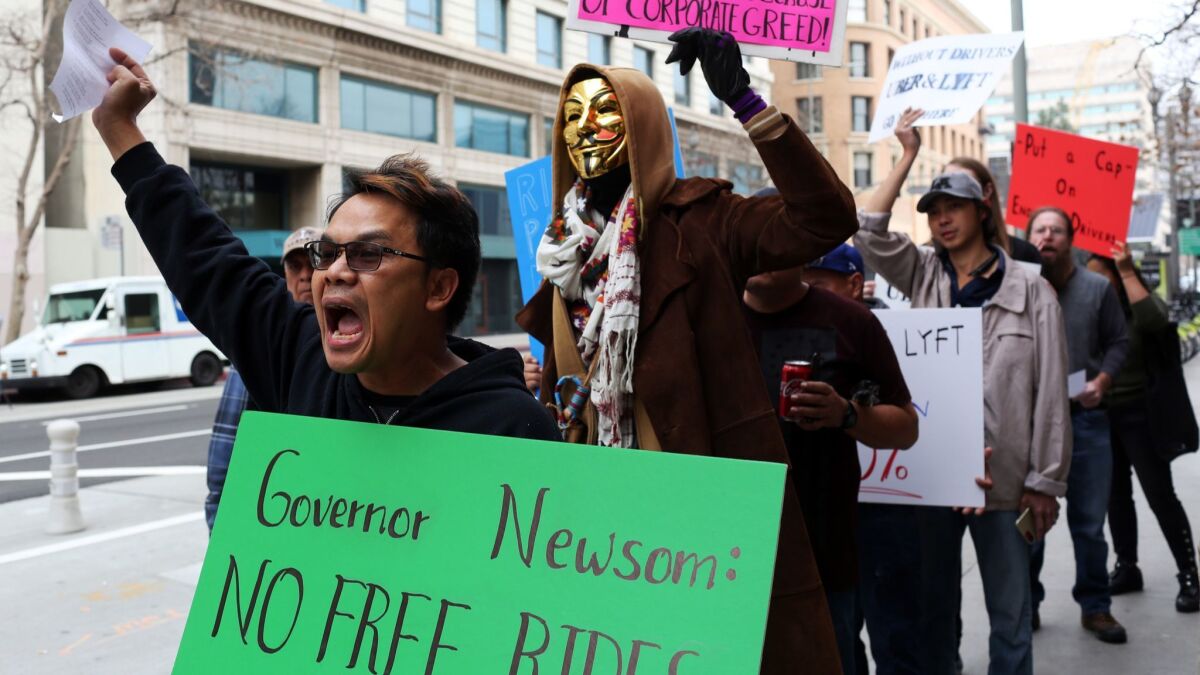 California is moving to codify a sweeping court decision curbing employers' use of independent contractors, and the new law is unlikely to exempt Uber, Lyft and other app-based technology companies.
The two ride-hailing giants are on the verge of going public with initial stock offerings valued at tens of billions of dollars. Both companies are losing money, and converting their California drivers, currently classified as contractors, to employees would cut into their potential profits.
"Am I concerned about the stock price of Uber and Lyft?" said Assemblywoman Lorena Gonzalez (D-San Diego), author of Assembly Bill 5, who planned to release the legislation's new language Wednesday.
"No. It doesn't keep me up at night."
The bill offers exceptions for a small group of occupations and may include more as it moves through the Legislature. But employers offering services through digital platforms won't be among them, Gonzalez added. "It's not going to happen."
Classifying workers as employees requires companies to pay for overtime, Social Security and Medicare taxes, workers' compensation, unemployment and disability insurance, and benefits such as family leave and sick pay. That can add about 30% to labor costs.
Are you an employee or a contractor? Carpenters, strippers and dog walkers now face that question »
The California Supreme Court last April set a strict new test for classifying workers as contractors. The ruling was in favor of drivers for Dynamex Operations West, a package delivery company, who disputed the company's move to reclassify them as contractors and force them to use their own vehicles — a similar model to that of app-based ride-hailing companies.
Uber, Lyft, Amazon, Grubhub, Postmates and other gig economy behemoths are facing lawsuits across the country brought by thousands of workers who say they are misclassified as contractors. They are not alone: A broad swath of sectors including trucking, construction, janitorial services, home care, newspapers and even strip clubs have grappled with similar complaints.
"Lyft drivers are independent contractors who decide when, where, and for how long they wish to drive," Loni Mahanta, Lyft's vice president of future of work, wrote in an email. "We are engaging with policy makers, labor, drivers, worker advocates, and others to actively explore options to allow drivers to maintain this flexibility while also addressing the lack of benefits for independent contractors."
Uber did not immediately respond to a request for comment on the bill.
The Gonzalez legislation may be amended over the next few months, but as currently written, it grants just four exemptions to the court's test for designating workers as contractors. Those are for doctors, insurance agents, financial advisors and "direct sellers" who offer products to consumers under the aegis of such companies as Mary Kay, the cosmetics firm, or Herbalife, the supplements giant.
Those occupations are already regulated by other statutes but adding them to the bill makes their exemption more explicit.
The bill's new language is basically "a declaration of existing law," Gonzalez said. But she added, "We know we have more work to do. We will have another round of amendments for additional folks such as Realtors and hairdressers."
"We don't want to stop true independent contractors from having their own little businesses. But we don't want to continue this farce of large businesses declaring their people are independent contractors. These workers miss out on all benefits of being an employee."
The California Chamber of Commerce, which last year urged the Legislature to "suspend or postpone the application of the Dynamex decision," praised the exceptions in the current bill. But the group said in an email that exemptions should also be extended to "all individuals who enjoy, prefer, and benefit from the flexibility and security of performing work as independent contractors."
Gonzalez said she had met with dozens of companies, some of which sought exceptions, as well as individual workers who want to make sure they are not exempted.
Echoing an argument made by a unanimous Supreme Court, she said, "California continues to lose millions — possibly billions — of dollars. Studies show many independent contractors don't actually pay their taxes."
Moreover, she added, the cost of treating low-income injured or sick contractors often falls on the state, while workers who are paid below minimum wage and denied overtime often end up on food stamps.
Independent contractors are not covered by the National Labor Relations Act, which protects workers who organize unions — a fact that partly accounts for the strong support for the Dynamex decision in labor circles. The California Labor Federation is sponsoring Gonzalez's legislation and has jointly drafted its language. It is reluctant to carve out significant exemptions to the bill.
"We have a once-in-a-lifetime opportunity to bring millions of workers out of exploitative working conditions and rebuild the middle class," said labor federation legislative director Caitlin Vega.
"AB 5 will protect that landmark decision," she added. "Workers will gain higher wages, greater workplace protection and a safety net in hard times."
As for the app-based technology companies, she said, "we have had nonstop meetings with every industry and company which has asked. The bar to get exempted is properly high. How are they treating their workers? It is a myth that independent contractors necessarily have more flexibility than employees. Our employment laws allow flexibility."
Last year, Assemblyman Evan Low (D-San Jose) introduced Assembly Bill 2765 to establish a new category of worker called "marketplace contractor," which would have allowed app-based companies to avoid classifying workers as employees. Similar legislation in other states has been sponsored by Handy, a digital platform for household services, and other gig companies and has been adopted in Kentucky, Florida, Utah, Iowa, Tennessee and Indiana.
In California, after stringent opposition from a swath of unions, the bill died.
"The California Legislature has a Democratic supermajority," Vega said. "They believe in worker protections."
Twitter: @margotroosevelt
---
Sign up for the California Politics newsletter to get exclusive analysis from our reporters.
You may occasionally receive promotional content from the Los Angeles Times.