Looming teachers' strike complicates a Garcetti presidential bid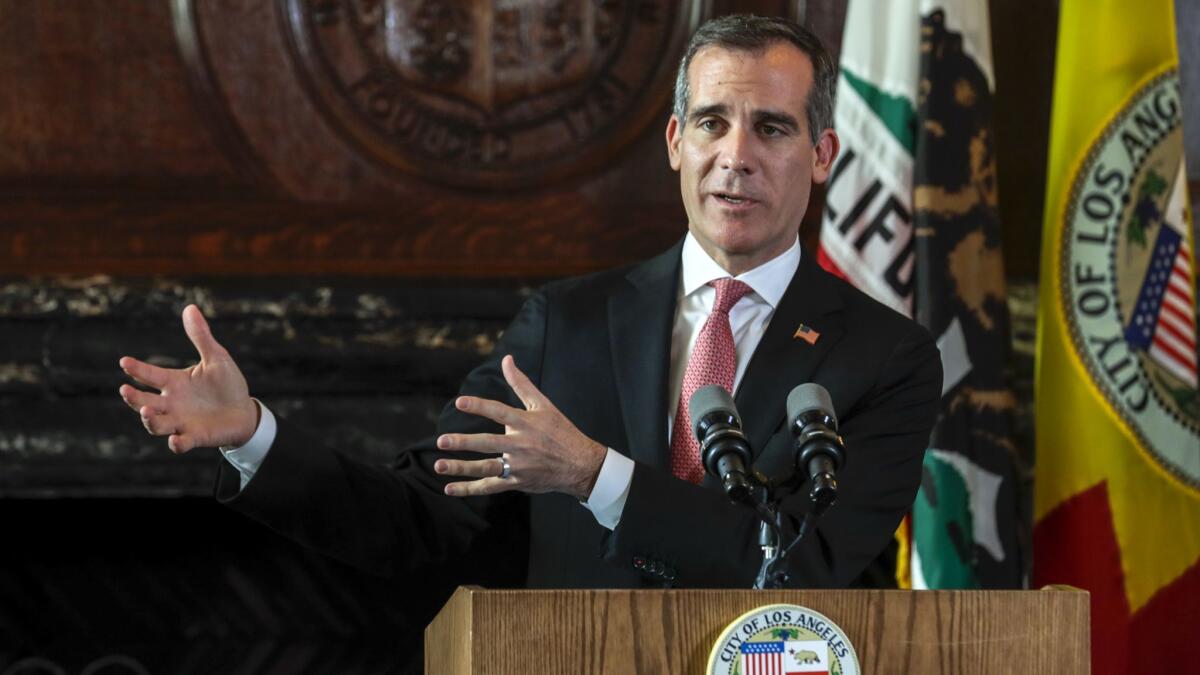 Los Angeles mayors do not control the L.A. Unified School District, but that hasn't stopped some of them from trying to use their highly visible office to assert authority over the sprawling system.
In the 1990s, Mayor Richard Riordan tried to elect school board members who would run the district more like a business, with mixed results. Then, Mayor Antonio Villaraigosa launched an audacious if unsuccessful takeover bid.
Since taking office in 2013, however, Mayor Eric Garcetti has maintained a hands-off approach to the nation's second-largest school district. Next week, that may no longer be possible, as a looming teachers' strike threatens to disrupt the families of half a million students.
The planned strike comes just as Garcetti is expected to say whether he will run for president in 2020.
Members of United Teachers Los Angeles, the union representing 31,000 teachers, counselors, librarians and nurses, plan to strike Thursday if no contract deal is reached.
Launching a presidential bid while thousands of chanting, sign-toting teachers take to the streets would seem to be a non-starter. A strike could force Garcetti to push back any presidential announcement, as better-known rivals enter the race, soak up media attention and begin fundraising.
On Friday, Garcetti said his mayoral duties were paramount.
"I'm focused on it because it's too important," he said of a potential strike. As for when he might announce a decision on running for president, he said, "One thing doesn't affect the other."
The labor strife could give Garcetti the chance to play hero, if he is able — through the bully pulpit or mediation — to bring the two sides together and avert a strike, or keep it brief. Last-ditch talks between the two parties are tentatively scheduled for Monday.
Garcetti isn't directly involved in contract negotiations but has been talking to all parties involved, as well as community leaders, he said in an interview Friday. He hasn't been asked to come to the table, he added.
"What surprises me here is how few back channels there are between the union and the district, and how long this has gone on and how few trusted messengers there are in between," he said. "I want to help build a bridge."
Garcetti said that if he has seemed distant from the situation, it is only because he concluded that an aggressively open and public intervention would do more harm than good.
Forceful action would run counter to Garcetti's long-standing political reputation for avoiding confrontation.
Observers of the mayor, including some supporters, are not convinced he is pulling out all the stops.
"What's disappointed me is that I think he has a lot more to offer than what the public is seeing," said Pedro Noguera, a professor of education at UCLA who counts himself as a Garcetti admirer.
Garcetti has an obligation as the city's leader "to use his bully pulpit to call on both sides to come together and work something out," Noguera said.
L.A. Unified is a major employer in Los Angeles, Noguera added, and "just from that point of view, the mayor should be involved" and bring to bear the same forcefulness he used to secure the 2028 Olympics.
On Thursday, Garcetti offered space at City Hall for district leaders and representatives of United Teachers Los Angeles to negotiate. He made a similar offer in August. The mayor also said the city would do what it could to support families in the event of a strike by adding staffing to parks and libraries.
But a lot of focus has been on Garcetti himself and what he could do personally, especially given his positive relationship with the teachers union. The union endorsed Garcetti in 2013, even as the city's major labor groups lined up behind Wendy Greuel, his runoff opponent.
Supporters within the teachers union say they like Garcetti in part because he hasn't overstepped his authority by trying to control L.A. Unified.
"He's supportive but hasn't really done anything positive or negative," said Scott Mandel, a teacher at Pacoima Middle School Film/Media Performing Arts Magnet and a member of the union's board of directors. "After some of the mayors we've had, that's not bad."
United Teachers Los Angeles and the California Teachers Assn. could be powerful allies for Garcetti in future political campaigns. Statewide, teachers unions spent heavily in last year's governor's race to defeat Villaraigosa, a onetime labor organizer who angered unions by siding with charter school supporters. Teachers unions also play a major role in the Democratic Party nationally.
Meanwhile, potential presidential rivals are jumping in.
Sen. Elizabeth Warren of Massachusetts this week announced plans to head to Iowa following her formation of a presidential exploratory committee. But if Garcetti were to announce his candidacy and head to the Midwest during a strike, "he's asking for the L.A. media market to go nuts on him and have every paper editorialize about where he is," said Los Angeles-based political consultant Michael Trujillo.
The mayor could also face questions about whether he and his advisors have been as involved as they could have been. United Teachers Los Angeles has been threatening to strike for months. On Thursday, Garcetti called the strike "all but inevitable."
Union leader Alex Caputo-Pearl, however, suggested there was some cause for optimism.
"We certainly don't think a strike is inevitable," he said Friday. "We're going into Monday hopefully."
L.A. schools Supt. Austin Beutner said he felt the mayor could play a helpful role.
"We welcome his involvement as well as the involvement of other civic and community leaders," Beutner said. "There's lots of work to do, and the kids are counting on us to solve this."
Twitter: @dakotacdsmith
Twitter: @howardblume
Sign up for Essential California for news, features and recommendations from the L.A. Times and beyond in your inbox six days a week.
You may occasionally receive promotional content from the Los Angeles Times.