Police find almost 400 marijuana plants in a Garden Grove fire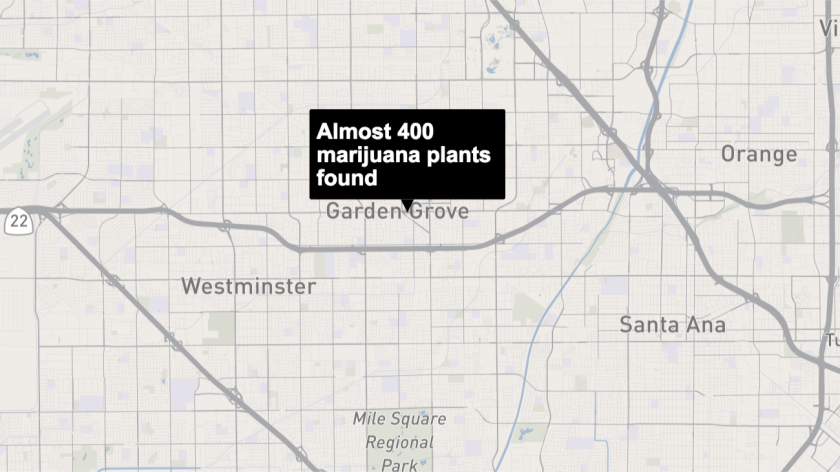 Police found almost 400 marijuana plants in an electrical fire at a Garden Grove commercial building Sunday night, authorities said. No one was injured.
Firefighters saw the plants when they put out the blaze at 13062 Century Blvd. around 11 p.m., said police Lt. Carl Whitney. Police then obtained a search warrant and found close to 400 mature marijuana plants that were being grown illegally.
"They're not the little small plants you would see, they had buds on them and they could be harvested to sell marijuana," Whitney said.
The fire was mostly limited to one wall, and occurred because the building's tenants had jury-rigged the electrical circuit in the building to increase power to air conditioning and lights, said Garden Grove Fire Capt. Brad Spell.
"They had overloaded the electrical circuit by a lot and that's what caused the fire," Spell said. "I'm surprised it lasted this long. … They took a very outdated electrical service and modified it significantly."
The tenants have been leasing the space since 2013, Spell said.
Garden Grove police are trying to find out who was growing the plants, Whitney said.
There is about $100,000 worth of damage to the building, Spell said — it took time to get in because "the building was heavily fortified with security bars that the firefighters had to get through."
It's common for growers to modify electrical panels to fuel the high intensity UV lights needed to grow the plants, Whitney said. The modifications cause fire hazards like this one.
"These marijuana grows are all over the county," he said.
If people believe there's an illegal marijuana grow they should contact local police, Whitney said.
Reach Sonali Kohli at Sonali.Kohli@latimes.com or on Twitter @Sonali_Kohli.
---
The stories shaping California
Get up to speed with our Essential California newsletter, sent six days a week.
You may occasionally receive promotional content from the Los Angeles Times.