Dodgers fan stabbing: Bryan Stow's family calls death 'senseless'
Bryan Stow, a
Santa Clara
-area paramedic, is taken from County-USC Medical Center to be flown to San Francisco General Hospital. Doctors have been trying to determine
the amount of brain damage
Stow suffered in the beating.
(Al Seib / Los Angeles Times)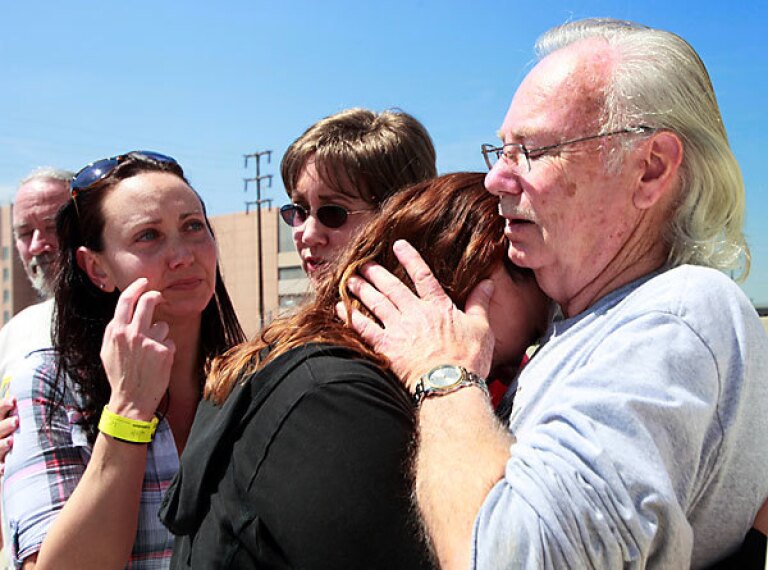 Family members of Giants fan Bryan Stow, who was attacked at Dodger Stadium on opening day, attend a news conference outside County-USC Medical Center. From left: Stow's uncle John Devitt; mother, Ann Stow; sisters, Bonnie and Erin Stow; and father, Dave Stow.
(Nick Ut / AP Photo)
News vans camp out on the quiet Rialto cul-de-sac where two suspects in the beating of San Francisco Giants fan Bryan Stow were arrested Thursday morning.
Story
(Irfan Khan / Los Angeles Times)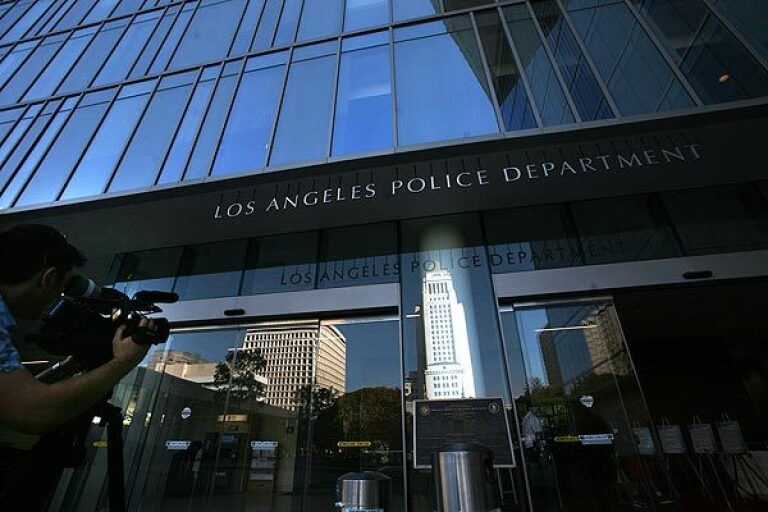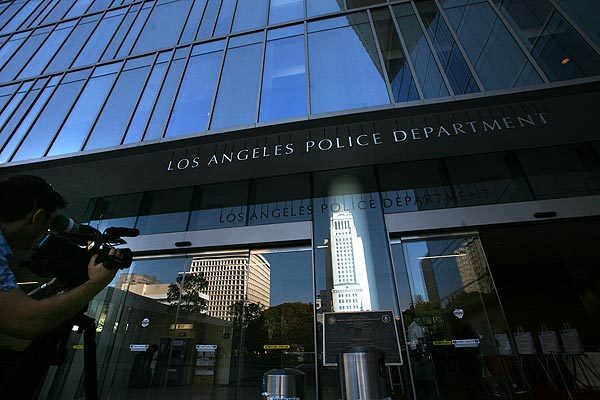 LAPD Chief Charlie Beck held a news conference Friday afternoon to announce that the two men, Louie Sanchez, 29, and Marvin Norwood, 30, have been charged with assault and mayhem in connection with the attack in a Dodger Stadium parking lot.
Story
(Bob Chamberlin / Los Angeles Times)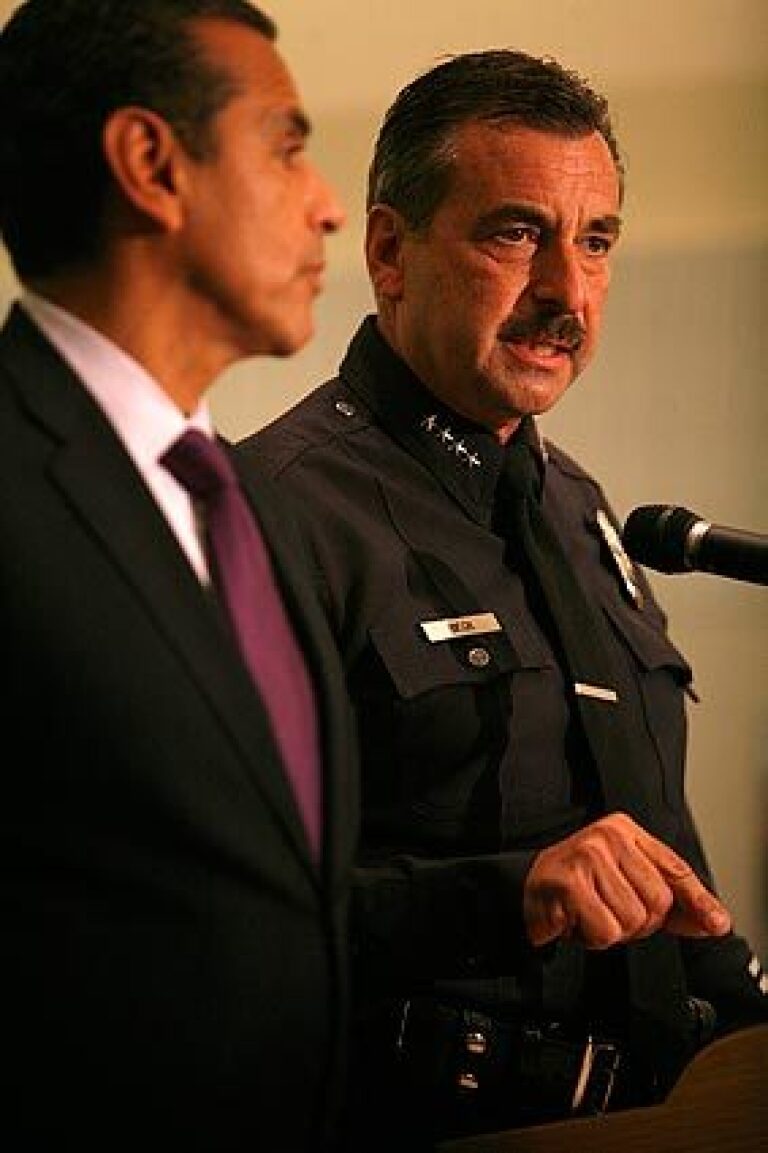 Beck said the department no longer believes Giovanni Ramirez had anything to do with the Dodger Stadium beating. "In policing, it is just as important to exonerate the innocent as it is to implicate the guilty," he said.
Story
(Bob Chamberlin / Los Angeles Times)
Laurie Condren, of
San Jose
, collects donations for Bryan Stow and his family before the Giants-Dodgers game at AT&T Park in San Francisco.
(Jed Jacobsohn / Getty Images)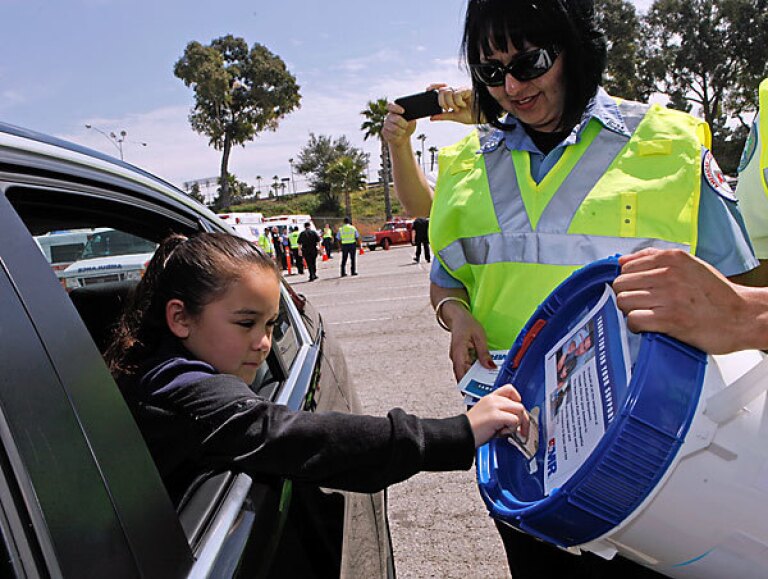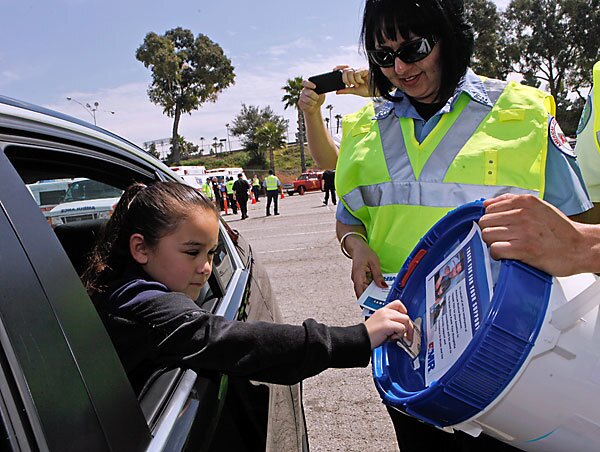 Mia Ochoa, 6, drops off cash as a donation for Stow at Dodger Stadium. The Dodgers
collected donations
for the beating victim and also made an undisclosed contribution to the family.
(Damian Dovarganes / Associated Press)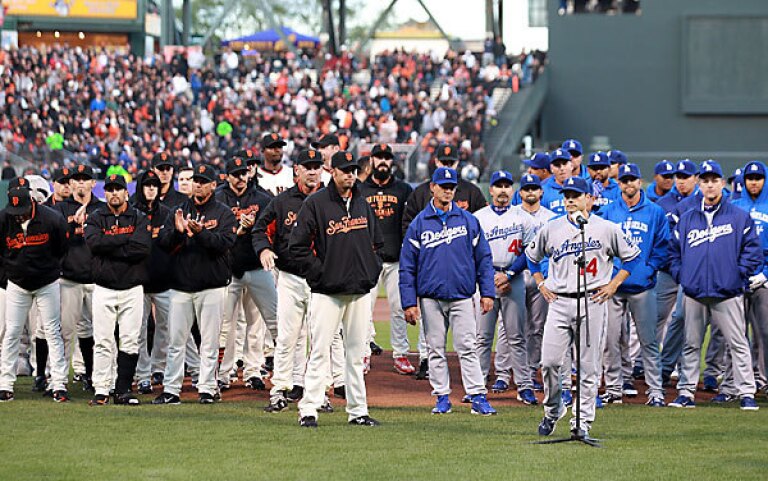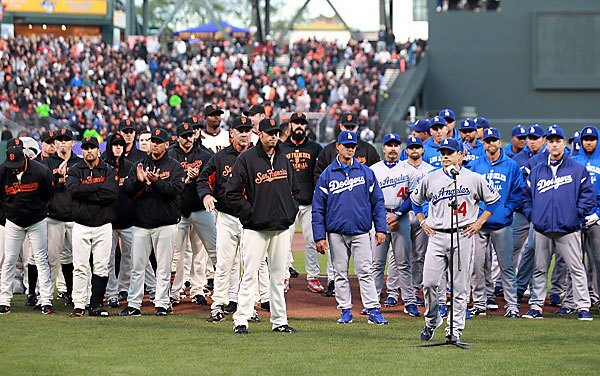 Jamey Carroll
speaks about Bryan Stow before the Dodgers play the Giants in San Francisco.
(Jed Jacobsohn / Getty Images)
The Giants' Jeremy Affeldt shakes hands with Jamey Carroll of the Dodgers after Carroll addressed Giants fans at AT&T Park.
(Jed Jacobsohn/Getty Images)
The Los Angeles Police Department, including the LAPD mounted unit, increased its presence at Dodgers games following the brutal beating.
(Kevork Djansezian / Getty Images)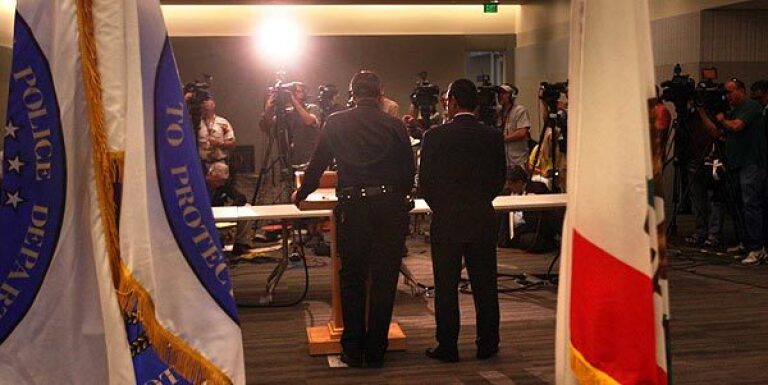 Accompanied by Los Angeles Mayor
Antonio Villaraigosa
,
LAPD
Chief Charlie Beck announces the charges filed against Sanchez and Norwood.
Story
(Bob Chamberlin / Los Angeles Times)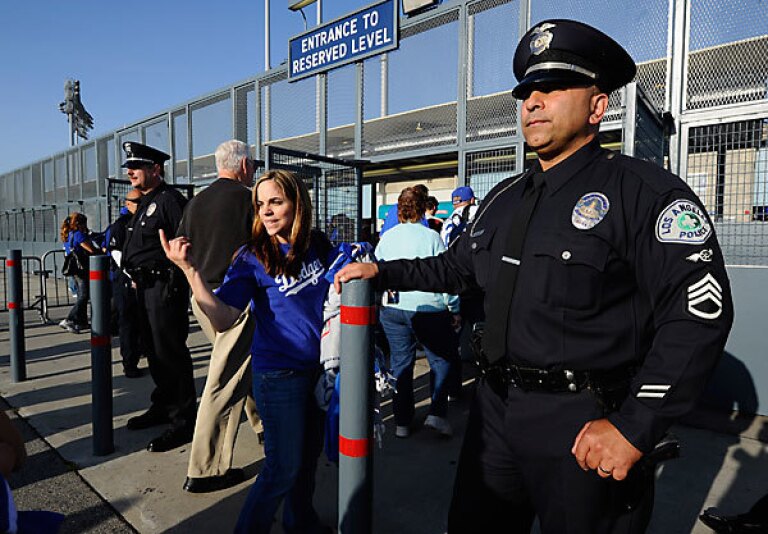 LAPD officers stand watch at an entrance to Dodger Stadium.
(Kevork Djansezian / Getty Images)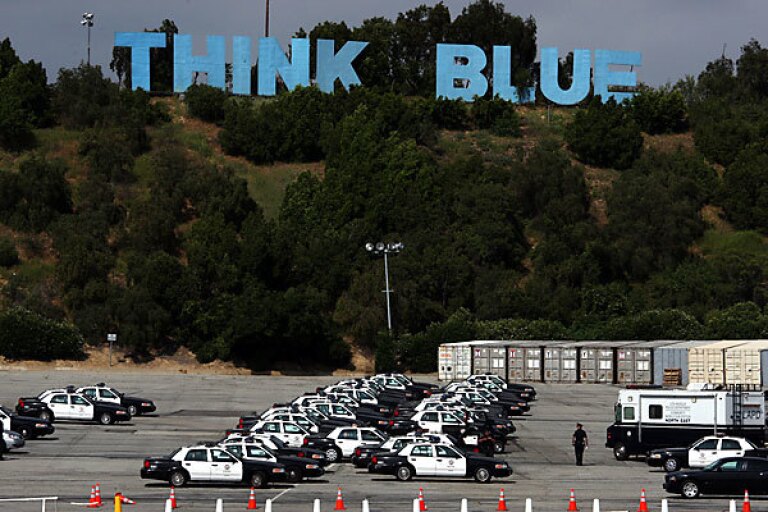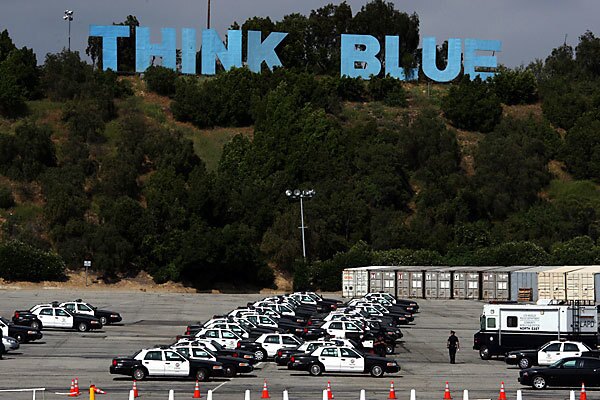 L.A. police officers have their base beneath an appropriate sign in the Dodger Stadium parking lot.
(Genaro Molina / Los Angeles Times)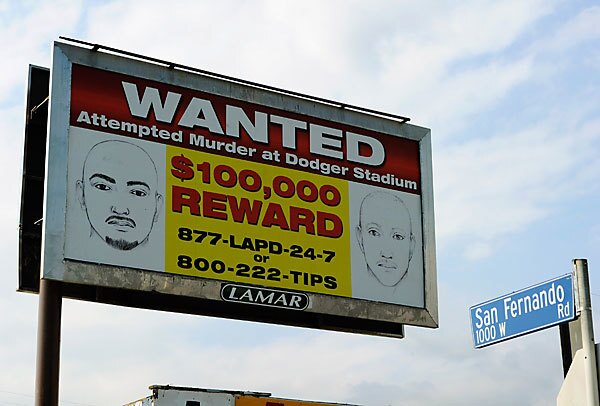 Billboards around Los Angeles carried the likenesses of the suspects in the March 31 beating as police sought leads.
(Kevork Djansezian / Getty Images)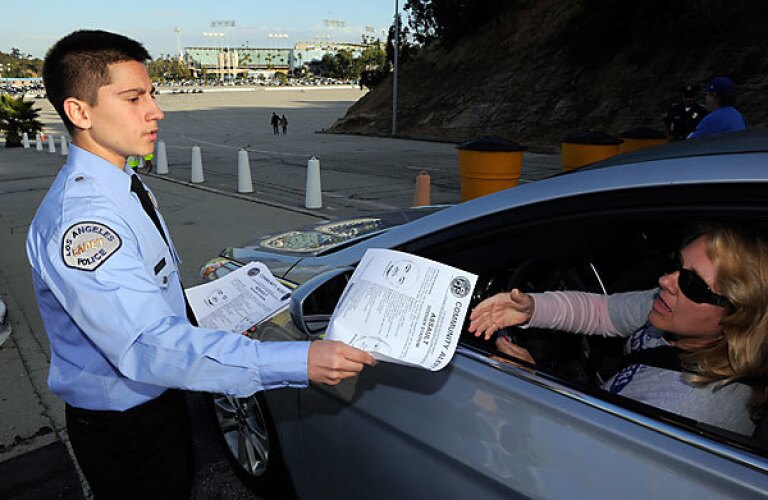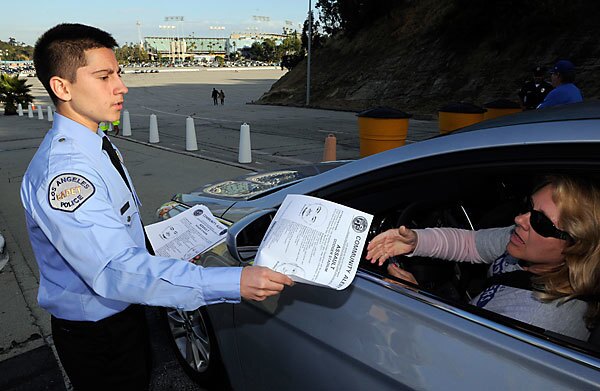 Los Angeles Police Department
cadet Christian Ibarra hands out fliers before a Dodgers-Giants game in Los Angeles. Police received hundreds of tips from anonymous callers and chased leads that resulted in dead ends. Several potential suspects have been questioned and released. Sunday morning, police took into custody a man they believe is one of two suspects being sought, sources say.
(Mark J. Terrill / AP Photo)
The family of Bryan Stow, the San Francisco Giants fan brutally beaten at Dodger Stadium in 2011, spoke out Thursday against the fatal stabbing of a Dodgers fan in San Francisco, calling the death "senseless."
"We are saddened by this senseless killing and our thoughts and prayers go out to the victim's family," Bonnie Stow, Bryan Stow's sister, told the Los Angeles Times.
San Francisco police said Jonathan Denver, 24, of Fort Bragg, Calif., was wearing Dodgers gear when he and another person were attacked about 11:40 p.m. Wednesday. The incident occurred four blocks from AT&T park, where 90 minutes earlier the Giants had beaten the Dodgers 6-4.
Denver died of his injuries; the other man was bruised after being beaten, police said. Two suspects have been arrested in the attack.
The incident recalled the beating of Stow, now 44, who was attacked after the Giants played the Dodgers in Los Angeles on opening day two years ago. Stow, a former paramedic and father of two, suffered severe brain trauma and now requires 24-hour care.
Two men arrested in Stow's assault are awaiting trial.
The beating sparked outrage and prompted security changes at Dodger Stadium and other ballparks, and several fundraisers were held for Stow's family.
The San Francisco Giants are currently hosting a fundraiser for Stow, according to the team's website, with special tickets offered for Thursday and Sunday's games at AT&T park.
ALSO:
Man stabbed to death after Dodgers-Giants game is ID'd
Suspected arsonist arrested after string of fires in Sherman Oaks
Consequences for lost, stolen LAUSD iPads not yet 'hammered out'
---
The stories shaping California
Get up to speed with our Essential California newsletter, sent six days a week.
You may occasionally receive promotional content from the Los Angeles Times.