Man accused of holding woman hostage for 10 years ordered to stand trial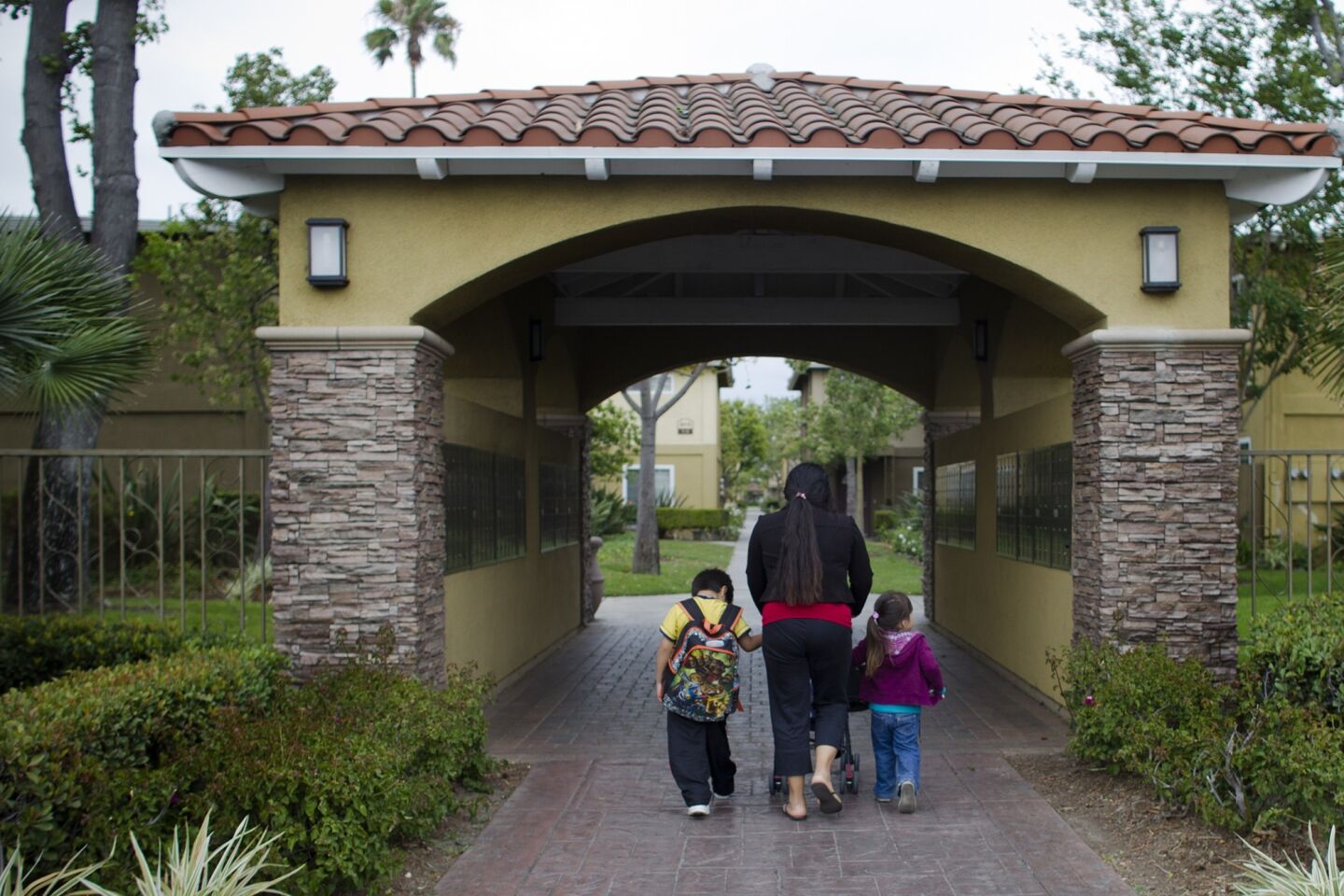 A woman and two small children are seen at Villa del Sol apartments in Santa Ana, the same complex where a woman claims she was kidnapped 10 years ago.
(Gina Ferazzi / Los Angeles Times)
The Bell Gardens apartment, at top left, where Isidro Garcia and his alleged victim lived.
(Lawrence K. Ho / Los Angeles Times)
Neighbor Maria Sanchez holds a photo of her neighbor Isidro Garcia that she said was taken at his daughter's third birthday celebration at a Bell Gardens church on Jan. 29, 2012.
(Damian Dovarganes / Associated Press)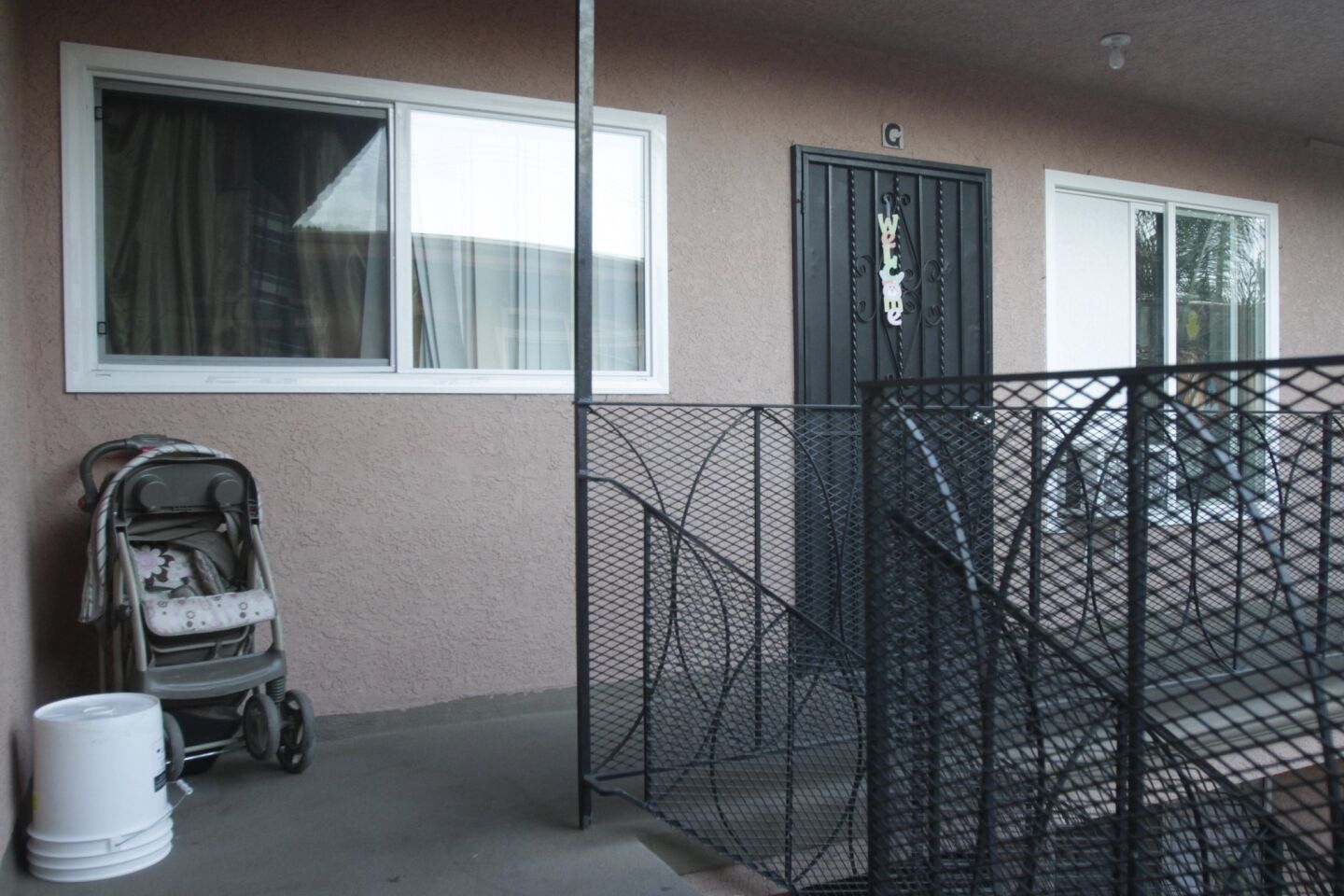 The apartment where Isidro Garcia and his alleged victim lived in Bell Gardens.
(Lawrence K. Ho / Los Angeles Times)
Santa Ana police Cpl. Anthony Bertagna describes the alleged 10-year captivity of a now 25-year-old woman in Southern California.
(Chris Carlson / Associated Press)
A Bell Gardens man accused of holding hostage a 15-year-old girl who was abducted a decade ago was ordered Friday to stand trial.
After a preliminary hearing, Orange County Superior Court Judge Robert Fitzgerald ordered Isidro Garcia to answer to the charges connected with his May 2014 arrest in Bell Gardens by Santa Ana police.
He is charged with one felony count of forcible rape, three felony counts of lewd acts on a minor and one felony count of kidnapping in connection with victim's abduction, according to the Orange County district attorney's office.
The woman, who is now 26, was discovered after she contacted her sister on Facebook and said she had been held hostage in a relationship with Garcia. She said she gave birth to his child during that time, authorities said.
The woman's mother reported her missing in 2004 after arriving from Mexico, according to Santa Ana police. The mother told police that her live-in boyfriend, Garcia, and daughter disappeared after a domestic violence incident.
Garcia physically abused the mother and began sexually abusing the daughter, police said.
The night the daughter was kidnapped, police said, he beat the mother and when the daughter fled to a park, he followed her. Police said she was drugged and woke up in a garage in Compton.
Garcia's attorney, Charles Frisco, contended the allegations are "absolutely not true."
"The burden of proof is very low," he said, adding that the woman's mother "fabricated and fabricated."
People who know the woman and Garcia said they appeared to be a loving couple. They said she didn't appear to be under duress.
"It's an injustice," Ricardo Ledesma told The Times last year in Spanish. "I never saw him hit her or any signs of abuse."
Ledesma, 43, lived in the same Bell Gardens apartment building where the couple lived.
But in a brief interview with KABC-TV last year, the woman said she was too scared to seek help.
"I was 15. I couldn't do anything," she said. "I was very afraid about everything, because I was alone. I [thought] I was alone, but I never was. My family was with me."
Police said she tried to escape, but Garcia always found her, and he would beat her and tell her that her mother no longer loved her.
The pair moved around Southern California. She was forced to work as a janitor alongside him so he could monitor her, police said.
Garcia also obtained false documents from Mexico, changing her birth date so they could marry, police said.
For breaking news in California, follow @VeronicaRochaLA.
The stories shaping California
Get up to speed with our Essential California newsletter, sent six days a week.
You may occasionally receive promotional content from the Los Angeles Times.