Laguna Beach's lone goatherder sees the canyon's kids more than his own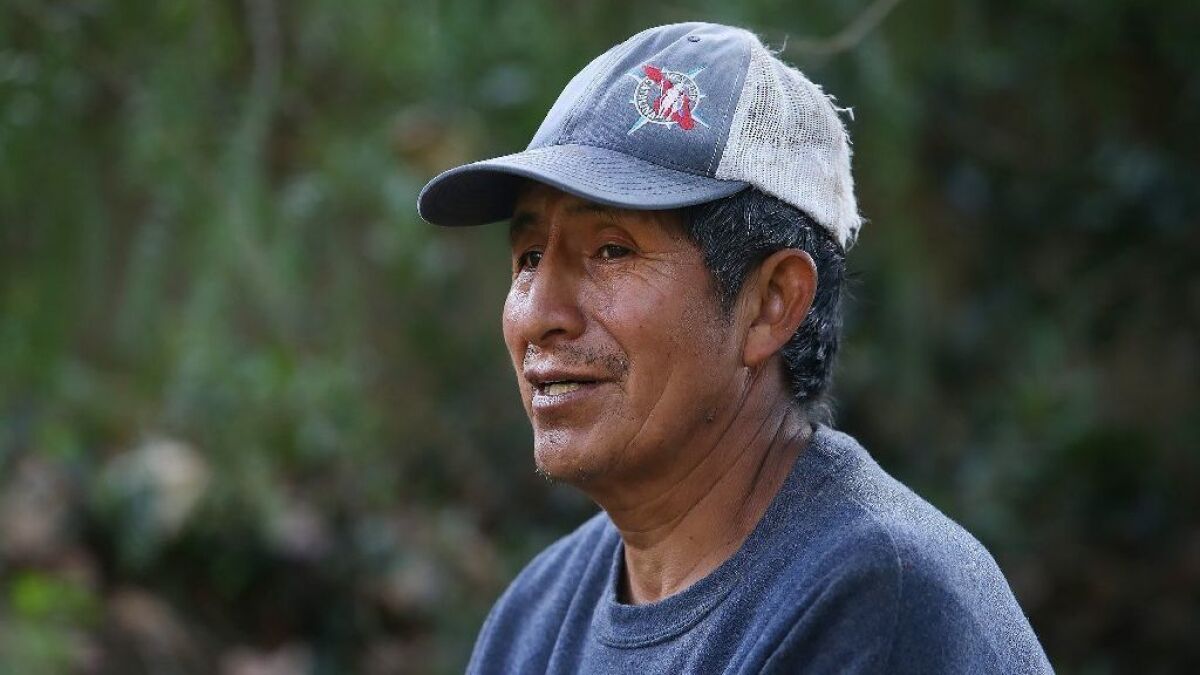 With a shrill call, Agotilio Moreno beckons 150 goats scattered across the rolling slopes of Laguna Canyon. In a chorus of bleats, the goats flock near the electric fence where Moreno regularly meets them.
Moreno, 54, tosses his head back and laughs.
"Come on! Venga!" he calls, first in English, then in Spanish.
Come to Moreno they do, just as they and their predecessors have for two decades.
After 20 years of caring for Laguna Beach's "fuel modification goats," Moreno knows the animals almost better than his own three daughters.
He and his 7-year-old border collie mix, Shandu, watch the goats daily as they roam the canyon, munching dry brush, reducing the risk of wildfires with every bite. Moreno builds pens for the goats out of battery-powered electric fencing, keeps them out of neighbors' gardens, and shepherds — er, goatherds — them from one of Laguna's 13 fuel modification zones to the next.
Though he spends every day with bucks and does, he typically sees his own children for just three months every three years.
Moreno's wife, Alejandrina, and their three daughters — Kelly, 27, and twin 21-year-olds, Yesely and Yadina — still live in their hometown of Huancayo, Peru. He speaks to them two or three times a week, but gets to visit only once every three years because of his work visa.
The twins were born prematurely. Medical bills stacked up while the girls spent their first three months in incubators and Alejandrina recovered from the difficult birth. Moreno left on a work visa to the U.S. when his youngest daughters were just a year old.
On his first return to Peru after almost four years, his daughters took more than a month to warm up to him.
"I went back to Peru, my daughters didn't recognize me," Moreno said through translator Ana Neira, an administrative assistant with the fire department. "Almost a month later, they would come close to me, touch me, walk, run away … It's one of the saddest stories I remember."
Now, he said, their relationship is much better. His job pays for two of his daughters to study environmental engineering at a private university.
"That's why I'm here working because it's very difficult to find the money to pay for their education in Peru," he said.
The last time Moreno visited was in 2017, when he spent six months caring for his wife, who has breast cancer. He would not normally be able to afford the time off from his job while still putting his children through college, but support from the Laguna Beach community made it possible.
Laguna Beach resident Kim Duensing started a GoFundMe campaign to help pay for his trip home, his wife's cancer treatment and his daughters' tuition.
"The hospital where she can receive treatment is in Lima, a 14-hour bus ride away," Duensing said in the GoFundMe description. "Once in Lima she must stay in a hotel during her treatment as they cannot afford the hospital stay. There is not a kinder, more humble or harder-working person. Laguna is a wonderful place, and we hope you'll see your way clear to making a donation of any amount to assist this man who has spent 20 years helping protect us."
The campaign raised $26,900 from 239 donations.
"I never thought there was so many people who would help me," Moreno said. "To this day, I'm very grateful to all the people who helped me in the worst times I had in my life."
Visitors often ask about his wife's health, he said, and sometimes they bring him food and blankets.
"I have met people from all over the world here in Laguna, and I am thankful that I came to the right place," he said. "I've been very lucky."
After 20 years of working in Laguna, Moreno said he often gets visits from people he has never seen who know him by name. Many come to pet the goats. One goat in particular, William, draws the most attention, he said.
"Everybody here in Laguna has at least one goat that is their favorite," he said. Bringing children to see the goats is a favorite pastime of many grandparents in town, said Ray Lardie, the fire prevention officer who began overseeing the fuel modification program — the "fuel" being the brush that wildfires consume — soon after he retired as a police sergeant 18 years ago.
"It's like a petting zoo to them. We get calls all the time from people wanting to know where the goats are," Lardie said. " 'Bring carrots,' that's what we tell them."
Other communities use goats to reduce fire risk, including Bee Canyon in San Bernardino County.
Laguna's fuel modification program began in 1993, Lardie said, just about six months before a wildfire that consumed more than 400 homes. The city contracts the animals from Indacochea Sheep Ranch, based in Wildomar, a small city in Riverside County. The job requires checking on the goats several times a day, cutting thorns from the area and looking out for snakes.
"I think Agotilio is part goat himself because [of] where he goes to put up the fences," Lardie said.
Electric fences — all built by Moreno — wind up and down the slopes of Laguna Canyon. Sometimes, the goats break out and Shandu rounds them up and helps lead them back to the pens. One of the most difficult aspects of the job is getting the goats to eat the brush around people's homes — without eating their gardens.
"I always have to pay attention when I'm doing my work," Moreno said.
At night, Moreno sleeps in a trailer parked near the spot where the goats roam the canyon — a change from his house in Peru, which is made from mud.
"It's good for me. It's much more comfortable and cozy," he said.
Goat season is winding down for the year, Lardie said, because Moreno's herd has cleared the dry brush from the 13 zones around Laguna. Indacochea Sheep Ranch will bring the animals back to its property in Perris, where Moreno will continue to care for them. Lardie expects Moreno to return around March, after the grass grows back in the canyon.
When Moreno arrived in Laguna, seven other Peruvian herders came with him. But he is the only one who has stayed. Only when he leaves for his three-month visits to Peru does his brother come to temporarily take his place.
"People like Agotilio in Laguna, so the boss keeps sending him down," said Neira, the translator.
"Oh, yeah," Lardie added. "They want Agotilio."
Moreno plans to visit Peru around Christmas next year. His time in Laguna Beach after that may be short — his daughters will be out of college by then. He is eager to return to his family.
"That's a little bit hard for me," Moreno said about the idea of leaving Laguna Beach. "After so many years, I see Laguna as my own place. Yes, of course, I'm going to leave, but of course I'm going to miss this place."
Pinho writes for Times Community News.
---
The stories shaping California
Get up to speed with our Essential California newsletter, sent six days a week.
You may occasionally receive promotional content from the Los Angeles Times.