Great white shark warning in O.C. is nothing more than a hoax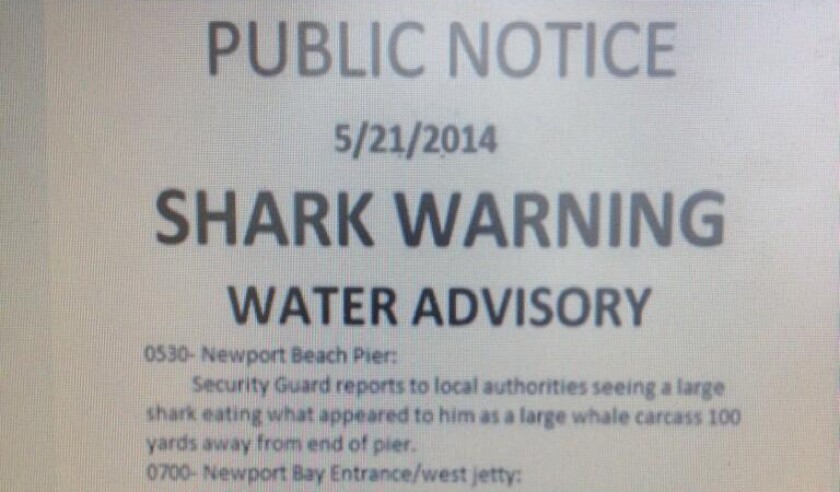 An advisory that spread around social media Thursday warning of great white sharks in the water near Newport Beach was no more real than "Sharknado," Coast Guard and city officials said.
The fake warning said sharks had been sighted between 5:30 a.m. and 10:15 a.m.
"This release to the media was NOT generated by the CG!" the U.S. Coast Guard said on Twitter. "There are no reports of a great white shark off Newport Pier."
The notice, written on phony Coast Guard letterhead, warned beachgoers that 15-to-18-foot adult sharks had been seen off the Newport Beach pier and Newport Bay entrance near the west jetty, said Newport Beach Lifeguard Battalion Chief Brent Jacobsen.
"It's a complete hoax," he said. "In my career here, I have only seen one great white shark and that was back in 2002."
The bogus warning told beachgoers to stay out of the water for the next two to three days.
The Coast Guard is investigating the origins of the fake notice, Jacobsen said.
"It's obviously someone with a poor sense of humor," he said.
Fry writes for Times Community News.
---
Get breaking news, investigations, analysis and more signature journalism from the Los Angeles Times in your inbox.
You may occasionally receive promotional content from the Los Angeles Times.