Grim Sleeper serial killer trial: Defense suggests a relative could be the murderer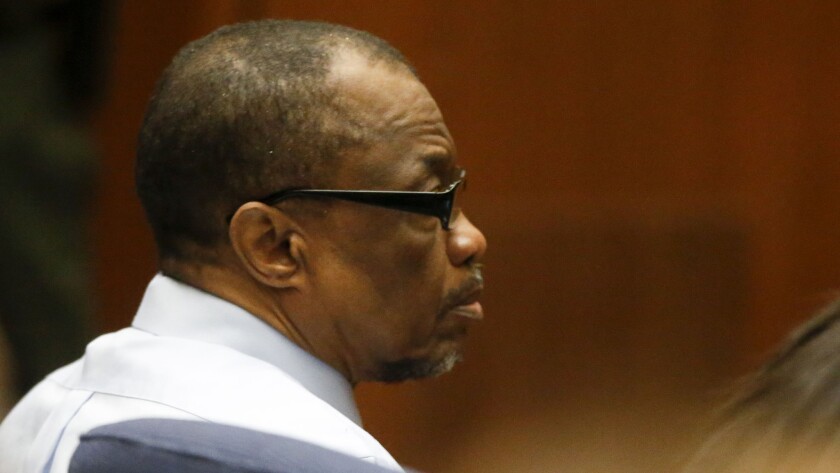 An attorney for the man accused of murdering 10 people in the so-called Grim Sleeper serial killer trial accused prosecutors Tuesday of building a deceptive case against his client and argued that a relative or close associate could have carried out the slayings.
Defense attorney Seymour Amster asked jurors during his closing argument to question the prosecution's case against Lonnie David Franklin Jr. and suggested that a nephew or someone who calls him "uncle" could have been responsible. He said that DNA found at some of the crime scenes belonging to other people was enough to raise reasonable doubt about his client's guilt.
"Are you going to ask the questions, the inquires, to make sure that what you are being provided is not an illusion and not deception?" Amster asked jurors. "For it is your inquiring minds that you're here to utilize. If you don't have enough, you cannot convict."
Deputy Dist. Atty. Beth Silverman blasted the defense argument that a relative or associate of Franklin's might be responsible, saying Franklin's lawyers would have raised the theory before the last day of trial had there been any evidence to support it.
She described the argument as a "grand conspiracy theory" that is "the equivalent to the skies opening up, a spaceship descending and murdering all these women. ... They have the same evidence of that as they do of some mystery nephew who we have never heard of and don't even know if he exists.
"They're just making things up," she said.
The exchange occurred shortly before jurors were handed the case late Tuesday. The panel will begin deliberating on the guilt or innocence of Franklin on Wednesday morning.
Franklin faces 10 counts of murder in the killings of nine women and a 15-year-old girl stemming from a series of slayings that began in the mid-1980s. He also faces one count of attempted murder.
Franklin, 63, did not testify. Prosecutors are seeking the death penalty. If Franklin is convicted, jurors will hear more testimony before deciding whether he should be executed or sentenced to life in prison without the possibility of parole.
Amster seized on testimony by Enietra Washington, the woman believed to be the Grim Sleeper's only known survivor, who told jurors that she was raped and shot by an assailant nearly 30 years ago. In court, she identified Franklin as her attacker.
Amster pointed to conflicting statements Washington made in various police interviews held years apart. In one account, he noted, Washington described in a police interview that she accepted a ride from a "youngster" in his 20s who told her he needed to make a stop at his uncle's house to pick up some money. Washington testified that the house where he stopped was Franklin's home on 81st Street. After the stop, she said, she was sexually assaulted and shot.
See more of our top stories on Facebook >>
But Amster said Washington's description of her attacker does not fit Franklin, who would have been 36 at the time. Washington testified that Franklin raped her, yet there was no DNA evidence recovered that matched Franklin, Amster said.
A nephew of Franklin, or someone else who referred to him as an uncle, could be the serial killer, Amster said.
"It is our position that there is a nephew, or a youngster, who is involved and did each and every murder," he told jurors. "There's not sufficient evidence to show that Lonnie Franklin did that."
Amster did not provide jurors with the name of a possible suspect. The attorney said the DNA found on some of the victims was evidence of Franklin's promiscuous sex life, not that he was a killer. He suggested that the real killer might have been motivated by jealousy because Franklin was having sex with so many women.
Amster, who began his argument on Monday, also insisted that DNA belonging to other people found on the victims, on their clothes or at the crime scenes was key to the case.
Interested in the stories shaping California? Sign up for the free Essential California newsletter >>
"Each and every murder that occurred in this case could have been done by the mystery man," he said.
And the defense lawyer dismissed the methodology that police used to match a gun found in Franklin's home to one of the victims and to match bullets from eight other victims to a different firearm.
In her rebuttal, the prosecutor said that Washington told police that the man who attacked her took photographs of her. Police later found a photograph of Washington in the wall of Franklin's garage, Silverman told jurors.
"Why doesn't the imaginary nephew have it at his imaginary home?" Silverman asked.
Washington's statement to police that she was attacked by a "youngster" was made about 20 years after the attack, she said.
During closing arguments on Monday, Silverman argued that DNA evidence, ballistics or both connected Franklin to each of the 10 victims, as well as Washington. A sample of Franklin's DNA was used to match genetic material found on the bodies or at the crime scenes of seven of the victims, she said.
Ballistics tests showed that a gun found during a search of Franklin's home was used to kill one of the victims, according to the prosecution's evidence.
In addition, police criminalists testified that bullets from eight of the victims — seven of whom were killed — were fired from another weapon that was never recovered. Of those victims, Franklin's DNA was found on three.
For more on the Grim Sleeper murder trial, follow @sjceasar on Twitter.
ALSO:
Suspect in custody in fatal stabbing of toddler
Afeni Shakur, mother of slain rapper Tupac, dies at 69
Federal prosecutors drop case against Bay Area pot dispensary
---
Get breaking news, investigations, analysis and more signature journalism from the Los Angeles Times in your inbox.
You may occasionally receive promotional content from the Los Angeles Times.