Jurors vote for death sentence for 'Grim Sleeper' serial killer
Diana Ware didn't think she'd live to see her stepdaughter's killer brought to justice.
In the decades since 23-year-old Barbara Ware was shot and killed in 1987, Ware had gotten used to waiting. Waiting for phone calls from detectives, staring at the phone as the years went by until, eventually, it stopped ringing. She tried to stay hopeful but felt crushed when her husband died without knowing who took his daughter's life.
Even after she learned police had arrested the man they believed was responsible in 2010, the waiting continued, year after year, as the case dragged on through the courts.
But on Monday, a Los Angeles County jury brought an end to Ware's wait, deciding that the man known as the "Grim Sleeper" serial killer should be put to death for a series of murders he committed while stalking South L.A.
Jurors rejected defense arguments that Lonnie David Franklin Jr., who was convicted last month of 10 murders between 1985 and 2007, should spend the rest of his life in prison rather than face execution.
"I'm just glad it's over and that he'll never get out to hurt anyone else," Ware said. "Justice was served."
The verdict closed an important legal chapter in the story of one of Los Angeles' most prolific and elusive serial killers, who preyed on some of the city's most vulnerable.
As Franklin entered the courtroom, victims' relatives cried and others prayed silently, rocking back and forth. Donnell Alexander, whose 18-year-old sister, Alicia, was among the victims, turned to look at Franklin.
"Dead man walking,"¿¿ he muttered aloud.
As the court clerk announced the death verdicts for each of the murder counts, Franklin, 63, stared blankly, as he had throughout much of the trial.
Alexander, who spent the nearly four-month trial sketching the happenings in the courtroom, creating a chronological catalog of the evidence and proceedings, sighed and scrawled a note in his journal: "Death. Death. Death."
He locked eyes with an alternate juror and mouthed, "Thank you."
She held her lips in a tight smile and nodded.
The Grim Sleeper attacks failed to raise alarms the way other famous serial killers such as the Hillside Strangler or the Nightstalker did.
The deaths in the mid-to-late-'80s coincided with a surge in slayings linked to the crack cocaine epidemic. In addition, several other serial killers were operating in the same area in those years. Michael Hughes was convicted of killing seven women; Chester Turner of 14 women and a fetus. Both are on California's death row.
But the Grim Sleeper proved to be the most persistent. He targeted women who were drug addicts or prostitutes, and often dumped their naked bodies on the side of roads or in trash. Many of the women were initially listed as Jane Does. The deaths drew little, if any, media attention.
Police kept the slayings quiet despite suspicions that a serial killer was stalking black women – a decision that led to outrage and condemnation from many who attribute Franklin's longevity as a killer to police indifference.
Outside the downtown L.A. courtroom where Monday's verdict was read, relatives of Franklin's victims hugged prosecutors and wiped away tears.
"We got what we came to get," said Porter Alexander Jr., whose daughter Alicia was killed in 1986.
Deputy Dist. Atty. Beth Silverman became emotional when talking about the relationship she developed with the victims' families during the years-long court proceedings.
¿"They've been in our lives and we've been in their lives in a very intimate way for the past six years, and that's not something for us that ends," she said. "We did what we could do to bring this chapter to a close in the best way we could."
During the penalty phase of the trial, prosecutors connected Franklin to an additional five killings. The district attorney's office decided not to charge him with those crimes because he was already facing the death penalty and prosecutors did not want to further stall a trial that had already been beset by delays.
In all, investigators think Franklin may have killed at least 25 women. When police raided his home in 2010, they found hundreds of pictures of women – many of them naked and with their eyes closed.
LAPD Det. Daryn Dupree, the last remaining detective on the task force that arrested Franklin, said that police have yet to identify 34 of the women.
"We don't know if they're dead or alive," Dupree said.
In her closing argument to the jury last week, Silverman gave a blistering recounting of each victim's final moments, speaking with a palpable disdain for Franklin. The defendant, seated near a projector that displayed pictures of his victims' battered and bloody bodies, never looked up.
"They were so vicious, they were so calculated, and they were so demeaning," Silverman said of the killings. "The way that these women ended up, half of them naked … all of them in filthy alleys."
Defense attorney Dale Atherton countered by appealing to the jury's conscience in a plea for mercy. Executing Franklin, he said, would only "delay the healing process" for the victims' families.
"Every time they think of the approaching execution date, it will be like opening the wounds again," he said.
Atherton did not attend the reading of the verdict. Seymour Amster, another one of Franklin's attorneys, called the verdict "unfortunate" and said he expected the case to continue dragging through the legal system.
"Now what happens is millions will be spent on appeals," he said.
Amster criticized the government for what he characterized as its inaction in helping people in South L.A. during the crack cocaine epidemic and shot down the death penalty as an unnecessary drain on resources.
"Isn't that a shame, we're going to spend all this money on him now?" Amster said, adding that he's still considering filing a motion to seek a new trial.
California's death penalty has been the subject of intense legal battles in recent years. No one has been executed in the state since 2006.
Silverman did not mince words when asked if the simple pronouncement of a death sentence was enough for the prosecutors and the victims' relatives.
"Am I satisfied? No," she said. "I think that at the end of the day the jurors have determined what the sentence would be, and I think that the state has an obligation to carry that out."
The victims listed in the charges against Franklin, in the order in which they died, were: Debra Jackson, 29; Henrietta Wright, 35; Barbara Ware, 23; Bernita Sparks, 25; Mary Lowe, 26; Lachrica Jefferson, 22; Alicia Alexander, 18; Princess Berthomieux,15; Valerie McCorvey, 35; and Janecia Peters, 25.
Most of the women were shot to death, and Berthomieux was strangled.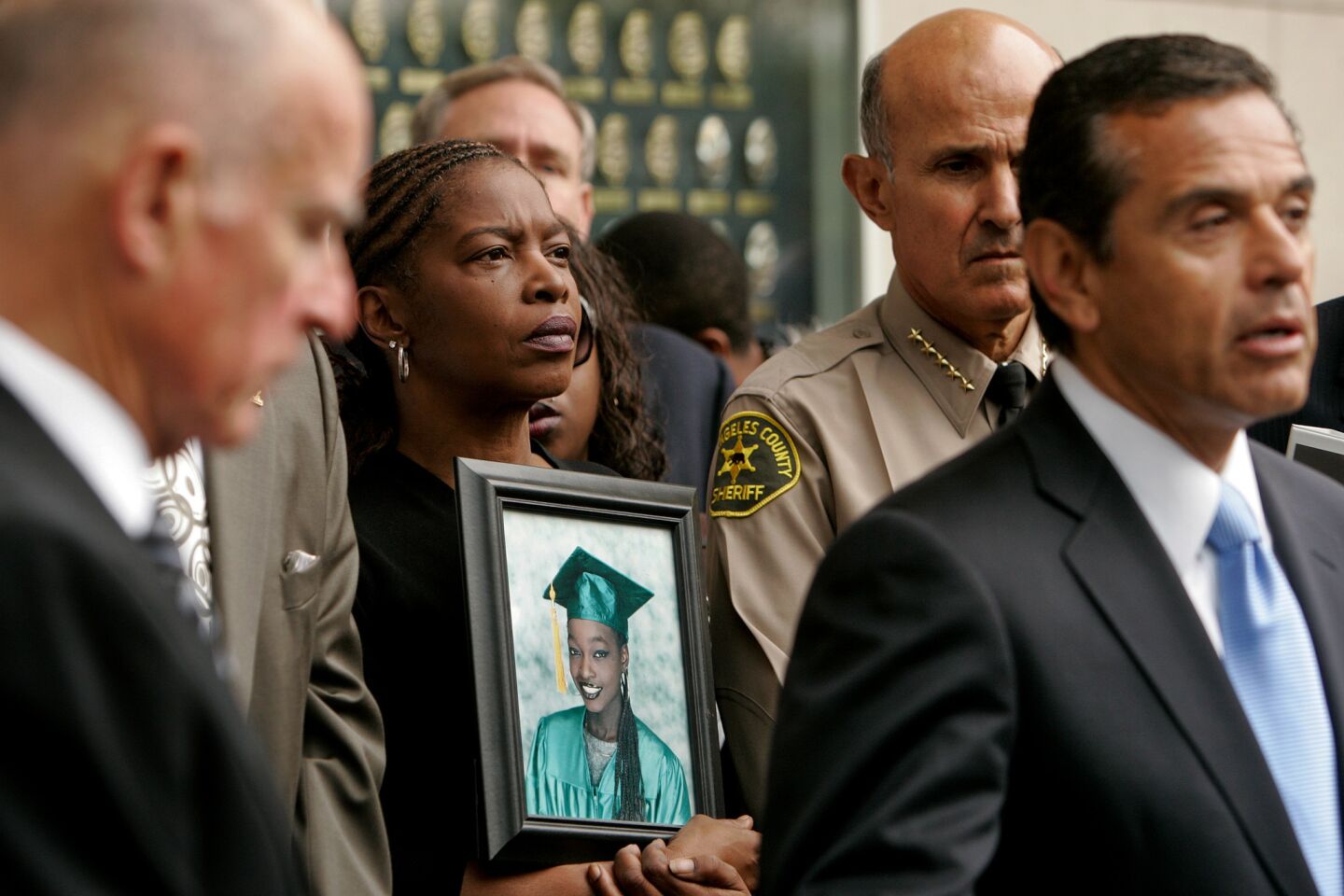 Janecia Peters, a 25-year old woman, was found dead Jan. 1, 2007, in the 9500 block of South Western Avenue in Los Angeles. Laverne Peters, holds a photograph of her daughter, Janecia when she was a senior at Inglewood High School.
(Mel Melcon / Los Angeles Times)
Franklin initially earned the "Grim Sleeper" nickname because a gap in the killings between 1988 and 2002 suggested he had gone dormant. But detectives believe Franklin never really slept. Georgia Mae Thomas, 43, one of the five additional victims presented to jurors during the penalty phase of the trial, was killed in 2000.
Prosecutors said the other additional victims were Inez Warren, 28; Rolena Morris, 31; Sharon Dismuke, 21; and Ayellah Marshall, 18.
Morris vanished in 2005 and Marshall disappeared in 2006. Their bodies were never found.
Op-Ed: Relative to ordinary homicides in South L.A., the Grim Sleeper case got a lot of attention >>
Marshall's Hawthorne High School ID card and a photograph of Morris, along with her driver's license, were found inside a garage refrigerator in Franklin's house stuffed with a morbid cache of items, including women's underwear and other photographs. Prosecutors called it Franklin's "trophy case."
With a lengthy appeals process likely, Ware doesn't believe she will ever see Franklin executed. But with the convicted serial killer locked away, she said she can sleep better knowing no one else will have to share her pain.
"The result is all that matters," Ware said.
Follow @JamesQueallyLAT and @marisagerber for crime and courts news in Southern California.
ALSO
Father of former Stanford swimmer reportedly refers to sexual assault as '20 minutes of action'
Pit bull shot and killed after fatally mauling Northern California man
Car thieves love L.A.: California leads the nation (again) in auto thefts
---
UPDATES:
3:51 p.m.: This story was updated with comments from prosecutors and Franklin's attorneys.
1:35 p.m.: This story was updated with details about the reaction of victims' relatives after the court hearing.
1:14 p.m.: This story was updated to add more details from court.
12:55 p.m.: This story was updated to include the verdict.
This story was originally published at 11:29 a.m.
The stories shaping California
Get up to speed with our Essential California newsletter, sent six days a week.
You may occasionally receive promotional content from the Los Angeles Times.