Lone survivor of Grim Sleeper killer provides vivid account of ordeal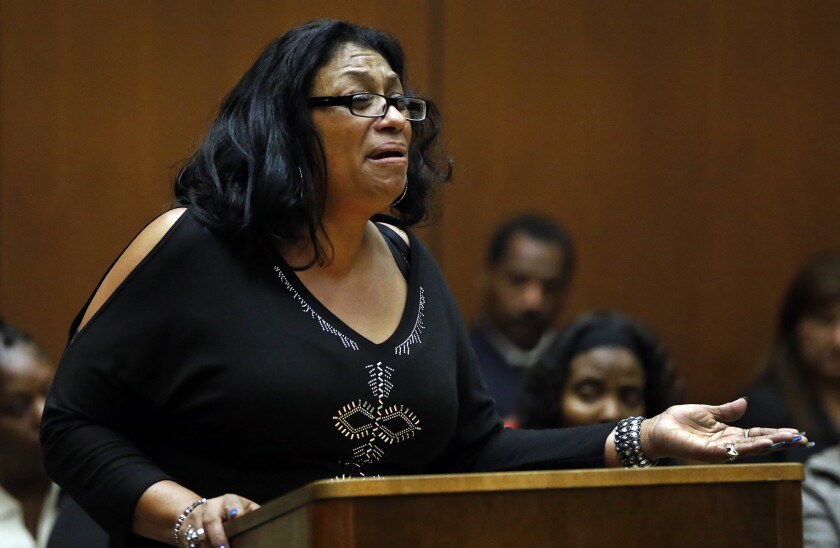 There was no sense of danger when the flashy orange Ford Pinto pulled up to Enietra Washington as she walked to a friend's house decades ago.
The short man in the driver's seat hopped out of the car to chat her up, asking repeatedly if he could give her a ride, Washington remembered.
She demurred at first but felt sorry for the man and eventually accepted the offer. He seemed nice enough.
It would be the start of an ordeal that would scar her life and lead her to a downtown Los Angeles courtroom Thursday, recounting to a rapt jury the horrors still to come that day 27 years ago.
Washington is believed to be the lone survivor of the serial killer known as the Grim Sleeper.
On Thursday, she sat on the witness stand facing Lonnie Franklin Jr., the man she says attacked her and whom prosecutors allege is responsible for a series 10 slayings in South Los Angeles spanning more than 20 years.
Franklin, 63, faces 10 counts of murder in the deaths of nine women and a 15-year-old girl and one count of attempted murder. He has pleaded not guilty.
In an opening statement last week, Deputy Dist. Atty. Beth Silverman said Washington's testimony would provide a "blueprint" to the fate of the 10 victims who have no voice.
Franklin, who had sat still throughout the trial, turned and watched as Washington walked to the stand.
Despite the passage of years, Washington, 57, provided a vivid account of her attack, beginning with seeing the Pinto emblazoned with white racing stripes on the hood.
After she got in, the man set off in the opposite direction of her friend's house, saying he had to swing by his uncle's home to pick up money. After the stop, the ride resumed and the man said something she wasn't able to hear clearly, she testified, so she turned toward him.
Then, she said, everything went quiet. Soon, she noticed blood flowing from her chest.
Grim Sleeper victims: Who they were>>
She reached for the door but the man stopped her. She recounted his words: "Don't touch that door … or I'll shoot you again."
Washington said she had not yet realized she was shot.
"You shot me?" she recalled saying. "I asked him, 'Why?'"
He told her she was "dogging him out," meaning she disrespected him, she said. He then began to ramble and called her by another woman's name.
He refused to take her to a hospital, she recalled, and as she struggled to remain conscious, the man forced himself on her, first on top of her and later with his face between her legs, Washington said.
The testimony prompted her son, Nathan Washington, to stand up abruptly in the audience and bolt from the courtroom, shaking his head.
Washington was calm throughout, telling the courtroom that she tried to defend herself but kept passing out. She would awake to the flash of a camera and realized her attacker was taking photographs of her.
Washington said she once again tried to escape and this time the man pushed her out of the car and drove off, leaving her for dead.
She walked and dragged herself to the home of her friend. She lay bleeding on the front porch until her friend arrived and called an ambulance.
After her testimony, Silverman showed a photograph of Washington, apparently unconscious and bloodied in a car, her breast exposed.
The photograph was found during a search of Franklin's home, Silverman said previously. Prosecutors also said that Franklin owned a Ford Pinto that has never been recovered.
During her testimony, Washington said that during the attack she lost her purse containing her driver's license and that a year later a man approached her outside her Inglewood home.
Washington said the man asked: "Do you know me?"
She replied, "Am I supposed to?"
The man turned and walked away, she said. Washington said she realized later it was the man who shot her.
Silverman then produced a photograph of Franklin taken in 1989. She asked Washington if she recognized the man in the photo.
"The person who shot me," she said. Did she know who that person is, Silverman asked. "Yes I do," Washington said, pointing with her right hand at Franklin.
How certain are you that this is the person who shot you?
"One hundred percent," she said.
Franklin's defense attorney, Seymour Amster, asked Washington a series of questions attempting to show inconsistencies in her testimony and her past statements to law enforcement.
See more of our top stories on Facebook >>
For more Los Angeles court news, follow @sjceasar
ALSO
Judges weigh arguments over teacher vs. student rights in landmark tenure lawsuit
Prosecutors decline to charge LAPD sergeants in death of Omar Abrego
Apple court papers: FBI is seeking 'dangerous power' that violates its constitutional rights
---
For reporting and exclusive analysis from bureau chief John Myers, get our California Politics newsletter.
You may occasionally receive promotional content from the Los Angeles Times.