DNA belonging to an unknown man found on another Grim Sleeper victim, defense says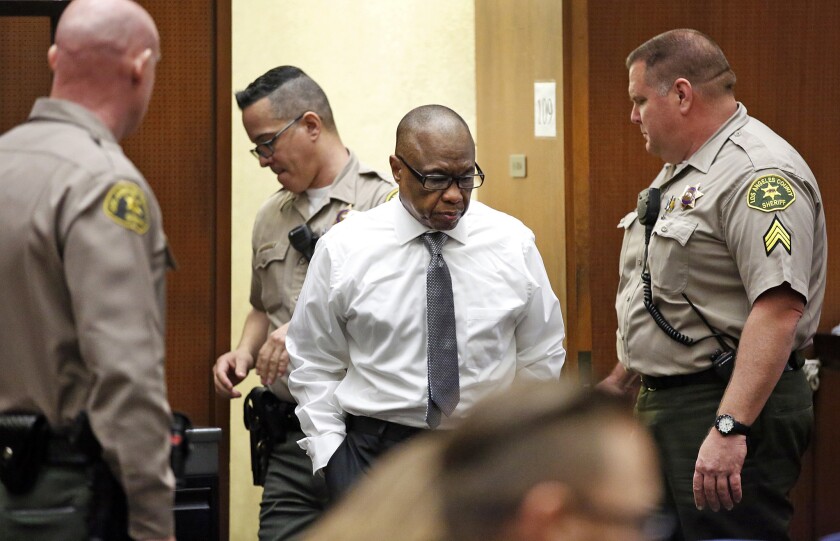 An attorney for the man accused of being the so-called Grim Sleeper serial killer presented more evidence Tuesday that DNA of unknown men were found on the bodies of some of the victims.
According to the testimony, unidentified DNA found on the body of Bernita Sparks, 25, was in addition to DNA that matched the profile of Lonnie Franklin Jr., who is on trial in a downtown courtroom.
Prosecutors allege that Franklin committed the killings over more than two decades.
NEWSLETTER: Get essential California headlines delivered daily >>
He faces 10 counts of murder in the deaths of nine women and a 15-year-old girl and one count of attempted murder.
Franklin, 63, has pleaded not guilty.
Defense attorney Seymour Amster has attacked forensic and ballistic evidence presented by the prosecution that ties Franklin to the killings.
Amster told jurors in his opening statement that the defense would present evidence that DNA belonging to other people were found on some of the victims' bodies, their clothing and at some of the crime scenes — apparently suggesting that men other than Franklin could have been involved in their deaths.
On Tuesday, Derek Cutler, a forensic specialist for Sorenson Forensics, a private laboratory in Utah, testified for the defense that there were several instances in which DNA belonging to an unknown male was found on Sparks' body.
Earlier in the trial, Supria Rosner, a criminalist with the Los Angeles Police Department, testified that according to her work and analyses conducted by other criminalists, Franklin's DNA profile matched DNA evidence found on Sparks' body.
Last week, another DNA analyst hired by the defense testified that DNA of an unknown man was found on the body of Lachrica Jefferson, 22. DNA matching Franklin's profile also was found on Jefferson's body, according to previous testimony.
Prosecutors say that each of the 10 victims is connected to Franklin by DNA evidence, ballistics or both. In all, Franklin's DNA was found on seven of 11 victims — 10 who were killed and another who survived, prosecutors have said.
A gun found during a search of Franklin's home was used to shoot one of the victims, according to court testimony. Police criminalists testified that bullets from seven victims — six who were killed and the one who survived — were fired from the same weapon.
Franklin's DNA was on the bodies of three of those victims, according to previous testimony.
For more on the Grim Sleeper trial, follow @sjceasar.
ALSO
Man arrested in connection with pipe bombs found in Anaheim
Businessman charged in 'diabolic' slaying of Santa Barbara practitioner and family
Police are unlikely to win wider access to smartphones despite FBI success in San Bernardino case
---
The stories shaping California
Get up to speed with our Essential California newsletter, sent six days a week.
You may occasionally receive promotional content from the Los Angeles Times.