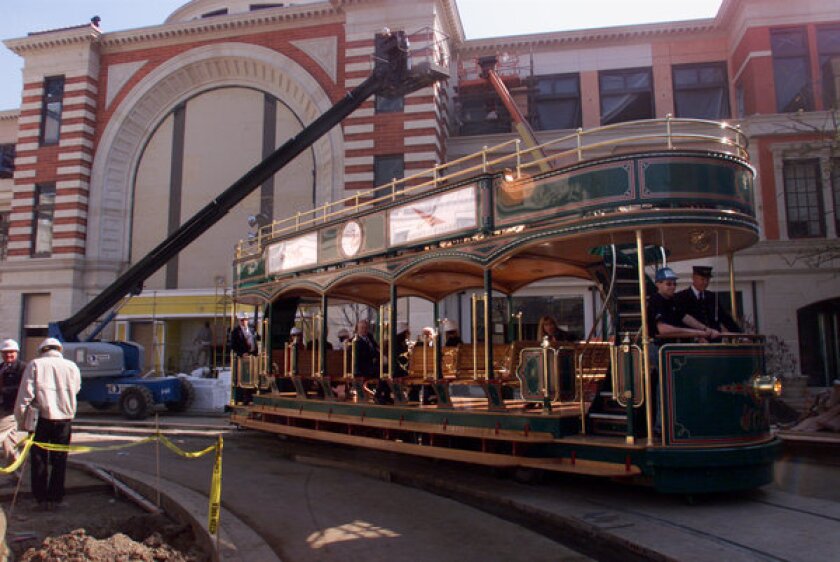 Los Angeles developer Rick Caruso has grand visions for the tiny trolley that shuttles mall patrons through The Grove.
If he has his way, the mall's green-and-white rail car won't stop there.
Caruso wants the trolley to take shoppers up Fairfax Avenue to the art museums, down Third Street to the Beverly Center, and everywhere in between.
"The Mid-Wilshire area has literally become the cultural center of Los Angeles," Caruso said.
And now the developer of one of the neighborhood's crown jewels wants to connect it all.
At a Miracle Mile Chamber of Commerce forum in early May, Caruso spoke publicly for the first time about his trolley idea, which he said he had been "quietly throwing out there for a number of years."
Caruso said he envisions people parking at The Grove, then using the trolley to get to the many restaurants, stores and museums in the area.
He insisted on a tracked trolley rather than a trolley bus on rubber wheels. Although it would be more expensive, he promised to "put up a significant amount" of money to help make the project a reality.
"It would be the best investment I can make in the future of this area," he said.
With Caruso's backing, some stakeholders said even complex projects can quickly come to fruition.
Councilman Tom LaBonge, whose district includes the Miracle Mile, said he will "do all I can to help" the project move forward.
"I'd like to get it done right now," he said. "If Rick is hot on it, I'm going to go."
But some residents staunchly opposed laying new train track on traffic-congested streets. Diana Plotkin, President of Beverly Wilshire Homes Assn., said residents support a bus trolley system, but "a fixed-rail line … is absolutely unacceptable."
"To me, it's absurd to even consider something like that," she said.
Officials with the Los Angeles Department of Transportation also cautioned that any fixed-rail project would require traffic studies, environmental reviews and other steps before track could be laid down.
Caruso said he could not estimate the cost of his proposal, nor the amount of time it might take to build, but he challenged the city to "go big."
"The frustrating part about this to me is that I fear it's going to get lost in the bureaucratic maze of discussion of why we can't do it. Somehow, it works in every other major city," he said. "Let's figure out a way to get this done."
ALSO:
Repair work set to begin at neglected Jewish cemetery
Dorner case: Investigation reportedly clears LAPD in firing
Giving Science Center parking to USC could hurt museum, some say
---