Mother's boyfriend charged with murder in death of girl in duffel bag on Hacienda Heights trail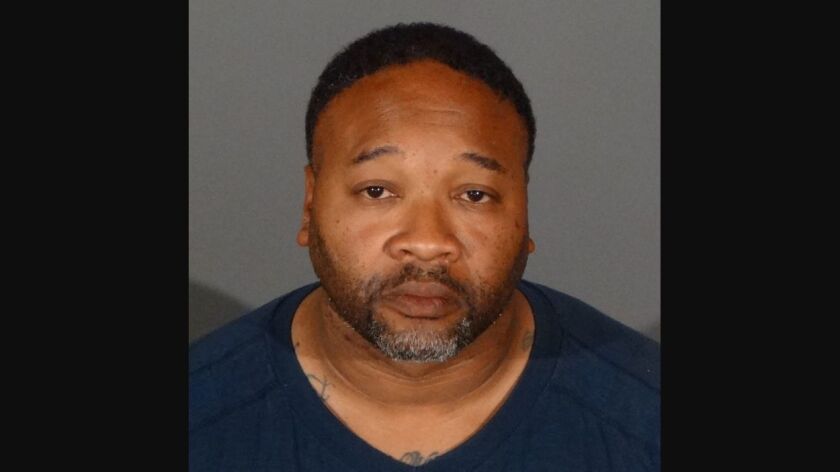 A convicted child abuser has been charged with murder in the death of a 9-year-old girl whose body was found in a duffel bag on a Hacienda Heights trail a week ago, prosecutors said Tuesday.
Emiel Hunt, 38, was arrested Saturday in San Diego and is accused of killing Trinity Love Jones on or about March 1, according to the criminal complaint. The girl's mother, Taquesta Graham, was also taken into custody over the weekend, but no charges have been filed against her. Court records show she has a prior conviction for involvement with a minor in prostitution.
Relatives identified Hunt as Graham's boyfriend.
The girl's body was discovered on an equestrian trail March 5. She was identified over the weekend after a public appeal by Los Angeles County Sheriff's investigators led to clues that revealed her identity and linked her to Hunt.
Hunt made a brief appearance in a Pomona courtroom Tuesday on the murder charge but did not enter a plea. Many of the girl's relatives crowded the courtroom. Hunt said nothing, but a spectator in the court yelled: "You'll get yours." Hunt is due back in court April 16.
The girl's remains were found inside the large bag with her head and part of her body protruding. The duffel bag had been abandoned in light brush a short distance from the Pomona Freeway.
Court records show Hunt was convicted of felony child abuse in San Diego County in 2005 and sentenced to 12 years in state prison. The two felony counts carried an allegation of great bodily injury. A co-defendant Patecia Frazier pleaded guilty to child abuse and was sentenced to five years of probation and 180 days in custody.
In an interview, Antonio Jones, the girl's father, identified Hunt as Graham's boyfriend on a sheriff's website and on social media accounts. "You killed my daughter," Jones yelled as he cried in court Tuesday.
Barbara Jones, Trinity's grandmother, said family members were told that detectives think Hunt is responsible for the girl's death.
"We are filled with rage at this monster," she said, asking how a man with such a criminal history was allowed near her grandchild. "I want to do to him what he did to her."
The family of Trinity's father said anyone responsible for putting her in danger should also be held accountable.
If convicted, Hunt faces up to life in prison.
---
The stories shaping California
Get up to speed with our Essential California newsletter, sent six days a week.
You may occasionally receive promotional content from the Los Angeles Times.