Southern California is in for another heat wave in the coming days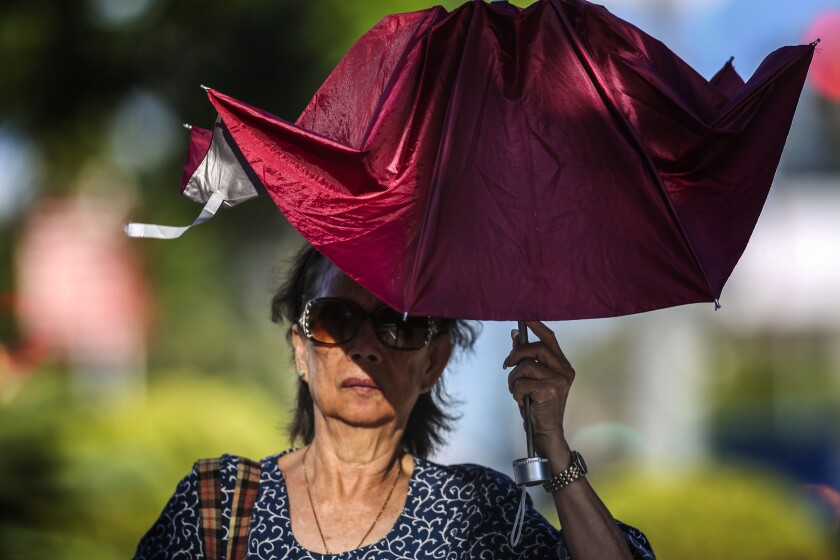 A heat wave is expected to smother Southern California this weekend and last into next week, with high temperatures elevating the risk of wildfire throughout the region.
The mercury in downtown Los Angeles is expected to climb from the mid-80s Saturday to close to 90 on Sunday, while the valleys are in for triple-digit temperatures.
"Looks like we're in for an extended period of hot and very dry weather," said National Weather Service meteorologist Scott Sukup. "Elevated fire danger is going to be up — the other concern, because of how dry the fuels are and then it's also going to be very hot and very dry."
The peak of the heat wave is expected to last from Sunday through Tuesday, with the valleys experiencing temperatures between 100 to 108 degrees.
The temperature in the Antelope Valley on Sunday could reach as high as 110 degrees.
The downtown L.A. temperature is expected to hit 91 on Monday and Tuesday.
Higher temperatures will bring an increased risk of heat-related illnesses, the weather service said, especially for the homeless, the elderly, infants and anyone participating in outdoor activities.
Elevated temperatures, low humidity and very dry potential fuels will bring with them an extended period of fire danger that will run from Saturday to Wednesday, the weather service said.
Mountain and foothill areas will be especially at risk for large fires, "as the prolonged period of heat and low humidities increase the potential for fuel driven fire," the weather service said.
The heat wave comes during a particularly active wildfire season. Firefighters this week made significant progress on a number of blazes, including the Pilot fire, which scorched 8,115 acres in the mountains of San Bernardino County and is now 80% contained.
The Soberanes fire has scorched 70,615 acres along California's Central Coast and is now 55% contained.
High temperatures this summer have also contributed to air quality issues, resulting in Southern California experiencing its worst smog in years.
The heat and stagnant weather have increased the number of bad air days and driven up ozone pollution to levels not seen since 2009, according to air quality experts.
Los Angeles Times staff writer Tony Barboza contributed to this report.
For more California news, follow @brittny_mejia
ALSO
Ex-boyfriend suspected in fatal stabbing of 16-year-old girl
Gun and video may provide answers in Jesse Romero shooting, police say
Courts overturn sentences for two California death row inmates and uphold another
---
The stories shaping California
Get up to speed with our Essential California newsletter, sent six days a week.
You may occasionally receive promotional content from the Los Angeles Times.