A Freddy Krueger performer greets 7-year-old Zoey Delao of El Paso, Texas, on Hollywood Boulevard during her vacation with her family.
(Dillon Deaton / Los Angeles Times)
Manu Koch, left, and Steff Dittrich, right, of Germany, pose with a Yoda character. while touring Hollywood Boulevard. They came from Germany to spend during their vacation from Germany.
(Dillon Deaton / Los Angeles Times)
Dallas tourist Rachel Martin takes a snapshot with Joe Ansalvish, left, dressed as Jack Sparrow, and an Edward Scissorhands character.
(Dillon Deaton / Los Angeles Times)
Terril Perry walks down Hollywood Boulevard as the Marvel character Deadpool.
(Dillon Deaton / Los Angeles Times)
Dominique Lambert takes a picture with a group of characters on Hollywood Blvd. while on vacation from Manchester, England.
(Dillon Deaton / Los Angeles Times )
Officers from the Los Angeles Police Department arrest a man in a Spider-Man outfit after he allegedly assaulted a man on Hollywood Boulevard in 2009.
(Mel Melcon / Los Angeles Times)
A man who wears a Mr. Incredible costume to entertain tourists on Hollywood Boulevard was convicted of punching and body-slamming a Batgirl during a fight in 2014.
(FilmOn.com via KTLA)
Elmo impersonator Donn Harper was arrested by undercover police on allegations of soliciting tips on Hollywood Boulevard.
(Lawrence K. Ho / Los Angeles Times)
A man dressed as Chewbacca is arrested on Hollywood Boulevard after allegedly head-butting a tour guide operator who complained he was being mean to tourists in 2007.
(Jimmy Kimmel Live )
A video recording shows police intervening in 2011 after a physical confrontation between a man dressed as SpongeBob SquarePants and two women on Hollywood Boulevard.
(Steve Boelhouwer)
The hectic heart of Hollywood Boulevard has long been a mecca for an eclectic cast of street performers and hustlers: knock-off superheroes mugging for photos, break dancers wowing the crowds, aspiring musicians hawking CDs to throngs of passing tourists.
But police complain that the colorful antics on an especially busy stretch of the Walk of Fame have sometimes become a menace, clogging up the starry sidewalks outside its iconic theaters and pushing pedestrians into the street.
At a City Hall hearing earlier this year, business advocates lamented that the famed block near Highland Avenue had become a chaotic hunting ground for aggressive hawkers preying on out-of-towners.
Kerry Morrison, executive director of the Hollywood Property Owners Alliance, told local lawmakers it was "an absolute embarrassment to our city."
"It's like running a gauntlet," Morrison said.
Things are out of control. Sometimes you need rules and regulations to stop people from being too crazy.
Omar Budhoo, zombie on Hollywood Boulevard
The Los Angeles City Council voted to start drafting new rules that would require peope to get daily passes to perform, ask for money, play amplified music or engage in other "expressive activity" along a congested stretch of Hollywood Boulevard bet
Now, Los Angeles is considering a crackdown. The City Council voted Wednesday to start drafting new rules that would require people to get daily passes to perform, ask for money, play amplified music or engage in other "expressive activity" along a congested stretch of Hollywood Boulevard between Orange Drive and Highland Avenue.
The Hollywood Chamber of Commerce applauded the idea, saying the city needs tools to stop harassment and hazards. The plan was also welcome news Tuesday to Hard Rock Cafe manager Enrique Ramirez, who said he had recently asked police to usher two scantily clad performers away from the restaurant door.
"Imagine if this was your business and your clientele was families," Ramirez said. "We don't want to be associated with that … People just come here to enjoy Hollywood as it is, not get pestered."
But the budding plan has also spurred concerns about free speech and alarmed some performers who say it will destroy the animated street life that draws both tourists and locals to gawk and shop in Hollywood. Under the proposal, only 20 passes would be handed out daily on a first-come, first-served basis – a number that galled seasoned performers.
"It would kill the street scene," said Matthias Balke, who entertains tourists as Batman and once sued the city for arresting costumed characters.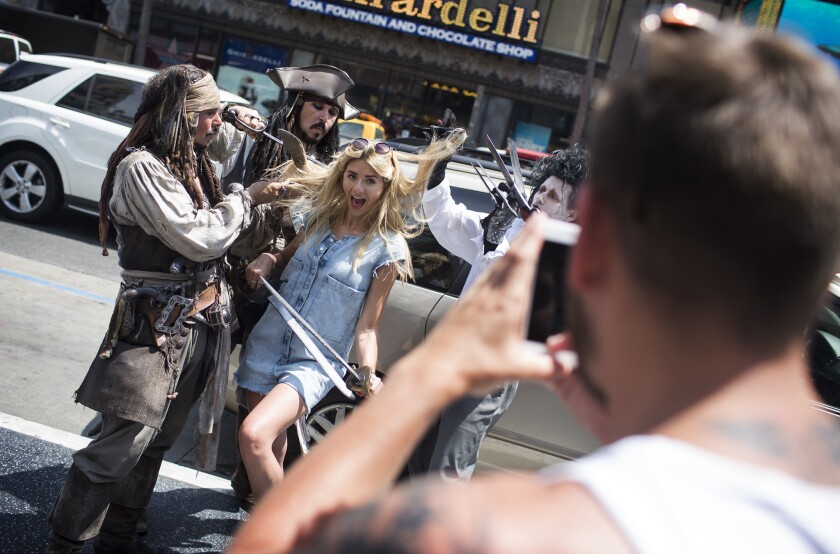 Nearly six years ago, the city was ordered to stop threatening to arrest Balke and fellow Hollywood Boulevard performers unless they were illegally blocking the sidewalk. Balke said that police need to stop aggressive solicitors in the area, but "they're throwing the baby out with the bathwater."
"It's a one-size-fits-all solution that punishes the good people for the wrongdoing of the bad people," Balke complained.
Civil rights attorney Stephen Rohde also warned that the plan raised "serious 1st Amendment issues," arguing that requiring people to obtain a daily pass could hamper political protests that pop up quickly. Restricting the number of such passes "could be an unreasonable limitation on the right of assembly and the right of free speech," Rohde added.
At a hearing in April, City Councilman Mitch O'Farrell said Los Angeles takes free speech seriously, but that the courts have also given cities guidelines on how and when they could restrict it. The recommendations from police and other city departments "will lead to a safer environment for residents and visitors on Hollywood Boulevard," his spokesman Tony Arranaga said in a statement Tuesday.
Under the proposed restrictions, people who repeatedly flout the rules could lose the right to get daily passes for three months. The regulations would also bar people from performing, seeking donations or using amplified sound within 5 feet of crosswalks and building entrances or exits. And the city would also curb how much space they could take up on the sidewalk.
The council backed the plan Wednesday without discussion. City lawyers are now tasked with drafting a law that will be presented to the council for final approval.
Other cities have also sought to rein in street life, including Santa Monica and Las Vegas, a city attorney told lawmakers in April. New York City, for instance, now confines costumed characters and other people seeking tips in Times Square to painted zones of pavement.
Los Angeles Police Chief Charlie Beck has recommended the restrictions, arguing they would better control the flow of tourists along Hollywood sidewalks.
In a June report, Beck also listed a string of notable arrests involving Hollywood performers: a fistfight between a costumed Mickey Mouse and Donald Duck outside the Dolby Theatre, a faux Mr. Incredible punching a costumed Batgirl, and a woman in pirate garb trying to fleece a Chinese tourist by refusing to give him change for a $100 bill.
More than 50 people have been ordered to stay away from the area in the last three years, the report said.
"It's anarchy — and it's dangerous," Mike Harkins, executive director of security at the Hollywood & Highland complex, told lawmakers at the April hearing.
Roughly a fifth of Hollywood visitors who were approached by performers or hawkers said they had an unpleasant experience with solicitors trying to grab their attention, including people hawking CDs, posing in costume or panhandling, according to a study commissioned by the Los Angeles Tourism and Convention Board.
On a hot and overcast Tuesday afternoon, a few musicians promoting their CDs and half a dozen costumed characters roamed the sidewalks in front of the historic Grauman's Chinese Theatre, now known as TCL Chinese Theatres. Among them was a towering Chewbacca character who approached a couple visiting from Mexico with their three young sons.
"I offered him $2, but he said it cost $5, so I gave him $5," Erica Flores said after the encounter. "He should have told us the cost up front."
Omar Budhoo, who was dressed as a green zombie character, said Tuesday that he asked only for donations and never forced people to fork over money. But he said that mounting competition for boulevard territory and the prospect of making $200 to $300 a day had made some characters overly aggressive.
"Things are out of control," Budhoo said. "Sometimes you need rules and regulations to stop people from being too crazy."
Budhoo fretted, however, about what would happen if he couldn't snag one of the proposed passes.
"I love entertaining people," he said. "They take that away from me … it's like pulling out your heart."
ALSO
Poorly performing L.A. sheriff's deputies are not weeded out in their first year, report says
Initiative to legalize recreational use of pot in California qualifies for November ballot
YouTube star says he was assaulted near WeHo gay club, but police say he hurt himself in a jail cell
emily.alpert@latimes.com | Twitter: @LATimesEmily
nina.agrawal@latimes.com | Twitter: @agrawalnina
---
UPDATES:
11:02 a.m.: This post was updated with the results of Wednesday's City Council vote.
This article was originally published at 4 a.m.
---