L.A. votes to resurrect partially built Hollywood Target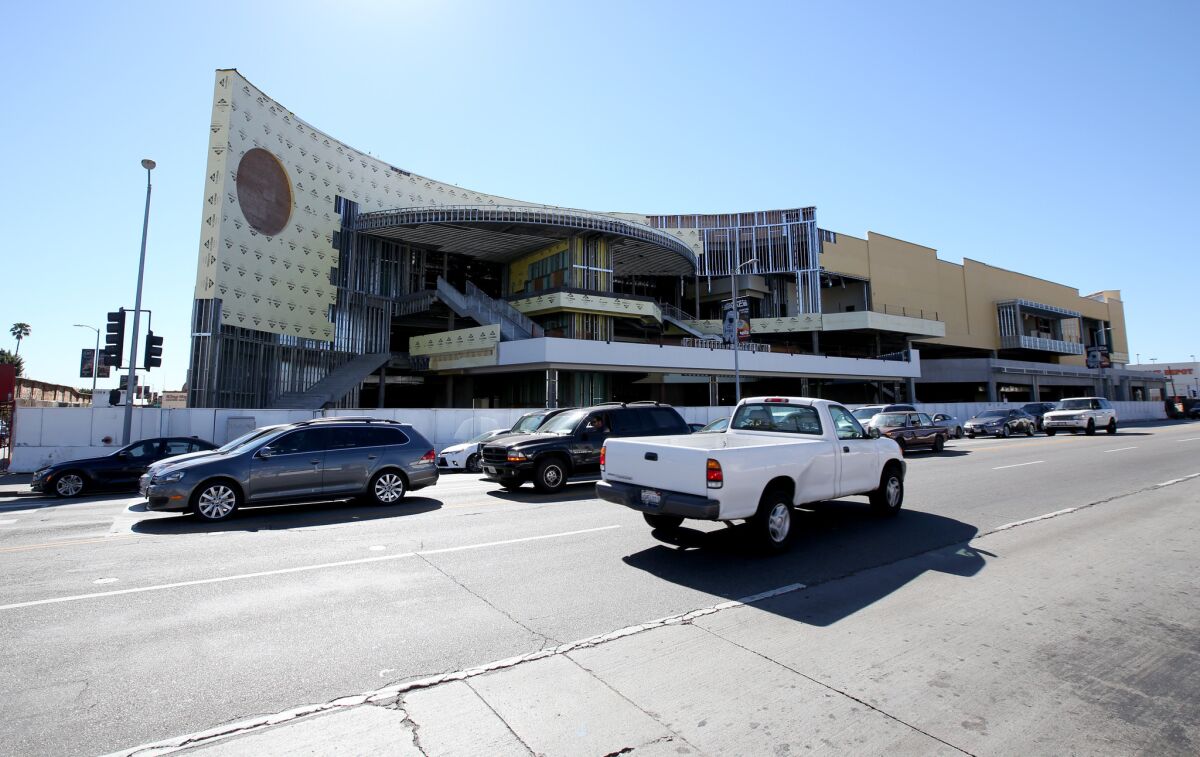 The Los Angeles City Council voted unanimously Wednesday to allow construction of a long-stalled Target shopping center in Hollywood to resume, nearly two years after a judge ordered work halted at the site.
On a 13-0 vote, the council revised the planning and zoning rules that govern the Sunset Boulevard site, ensuring that Target's 74-foot-tall retail center would be permitted on the property.
Superior Court Judge Richard L. Fruin Jr. struck down the council's approval of the project in 2014, leaving the three-story structure an empty and partly finished husk. In his decision, Fruin said the council had failed to show Target would suffer an "unnecessary hardship" if it was forced to comply with the city's height rules, which limited shopping centers to no more than 35 feet at that location.
Councilman Mitch O'Farrell, who represents part of Hollywood, welcomed Wednesday's vote, saying construction should resume within weeks. But foes of the project, who have been challenging the development since 2008, said they will file another lawsuit — this time arguing that an environmental impact report should have been prepared on the changes to city planning rules.
"It's just going to go back to court," said Hollywood resident Doug Haines, who belongs to the La Mirada Avenue Neighborhood Assn., the entity that sued over the Target project.
"Rather than change the project to comply with the judge's orders," he added, "they just decided to change the law."
See the most-read stories this hour >>
O'Farrell said the city has lost out on much-needed tax revenues as a result of the long-running Target fight. After the vote, he voiced confidence that the latest council decision will withstand another challenge.
"This process underwent such scrutiny that I'm sure we will be on firm legal ground next time around," he said.
The saga has upset business leaders and a number of residents, who say the shopping center has widespread support.
"Everyone who lives in the community needs this Target and wants it," said Hollywood businessman Brian Folb, appearing before council members earlier this week. "And it's just a shame that these technicalities had to keep this important amenity for the community from the residents."
Target's partly finished shopping center has served as a glaring reminder of the city's struggle to ensure that its development decisions can withstand court challenges.
Last year, city officials ordered a 22-story apartment building to be vacated after a judge struck down the council's approval of the project. A judge also invalidated the city's approval of the Millennium skyscraper project, saying the city had failed to properly assess the project's effects on nearby neighborhoods. Both are in Hollywood.
In recent weeks, Target also had become enmeshed in a debate over a city requirement that a child care facility be included as part of the project.
Join the conversation on Facebook >>
Critics said the facility should be located at the Target site. O'Farrell said Target will pay a fee to pay for child care services near its store. The exact amount will be determined by the Board of Recreation and Parks Commissioners, he said.
Target officials said the project will provide the area with 250 full- and part-time permanent jobs. The council's decision should allow the project to be finished sometime next year, said John Dewes, the company's regional development manager.
"We look forward to resuming construction and opening the store," he said.
Follow @DavidZahniser for what's happening at Los Angeles City Hall.
ALSO
Man takes selfie, then steals iPhone at Huntington Beach AT&T store, police say
Police shooting in Hollywood leaves LAPD on tactical alert while suspect is sought
Cooler temperatures and possible thunderstorms sweeping across Southern California this week
---
Life is stressful. Our weekly mental wellness newsletter can help.
You may occasionally receive promotional content from the Los Angeles Times.