Video touches off L.A. City Hall discussion on policing and the mentally ill
The video alarmed San Pedro residents when it spread through social media in January: a disheveled and seemingly agitated man being dropped off in the neighborhood by Los Angeles County sheriff's deputies, who had just come from nearby Rancho Palos Verdes.
Los Angeles City Councilman Joe Buscaino demanded answers about the incident, calling it appalling. He and other lawmakers lamented that both the Los Angeles Police Department and the Fire Department had responded to calls later that day about the man, who was arrested that night by the LAPD on an outstanding warrant for failure to appear.
But a Sheriff's Department spokeswoman said it was "not a case of dumping," as San Pedro residents living close to other South Bay cities had feared.
At a hearing Wednesday at City Hall, a department representative said its review found that the deputies had not violated their policies.
"We are confident in this case that our deputies acted appropriately and with compassion," Sheriff's Capt. Dan Beringer told the City Council committee.
The video and the ensuing debate have highlighted the challenges that law enforcement faces when trying to assess and evaluate the mental health of people living on the streets.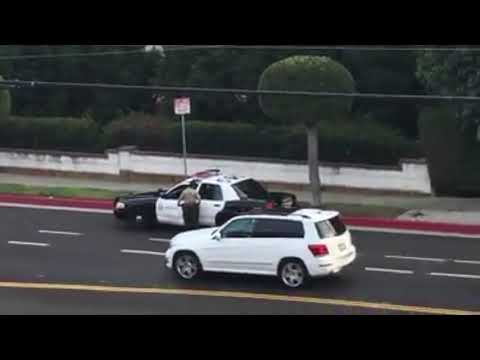 A Los Angeles city councilman calls for an investigation of an encounter between a man and deputies that was captured on video. Video by Mike Olivieri
The man on the video, later identified as John Thomas Bryan, did not meet criteria to be held involuntarily for a mental health assessment and turned down an offer for help, Beringer told members of a council committee focused on public safety.
Instead, the man said he wanted to go back to Pasadena, so the deputies offered him a ride to a bus stop, Beringer said. But on the way there, the captain said, Bryan became belligerent and demanded to be let out of the car.
The answers failed to reassure Buscaino, who argued that based on what he had seen in videos, Bryan should have been eligible for a "5150" hold.
Under California law, authorities can take individuals off the street and put them in the care of a medical facility, where a psychiatric team determines whether they are "a danger to others, or to himself or herself, or gravely disabled." The 5150 hold (the term derives from a numbered section of state law) allows individuals to be detained for 72 hours for assessment and treatment if they meet those criteria.
Buscaino argued that Bryan would have qualified.
"He was not able to care for himself," Buscaino said, describing the man as barefoot with his pants down to his knees.
Buscaino, a former L.A. police officer, also questioned why the deputies did not take the man to County Jail on the same warrant that led to his arrest by the LAPD that night. Beringer responded that the jail would not take in someone on an offense with such a low bail amount.
The councilman said the episode spotlighted the broader problems with existing laws on how officers can respond to people suffering from mental illness. He argued that the state needs to expand the definition of "gravely disabled" — an effort backed by county officials — and "find a way to bring back institutionalization."
"The 5150 hold, I've found, is a joke," Buscaino said. "We need to find a longer-care solution to those who are mentally ill and homeless on our streets…. This 24-hour nonsense, this 72-hour nonsense clearly is not working."
Under the law, "gravely disabled" is defined primarily as someone being unable to provide food, clothing or shelter for themselves, or to understand the nature and severity of their illness. Such holds can be extended up to a month and eventually include conservatorship for more than a year.
The California Legislature is considering an amendment to state laws regarding the involuntary confinement of people with mental illness. AB 1971 would expand the definition of "gravely disabled" to include the need for medical treatment.
The Los Angeles County Council of the National Alliance on Mental Illness has supported a proposed change, but critics have expressed concerns that the bill would infringe on the rights of people with mental illness. Other groups supportive of the proposed change have argued that it will accomplish nothing if there are not adequate services to meet the need.
At the Wednesday meeting, Councilman David Ryu said that the process was frustrating and that "our system sometimes feels like it's designed that, unless you're sick enough, we can't help you."
But Ryu, who has worked for a mental health center, added that government agencies also need to continue expanding services for people with mental illness.
"Right now we're really upset about the 5150 process and how we can't help these individuals. But even if reform happens … our facilities are all full," Ryu said.
The Los Angeles Homeless Services Authority recently released the results of its annual homeless count, which found that 27% of homeless people in the county reported having a serious mental illness.
Buscaino and other committee members asked Wednesday for the Sheriff's Department and other agencies to report back on training programs for working with homeless people and how to expand services and outreach for the severely mentally ill.
Twitter: @AlpertReyes
Twitter: @tcurwen
Sign up for Essential California for news, features and recommendations from the L.A. Times and beyond in your inbox six days a week.
You may occasionally receive promotional content from the Los Angeles Times.