Bay Area highway shut down after drivers 'almost hit a flock of wild horses'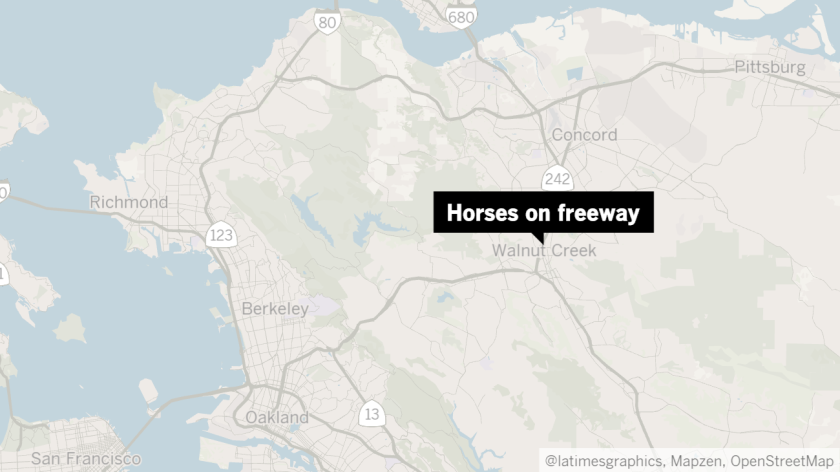 Once the horses ran onto the freeway, calls to the California Highway Patrol really started to pick up.
The horses were southbound, no, now they were northbound. Drivers flooded CHP dispatchers with reports.
"They were doing both at one time," CHP Officer Eric Anderson said of the horses. "There were multiple callers … they didn't start on the freeway."
In what one teacher exclaimed was "the best reason" ever to miss a class, Interstate 680 in Contra Costa County was briefly shut down just before 8 a.m. Monday after a pair of horses, one brown and one white, galloped from the city streets of Alamo onto the highway.
The horses broke loose about 7:25 a.m. in Alamo, the CHP said on Facebook.
"The horses evaded responding CHP units for approximately 20 minutes on city streets before making their way onto Interstate 680," the agency said.
They made for an entertaining, albeit confusing, sight for commuters.
"Almost hit a flock of wild horses on my commute to work today," tweeted someone with the Twitter name Slimjanders. The post included a video of the two steeds charging south, along the center median.
"What the heck just saw on 680 north before S. main in Walnut Creek 2 horses running on shoulder traffic backed up," another driver tweeted.
The horses were first spotted running on Crest Avenue north of Castle Crest Road in Alamo, a neighborhood lining local foothills, Anderson said.
From there, the horses moved onto the freeway, where they galloped up and down the lanes and brought traffic to a complete halt until they were captured and walked off about 8:30 a.m., Anderson said.
The horses exited at Rudgear Road, he said. No injuries were reported.
For breaking California news, follow @JosephSerna on Twitter.
---
The stories shaping California
Get up to speed with our Essential California newsletter, sent six days a week.
You may occasionally receive promotional content from the Los Angeles Times.