Black-focused housing at Cal State L.A. draws criticism, but it's nothing new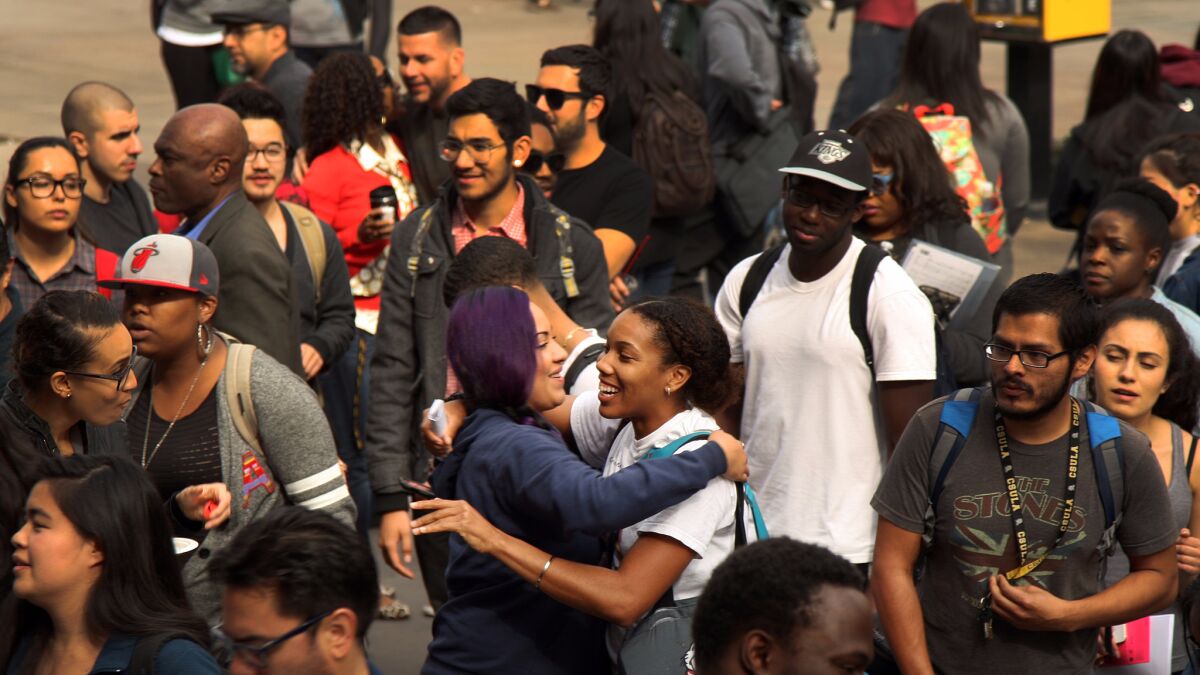 The debut of a new housing option at Cal State Los Angeles is attracting a lot of attention, starting with its name: the Halisi Scholars Black Living-Learning Community.
The on-campus housing is meant to gather those interested in issues concerning the black community. Twenty-four students are living in the themed dorm space, and Cal State L.A. said there is a wait list to get in.
News of the housing spread around the Internet on Tuesday, generating criticism. Some said separating minority students runs counter to the aims of the civil rights movement. Stories appeared on the Fox News website and at the Blaze, the online outlet launched by conservative commentator Glenn Beck.
Cal State L.A. said the housing is hardly unique and shuts no one out.
"This community is open to all students," said Cal State L.A. spokesman Robert Lopez. "This living-learning community focuses on academic excellence and learning experiences that are inclusive and non-discriminatory."
Lopez, a former Times staff writer, said in an email that the university offers four "themed living communities," including first-year, honors and gender-neutral housing.
The focused housing options are tucked in the campus' residential complex, which has 192 fully furnished apartments. Most students do not live on campus.
UC Berkeley has seven communities that each offer housing themed around a specific community, including Native Americans, Asian Pacific Americans and African Americans.
Stanford offers four "ethnic theme dorms" that each focus on Latino, Native American, Asian American and black culture. These are among nearly 20 "theme houses" at the Palo Alto campus.
Reed College in Portland, Ore., offers an "intentional living community" for "students of color to heal together from systemic white supremacy," and the themed housing focuses on black and indigenous voices, according to the college's website.
Since 2001, Cornell College in Iowa has offered "living learning communities." During the 2015-16 academic year, the college had housing that confronts "problems and concerns of Black students," according to the college's website.
Twitter: @MattHjourno
MORE LOCAL NEWS
On death row, condemned inmates offer surprising views on effort to end death penalty in California
U.S.-born baby found dead at empty lot in Tijuana; authorities seek clues
The stories shaping California
Get up to speed with our Essential California newsletter, sent six days a week.
You may occasionally receive promotional content from the Los Angeles Times.