Another former staffer of Jose Huizar sues L.A., claiming the councilman had an affair with an aide and misused his staff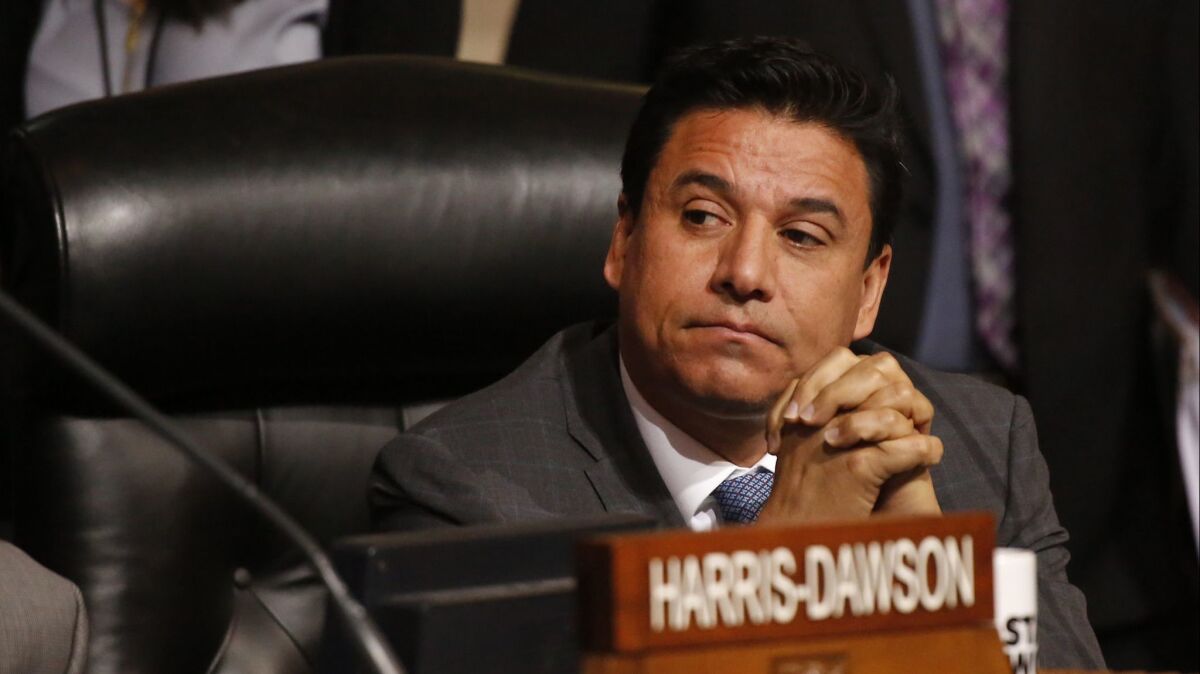 A second former staffer for Los Angeles City Councilman Jose Huizar has filed a lawsuit against the city, alleging she faced retaliation after complaining that Huizar had an affair with a staffer and had instructed his aides to perform inappropriate tasks.
Pauline Medina, 45, said in her discrimination, harassment and wrongful-termination lawsuit that Huizar launched a campaign to push her out in 2017 after she told the councilman's chief of staff that her boss was in a relationship with someone else in the office.
Medina, who left Huizar's office in June, said she also was punished for complaining about a "lack of boundaries" in her workplace, with staffers being ordered to pick up the councilman's dry cleaning, collect his children from school and move his wife's car so that she would not get a parking ticket on street-sweeping day.
"Ms. Medina had no choice but to speak up — both on account of her own morality and for her own sanity," the lawsuit states.
Many of the allegations made by Medina are similar to those contained in a separate lawsuit filed last week by Mayra Alvarez, another former Huizar aide. Both share the same attorney, Terrence Jones. Both claim that Huizar gave preferential treatment to an unnamed aide with whom he was having an extramarital relationship.
Huizar, in a statement, called Medina a disgruntled former employee who "left on her own accord after being confronted with an investigation that revealed her misconduct."
"This lawsuit is full of misrepresentations and I deny all these crazy allegations," he said. "This is nothing more than a coordinated political attack by individuals who share the same attorney and have a vested interest in denigrating my name and supporting certain political opportunists."
Huizar did not say who he believes is coordinating the alleged attack.
Alvarez, like Medina, is alleging she faced retaliation after complaining about an affair. However, Alvarez also said she was punished for voicing concern that Huizar aides had been assigned to work during city time on the upcoming council campaign of Huizar's wife, Richelle Huizar.
Huizar called Alvarez's lawsuit "nonsense" in a statement last week. His wife is running in the 2020 election to succeed Huizar in the 14th District, which stretches from downtown and Boyle Heights to Eagle Rock.
Huizar hired Medina in 2008. She has a son with one of Huizar's brothers and said in her lawsuit that her familial relationship with the councilman helped her land the job. The relationship with Huizar's brother ended in 2012, according to the filing.
A former office manager, Medina said in her lawsuit that she became uncomfortable with some of the councilman's activities, such as using city funds to pay for golf tournaments and other "gala events."
Medina also alleged that staffers had been required to "engage in fundraising activities" for Huizar's alma mater, Bishop Mora Salesian High School in Boyle Heights, during city work hours.
An official at Salesian did not immediately respond to a request for comment.
Medina's last day was June 20, according to a spokesman for the city's personnel department. That same day officials said that they received a complaint against Huizar on MyVoiceLA, Mayor Eric Garcetti's new web portal for reporting harassment and bias at City Hall.
When Medina left Huizar's office, she was earning nearly $62,000 annually, the personnel spokesman said. Medina said that before she resigned, she was experiencing anxiety, migraines, panic attacks and other health issues. She took two medical leaves earlier this year.
The two lawsuits come five years after another aide, former Huizar deputy chief of staff Francine Godoy, filed a sexual harassment case against the councilman. Godoy claimed in that case that she faced retaliation after she refused to provide the councilman "sexual favors."
At the time, Huizar called those allegations "false and malicious" but said that he did have an "occasional and consensual" affair with Godoy. He and Godoy later settled the case privately.
Twitter: @DavidZahniser
---
The stories shaping California
Get up to speed with our Essential California newsletter, sent six days a week.
You may occasionally receive promotional content from the Los Angeles Times.