Former aide to Councilman Jose Huizar files lawsuit alleging an affair, retaliation and 'ethical violations'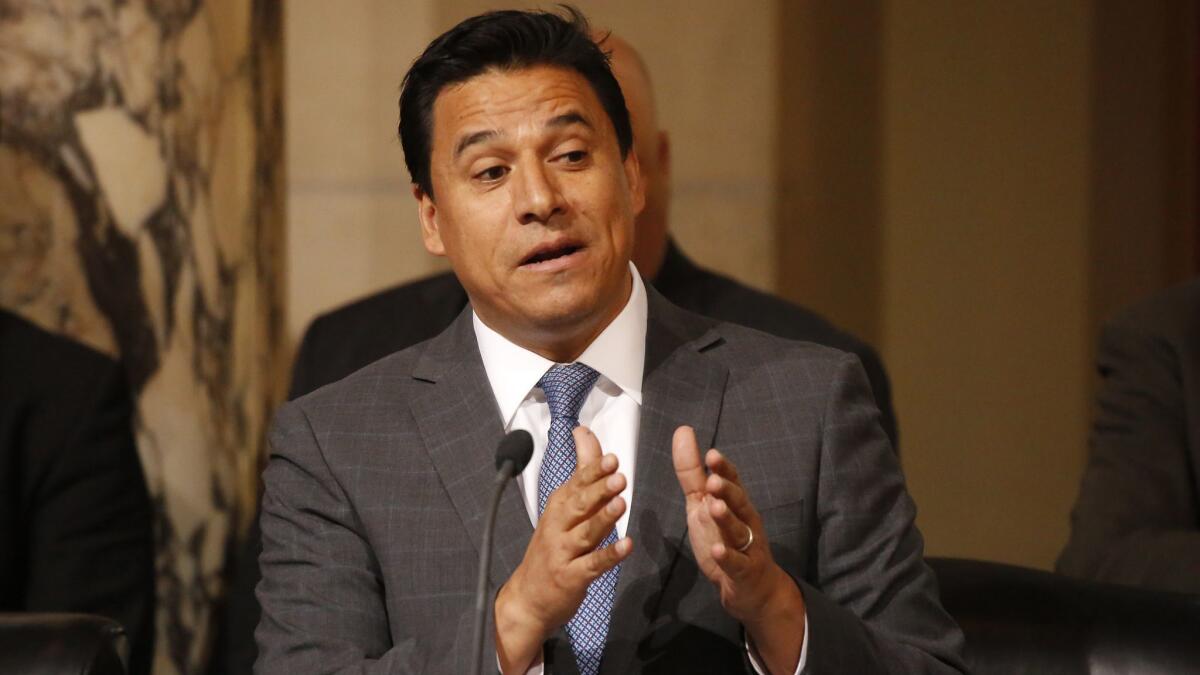 A former staffer with Los Angeles City Councilman Jose Huizar is suing the city of Los Angeles, alleging she faced retaliation after voicing concerns that her boss was having an affair with an aide and committing "potential legal and ethical violations."
Mayra Alvarez, who left the councilman's office in July, said she was demoted and had her responsibilities scaled back after she complained that staffers had been assigned to work during city time on the upcoming council campaign of Huizar's wife, Richelle Huizar.
Alvarez said she was also punished for taking maternity and disability leave — and for complaining that Huizar was having an affair with one of his aides, a situation she said had been causing "friction" in his office.
Many of the councilman's staffers "believed that Huizar's mistress received more favorable treatment from him with respect to assignments and more leniency with respect to deadlines and attendance," the lawsuit states.
Huizar issued a statement calling the legal filing "absolute nonsense," saying its accusations are "completely false" and "outlandish."
"It is nothing more than a hit piece orchestrated by political operatives who seek to undermine all the good work I've accomplished on behalf of my constituents," he said.
Terrence Jones, the attorney representing Alvarez, would not name the person involved in an alleged affair, saying he does not want to "shame her." However, he said his client is not referring to Francine Godoy, who sued Huizar for sexual harassment in 2013 and later settled privately.
Huizar said at the time that he had engaged in a consensual extramarital affair with Godoy, his former deputy chief of staff, calling the relationship "a huge mistake."
Alvarez, who started with Huizar as an intern and became a full-time staffer in 2014, is seeking financial damages and attorneys' and experts' fees. She currently works as a staffer to Assemblywoman Wendy Carrillo (D-Los Angeles), a former Huizar aide herself.
Huizar is named as a defendant in the case, which alleges workplace harassment, retaliation and pregnancy discrimination.
The Alvarez lawsuit comes as city officials are investigating a separate discrimination complaint lodged against Huizar through the city's online complaint system. A five-member committee held its first meeting Oct. 10 to look into those allegations, according to a personnel department spokesman.
Alvarez did not file that complaint, her lawyer said.
The Alvarez lawsuit comes one month after Richelle Huizar announced she is running in the 2020 election to replace her husband. She has been appearing at various community events with her husband, who faces term limits in two years. A consultant for her campaign did not respond to requests for comment.
Alvarez said in her legal filing that in June 2017, Huizar began requiring his council staff to hold "Executive No. 2" meetings to plan and launch his wife's campaign. The councilman instructed aides to share his calendar with his wife and email her talking points to get her up to speed on certain issues, according to the lawsuit.
Alvarez said she voiced concern to Huizar about those activities, which she considered a violation of city and state ethics rules. Her concerns were "rebuffed" by the councilman, she said.
"Despite local, state and federal laws prohibiting government employees from engaging in political activity on the job, Huizar required his city staffers to conduct meetings in order to plan Richelle Huizar's campaign," the lawsuit states. "Those meetings were formally calendared and occurred during normal city work hours and within city properties."
Huizar, in his statement, drew a link between the Alvarez lawsuit and his wife's upcoming campaign. "I find it suspicious that these claims have surfaced now when my wife has announced her candidacy for my seat," he said. "This further supports that this is politics at its worst."
In her lawsuit, Alvarez said she and other staffers were instructed to perform other nongovernmental activities for the councilman, such as picking up his dry cleaning, dropping his children off at school and going to his home in Boyle Heights to "let his dog out to poop."
Alvarez said she also chafed at instructions from Huizar to alter appointment calendars from 2015 and 2016 that had been requested by The Times under the California Public Records Act. In her lawsuit, she said Huizar did not want the public to know about meetings with lobbyists and developers.
Alvarez said she voiced concern about the practice but was "compelled" by the councilman to make the changes, the lawsuit states. "She was then directed to delete all of the emails concerning the calendar modifications," according to the filing.
Huizar was elected to the council in 2005 and represents neighborhoods stretching from downtown to Eagle Rock. Before joining the council, he served on the Los Angeles Board of Education.
Twitter: @DavidZahniser
---
UPDATES:
4:40 p.m.: This article was updated to say a consultant to Richelle Huizar's campaign did not respond to requests for comment.
1:10 p.m.: This article was updated with a statement from Jose Huizar.
This article was originally published at 10:45 a.m.
Sign up for Essential California for news, features and recommendations from the L.A. Times and beyond in your inbox six days a week.
You may occasionally receive promotional content from the Los Angeles Times.