Councilman Jose Huizar drops request to seal documents in legal battle with ex-aide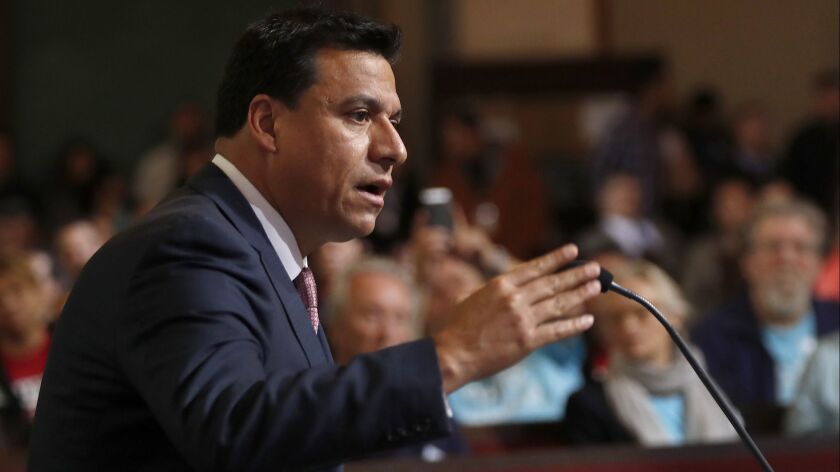 Los Angeles City Councilman Jose Huizar, who faces an FBI probe and lawsuits from two former staffers, is withdrawing a request to seal a court motion as he tries to postpone one of those suits.
Huizar has been sued by Mayra Alvarez, a former aide who alleged in a lawsuit that she faced retaliation after voicing concerns that Huizar was having an affair with an aide and engaging in practices that she believed violated local, state, and federal law.
His attorneys have said in court filings that they wanted to postpone proceedings in the Alvarez case because of an ongoing federal investigation into City Hall.
They had argued that the motion to delay the case needed to be sealed to protect Huizar's constitutional rights, since the councilman plans to "rely on information pertaining to the criminal investigation that is not public."
Now, however, they are pulling back on that request. In a court filing Monday, attorneys for Huizar said they were withdrawing their motion to seal, without providing further explanation. They also asked to cancel a May hearing that had been scheduled to review the request.
Attorneys for The Times had planned to oppose Huizar's request to seal the documents in the Alvarez case, but had yet to file any documents in court. Terrence Jones, an attorney who represents Alvarez, had also expressed concerns about sealing the documents, saying last month that Huizar should not get to "litigate his misconduct in the shadows."
Huizar and his attorneys made a similar push in a second case filed by a former aide, Pauline Medina, who alleged that she too faced retaliation after complaining that Huizar had an affair with a staffer.
In court filings, the attorneys said they wanted to postpone the Medina case as well — and planned to try to file their request under seal. But earlier this month, a judge turned down the idea of holding a special hearing on sealing that request.
It was not clear whether the attorneys still plan to seek a delay in the Medina case. Lawyers for Huizar declined to comment on their filings at that time and did not immediately respond to additional requests for comment.
Jones, the attorney for Alvarez and Medina, also did not immediately respond to inquiries.
The latest turn in the court case comes nearly six months after FBI agents raided Huizar's home and offices. Investigators also sent subpoenas to real estate developers and filed a search warrant last year seeking evidence of extortion, bribery and other possible crimes involving Huizar and several other figures at City Hall.
The federal warrant did not say that the FBI had gathered evidence of criminal activity by any of the people named in the document. No arrests have been announced and no charges have been filed publicly.
Huizar has fired back at the accusations leveled by his former aides. When Alvarez filed her lawsuit, Huizar issued a statement denouncing it as "nothing more than a hit piece orchestrated by political operatives who seek to undermine all the good work I've accomplished on behalf of my constituents."
Medina sued the city soon after Alvarez left the council office and went to work for state Assemblywoman Wendy Carrillo (D-Los Angeles).
Huizar called Medina a disgruntled former employee who quit after being confronted with an investigation into her own misconduct. He said her suit was "full of misrepresentations."
Twitter: @AlpertReyes
---
For reporting and exclusive analysis from bureau chief John Myers, get our California Politics newsletter.
You may occasionally receive promotional content from the Los Angeles Times.