L.A. and Riverside counties search for murder suspect wanted for questioning in seven other homicides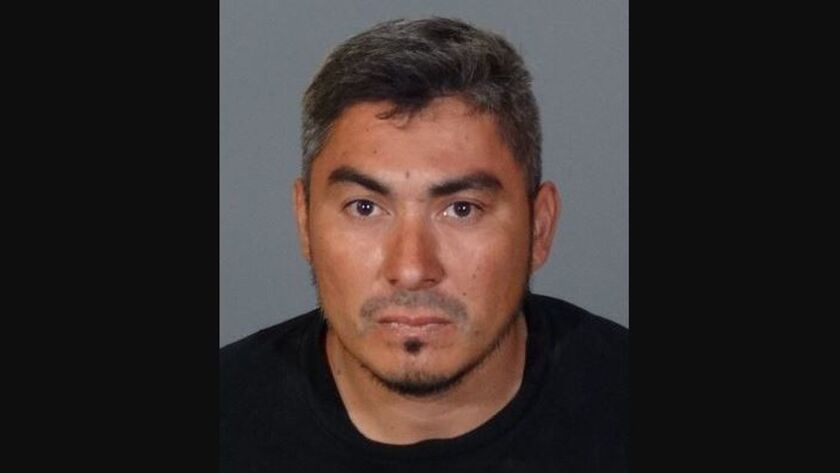 Investigators in two counties are looking for a man who is a person of interest in seven homicides in Antelope Valley and a suspect in an eighth killing in Riverside County, authorities said.
Jesus "Chuy" Guzman, 34, was first named a person of interest last month when investigators found three decomposed bodies on the property he rented on the 30900 block of 106th Street East in Littlerock, said Los Angeles County Sheriff's Det. David Gunner.
Guzman was evicted from his 106th Street home in August, the same day sheriff's investigators found weapons, evidence of methamphetamine production and some stolen trailers and trucks on the property, Gunner said. Guzman was not home at the time and had failed to show up for a court hearing three weeks earlier for a July arrest, he said.
Investigators didn't find the decomposed bodies until Oct. 11. Two have been identified as Jose Joseph Lara Paez, 66, and Julieta Arvizu, 49, both of Littlerock. Later last month, investigators found the remains of two more bodies in a different part of the property. It's unclear how they died.
Lara Paez and Arvizu were friends who disappeared in January with Arvizu's boyfriend, Cuauhtemoc Lara, 39. Lara Paez's car had been found abandoned in March on a Littlerock street, where residents said it had been parked for a month and a half, Gunner said.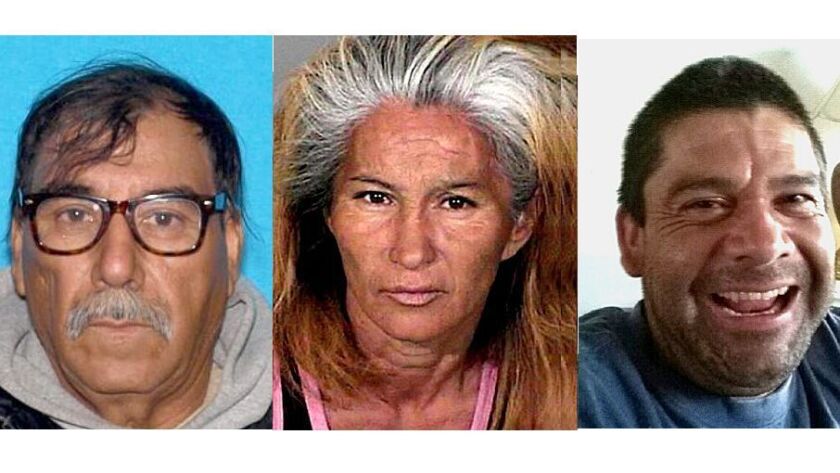 Arvizu and Lara lived together in a trailer in Littlerock, where Lara Paez would sometimes stay when he and his wife were quarreling, Gunner said.
Guzman also has been named a person of interest in the fatal shootings of Gerardo "Jerry" De Luna, 33, and Mariano Panduro Campos, 41, who were found dead on Campos' property in Littlerock, according to Sheriff's Lt. Joe Mendoza.
Guzman, De Luna and Campos "were acquainted socially," Mendoza said. "If took us a little while to figure out he was a friend of theirs, and based on the other stuff he's involved in, we'd like to ask if he knows what happened during that double murder."
The Riverside County Sheriff's Department also is looking for Guzman. He and Rodolfo Garcia, 35, of Perris, are suspected in a February "botched" home-invasion robbery in Menifee that claimed the life of Silvano Gutierrez Esteves, 43, according to a department news release. Garcia has been arrested and charged with murder.
Investigators believe the pair was drawn to the "large amount of marijuana" found on Esteves' property. Witnesses reported seeing several male suspects fleeing from the property after Esteves was killed, the news release said.
Guzman — who was described as Latino, 5-foot-5 and 150 pounds, with black hair and brown eyes — should be considered armed and dangerous. He is known to frequent Littlerock, Adelanto, Victorville, Riverside and Compton, and drives a black 2009 Toyota Corolla, with California license plate of 6SCD663.
Anyone who sees Guzman is urged to call 911 immediately. Anyone with information about the killings is asked to call the sheriff's Homicide Bureau at (323) 890-5500 or Riverside County Sheriff's investigator Martin Alfaro at (760) 393-3528. Those wishing to remain anonymous should call Crime Stoppers at (800) 222-8477.
---
The perils of parenting through a pandemic
What's going on with school? What do kids need? Get 8 to 3, a newsletter dedicated to the questions that keep California families up at night.
You may occasionally receive promotional content from the Los Angeles Times.