'Even the cops don't like us anymore': Under Trump, ICE is despised and divided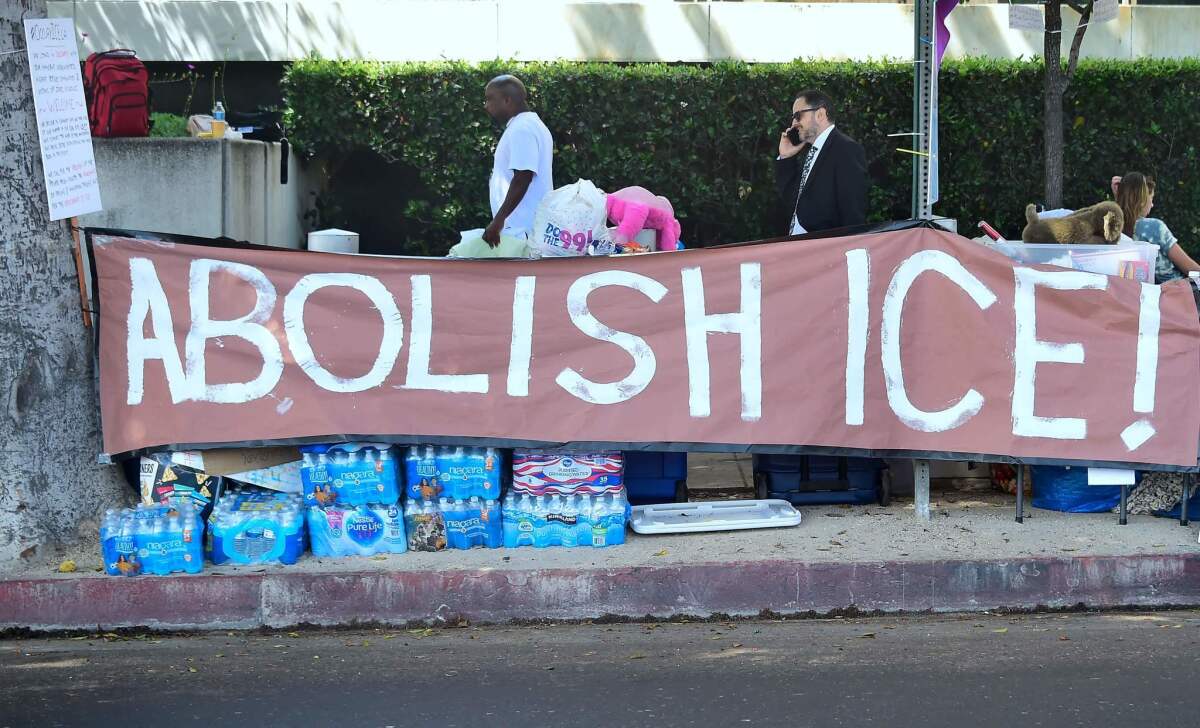 In May, Immigration and Customs Enforcement agents were spotted in Union Station. Their appearance triggered a phone call to Los Angeles Mayor Eric Garcetti's office.
An LAPD officer reached out to David Marin, the director of Enforcement and Removal Operations for ICE in L.A.
Far from any raid taking place, Marin told the officer that the agents had merely gone there to get coffee.
"I get calls regularly," Marin said earlier this month. "It was not like that at all up until this administration."
Across the nation, ICE has never seemed more visible, especially as anger continues over the separation of immigrant families at the border under the Trump administration's "zero-tolerance" policy. Protesters have rallied across the U.S., demanding that the agency be abolished — calls that have been echoed by politicians. Earlier this month, WikiLeaks published the identities and information of more than 9,000 supposed current and former ICE employees.
Being an ICE agent has always come with challenges. The agency has faced criticism for years from immigration activists, including during the uptick in immigration enforcement during the Obama administration.
But Trump's crackdown on illegal immigration has made ICE much more of a target. Oakland Mayor Libby Schaaf won praise from many of her constituents and criticism from the White House earlier this year when she alerted her city to upcoming ICE raids.
Many California police departments have longstanding policies against working with ICE to arrest suspects on immigration charges. But since Trump took office, California has enacted even tougher "sanctuary state" policies limiting cooperation with federal immigration officials even more, and that has heightened the strains.
The mission of ICE's Enforcement and Removal Operations division, or ERO, is to "identify, arrest, and remove aliens who present a danger to national security or are a risk to public safety, as well as those who enter the United States illegally or otherwise undermine the integrity of our immigration laws and our border control efforts." While ERO might be the most well-known, it is not the only division within the agency.
Homeland Security Investigations, or HSI, which includes more than 6,000 special agents, bills itself as an investigative arm of the Department of Homeland Security and a vital asset in "combating criminal organizations illegally exploiting America's travel, trade, financial and immigration systems."
But the missions of ERO and HSI have been "erroneously combined," according to a letter signed by 19 special agents in charge at ICE's Homeland Security Investigations branch and sent to Homeland Security Secretary Kirstjen Nielsen.
Many jurisdictions continue to refuse to work with HSI "because of a perceived linkage to the politics of civil immigration," the Texas Observer reported, citing the four-page letter, which proposes restructuring ICE and creating two separate agencies.
"HSI is constantly expending resources to explain the organizational differences to state and local partners, as well as to Congressional staff, and even within our own department — DHS," the letter stated. "The development of two new effective agencies is a positive step for the Department, as part of the progression that ICE has experienced since its inception fifteen years ago.
Other jurisdictions have agreed to partner with HSI, but only if the "ICE" name is not included in "public facing information."
"HSI's investigations have been perceived as targeting undocumented aliens, instead of the transnational criminal organizations that facilitate cross border crimes impacting our communities and national security," the letter continued. "Furthermore, the perception of HSI's investigative independence is unnecessarily impacted by the political nature of ERO's civil immigration enforcement."
DHS did not comment on the letter.
Recently, "Occupy ICE" protests have sprung up across the nation. In Portland, Ore., protesters were able to shut down an ICE facility for at least a week.
On Saturday, hundreds of coordinated rallies were scheduled around the country to protest Trump's zero tolerance policy, which has resulted in the separation of more than 2,000 children from their parents or guardians crossing the border.
This week, Rep. Mark Pocan (D-Wis.) stated that he plans to introduce legislation to eliminate ICE. Alexandria Ocasio-Cortez, who beat Rep. Joe Crowley, the House Democratic Caucus chair, in New York's Democratic primary, ran on a platform that called for the abolition of the agency.
ICE "fully respects the Constitutional rights of all people to peacefully express their opinions," ICE said in a statement. "That being said, ICE remains committed to performing its immigration enforcement mission consistent with federal law and agency policy."
The growing anger directed at the agency prompted Trump to take to Twitter to call out what he described as "shameless attacks on our courageous law enforcement officers."
"Extremist Democrat politicians have called for the complete elimination of ICE. Leftwing Activists are trying to block ICE officers from doing their jobs and publicly posting their home addresses – putting these selfless public servants in harm's way," Trump tweeted. "These radical protesters want ANARCHY – but the only response they will find from our government is LAW AND ORDER!"
On a recent morning, fugitive operations teams with ERO fanned throughout the Los Angeles area, searching for "criminal aliens, illegal re-entrants and immigration fugitives." When the agents stopped for coffee at a Starbucks in Huntington Park, they noted that the negative opinion of the agency had recently intensified.
"Even the cops don't like us anymore because they're listening to the news also," said one agent, who did not want his name included. " 'Oh you guys are just separating families.' "
As the agents prepared to leave, a Huntington Park police car pulled into the parking lot. Someone had probably seen the agents, Marin said, and called the police.
Twitter: @Brittny_Mejia
---
UPDATES:
9:10 a.m.: This article was updated with information about rallies across the country on Saturday.
8:25 a.m.: This article was updated with addition information about ICE and California.
This article was originally published at 4 a.m.
---
Life is stressful. Our weekly mental wellness newsletter can help.
You may occasionally receive promotional content from the Los Angeles Times.