Woman swept up in massive cocaine bust in L.A. now faces deportation, spurring protests and anger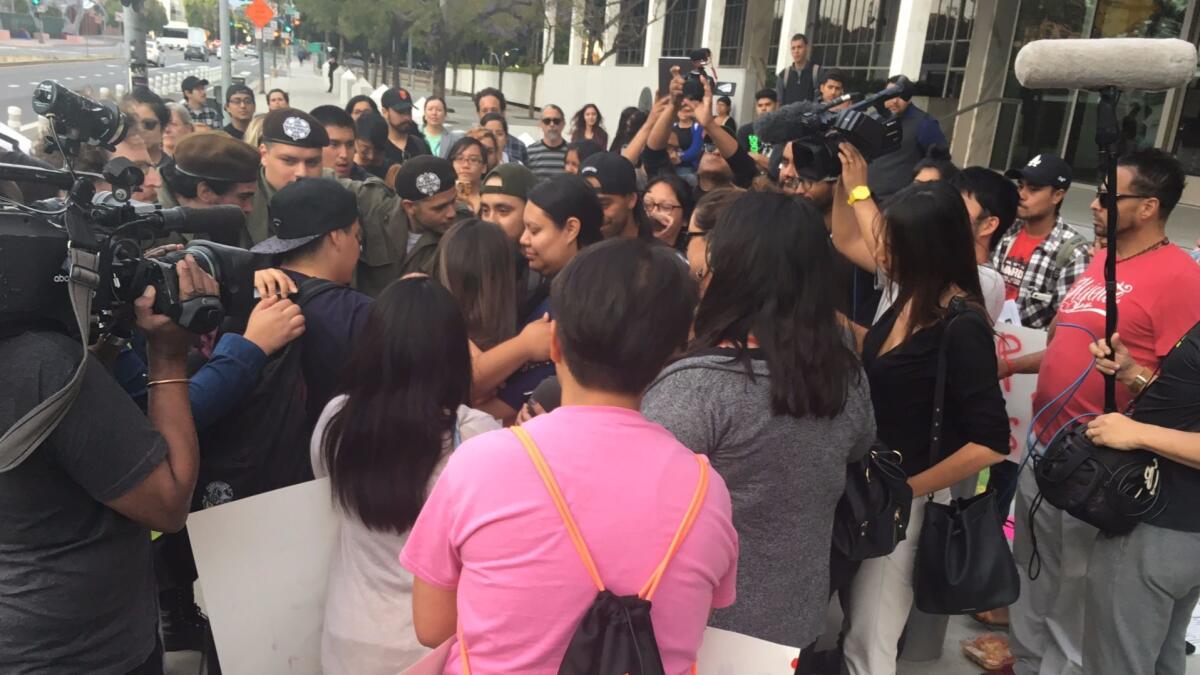 Dozens of people gathered in downtown Los Angeles on Tuesday to protest the detention of a 54-year-old woman who now faces deportation for living in the country illegally.
Teresa Vidal-Jaime was picked up by federal authorities Monday after a massive drug bust at a Boyle Heights apartment complex where she lives. During the raid, her husband was arrested for drug possession and investigators seized more than 30 pounds of cocaine and $600,000 in cash, according to the U.S. Border Patrol.
But Vidal-Jaime's daughter, Claudia Rueda, an immigration activist in Los Angeles, joined community organizers to protest her mother's detention, calling it an unlawful raid that swept up an innocent woman in a criminal probe.
"Her mother didn't have anything to do with this," said Marcela Hernandez, one of the organizers. Vidal-Jaime "didn't know anything about anything in the apartment. She let them in."
Los Angeles County Sheriff's Department officials said the Border Patrol alerted them about 5 p.m. Monday to a Chevrolet Malibu that was believed to be involved in the cross-border drug trade. The sedan was believed to be en route to Los Angeles.
When the car arrived in the 700 block of Bernal Avenue in Boyle Heights, investigators spotted several men unloading drugs from the vehicle, sheriff's officials said.
Border Patrol agents and sheriff's investigators swarmed and arrested four men. Investigators seized about 33 pounds of cocaine inside a car registered to Hugo Rueda, 50, who is married to Vidal-Jaime.
Next, investigators headed to an apartment where Vidal-Jaime gave consent to a search, Border Patrol officials said. At the apartment, about $600,000 in cash was discovered. Authorities also found an ounce of crystal methamphetamine.
Hugo Rueda and the three other men were booked on narcotics charges and were each being held in Los Angeles County jail on $500,000 bail.
How Vidal-Jaime was detained is unclear and a source of controversy among activists and community members.
The Sheriff's Department said investigators detained her at the scene but released her because she was not believed to be involved in the narcotics probe. In a statement, the Sheriff's Department said none of its personnel asked her about her immigration status.
The Border Patrol said in a statement that agents took custody of Vidal-Jaime because she was living in the country illegally. She came to the U.S. in 2001 and her daughter said she was being held in Chula Vista for deportation proceedings. A small protest was also held Tuesday for Vidal-Jaime outside a Border Patrol station in San Ysidro, near the border.
At the protest, about 70 people yelled "Free Teresa now" repeatedly outside a plaza of federal buildings in downtown.
Claudia Rueda was surrounded by a ring of protesters who offered support. Some of the demonstrators said they viewed Vidal-Jaime's detention as retribution for her daughter's line of work.
"We think it is retaliation against her mother for her daughter's activism," Hernandez said.
Claudia Rueda said she was attending class Monday evening at Cal State L.A. when she received the news about the raid, according to a statement issued by the Immigrant Youth Coalition, and quickly returned home.
"Despite being told she would not be detained as long she cooperated, my mother was apprehended during an illegally conducted raid at my apartment," Claudia Rueda said in the statement.
"I know my mother is innocent, and both [the Sheriff's Department and Border Patrol] know that, which is why they were supposed to let her go."
Twitter: @MattHjourno
ALSO
50,000 Haitian Americans fear deportation if U.S. does not renew their protected status
25 years after riots, South L.A. still waiting for its renaissance
A 23-year-old 'Dreamer' sues the Trump administration over his deportation to Mexico
U.S. judge blocks Trump order threatening funds for 'sanctuary' cities
---
UPDATES:
2:45 a.m. April 26: This article was updated with a detail about a protest in San Ysidro.
This article was originally published at 9:05 p.m. April 25.
Sign up for Essential California for news, features and recommendations from the L.A. Times and beyond in your inbox six days a week.
You may occasionally receive promotional content from the Los Angeles Times.