L.A. council panel backs plan for a new city holiday: Indigenous Peoples Day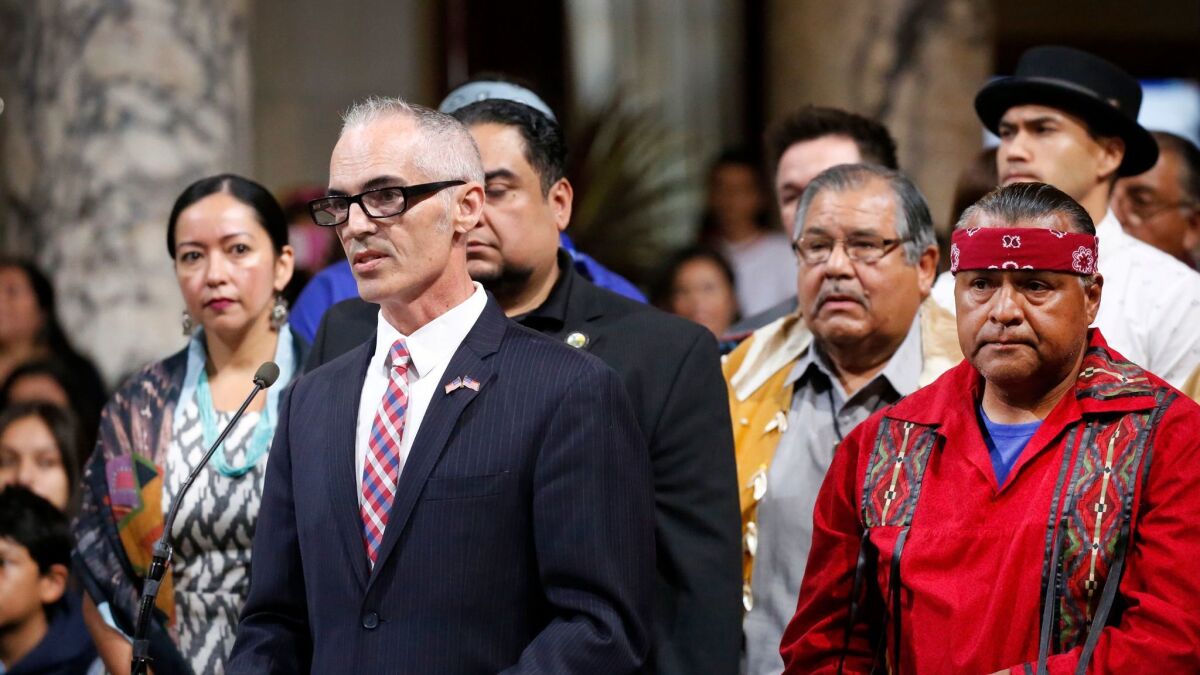 The fight over what to do with Columbus Day in Los Angeles is heading for a showdown at the City Council — one that has already exposed lingering wounds over race, oppression and national identity.
The council's Rules, Elections, Intergovernmental Relations and Neighborhoods Committee unanimously endorsed a proposal this week to take Columbus Day off the city calendar and put in its place a new Indigenous Peoples Day.
The proposal, backed by Native American community leaders, would allow the city to acknowledge the contributions of "indigenous, aboriginal and native people" on the second Monday of October, currently a paid holiday for city workers. But it has drawn opposition from Italian American civic groups, who argue that their ancestors have also faced oppression — and turned to Columbus Day as a way to recognize their heritage.
The disagreement between those two camps played out during a lengthy Wednesday night hearing. No one in the room spoke against the creation of Indigenous Peoples Day. Instead, the debate focused mostly on a symbolic question: Who loses out if Columbus Day is replaced with a celebration of something else?
Councilman Mitch O'Farrell, a member of the Wyandotte Nation originally from Oklahoma, said the change in holidays would provide a form of "restorative justice" to Native Americans. Replacing Columbus Day, he said, would provide a public acknowledgment that Christopher Columbus' arrival in the 15th century set in motion the subjugation, enslavement and genocide of indigenous peoples across the Western Hemisphere.
"It's a really devastating history," he said. "It was almost immediate subjugation and slavery."
Councilman Joe Buscaino, a first-generation Italian American from San Pedro, promised to fight O'Farrell's proposal when it reaches the council — and said this week's committee vote made him "embarrassed" to be a council member.
Buscaino has offered a counter-proposal to rename Columbus Day in the city's administrative code as Immigrant Heritage Day. He argued that O'Farrell's proposal would needlessly divide Angelenos at a time when inclusiveness is needed.
"I strongly support an Indigenous Peoples Day in the city of Los Angeles, but not at the expense of another culture or group of people," said the councilman, whose port district has a significant number of Italian American residents.
"To me, I feel like it's removing Martin Luther King Day out of our books … or removing Cesar Chavez Day," he said.
Council President Herb Wesson, who heads the rules committee, spent much of this week's meeting trying to find a solution where neither side would feel left out. He eventually acknowledged such a goal was not possible.
"There will be some people that will be unhappy," he said.
Los Angeles provides its employees with 12 paid holidays a year, and the most recently added is Cesar Chavez Day, established in 2002. That year, city lawmakers considered replacing Columbus Day, which has been a federal holiday since the Great Depression, with Cesar Chavez Day. The council soon faced a backlash from Italian Americans, who called the proposal racist, and both holidays were allowed to coexist.
If O'Farrell's proposal is approved by the council later this year, it would go into effect no later than 2019. Columbus Day would remain a national holiday.
Several U.S. cities, including Seattle, Portland, Albuquerque and Denver, have already replaced Columbus Day with Indigenous Peoples Day. Los Angeles has been discussing the idea for nearly two years.
Buscaino suggested that Indigenous Peoples Day could be held in August or September. So far, three council members — David Ryu, Gil Cedillo and Mitch Englander — have signed on to his plan for Immigrant Heritage Day, arguing that Columbus Day is not so much about the Italian explorer as the fight for recognition by Italians and other immigrants.
Ann Potenza, president of Federated Italo-Americans of Southern California, told council members that Italians who came to the U.S. in the 19th and 20th centuries also confronted slurs and injustices. Columbus Day, she said, let them know that "it's OK to come from another country, and the things that you contributed here are important."
Potenza said she favors the idea of holding an Indigenous Peoples Day — but not on the day currently reserved for Columbus Day. She said she prefers Buscaino's alternative proposal.
The council's rules committee proposed having Oct. 12 declared as an Italian American heritage day in Los Angeles — but not as a city holiday. The panel also asked city officials to look into the possibility of creating a city holiday that would commemorate immigrants, diversity or possibly the concept of America.
Councilman Marqueece Harris-Dawson, who serves on the committee, pointed out that an Immigrant Heritage Day would exclude two groups: African Americans and Native Americans. He and Wesson worried aloud that backers of President Trump would use the replacement of Columbus Day in Los Angeles to publicly sow divisions between different groups.
"It just destroys me, like somebody shooting gasoline in my veins, to give this administration anything else they can use to make people think it's OK to look at us as if we don't belong here," Wesson said.
O'Farrell, for his part, compared his proposal to the recent removal of statues in parts of the South that recognize the Confederacy. Backers of O'Farrell's proposal said Columbus' activities in the Caribbean, including his enslavement of Native Americans, should not be sanitized.
"We need this recognition," said Whittier resident Patricia Lopez, who serves on the Los Angeles City/County Native American Indian Commission. "We need this day to heal."
Rudy Ortega Jr., tribal president of the Fernandeño Tataviam Band of Mission Indians, said Native Americans have experienced numerous defeats, losing land, their water rights and much more. Passage of O'Farrell's proposal, he said, would allow the city's indigenous people to stand proud.
"We want one little victory," he said.
Twitter: @DavidZahniser
ALSO
Goodbye, Columbus? L.A. councilman wants to establish Indigenous Peoples Day
Opinion: Are you celebrating Columbus Day or Indigenous Peoples Day?
This is why we still have Columbus Day
---
UPDATES:
6:00 p.m.: This article was updated with additional context and reaction.
This article was originally published at 5 a.m.
---
The stories shaping California
Get up to speed with our Essential California newsletter, sent six days a week.
You may occasionally receive promotional content from the Los Angeles Times.