This is why we still have Columbus Day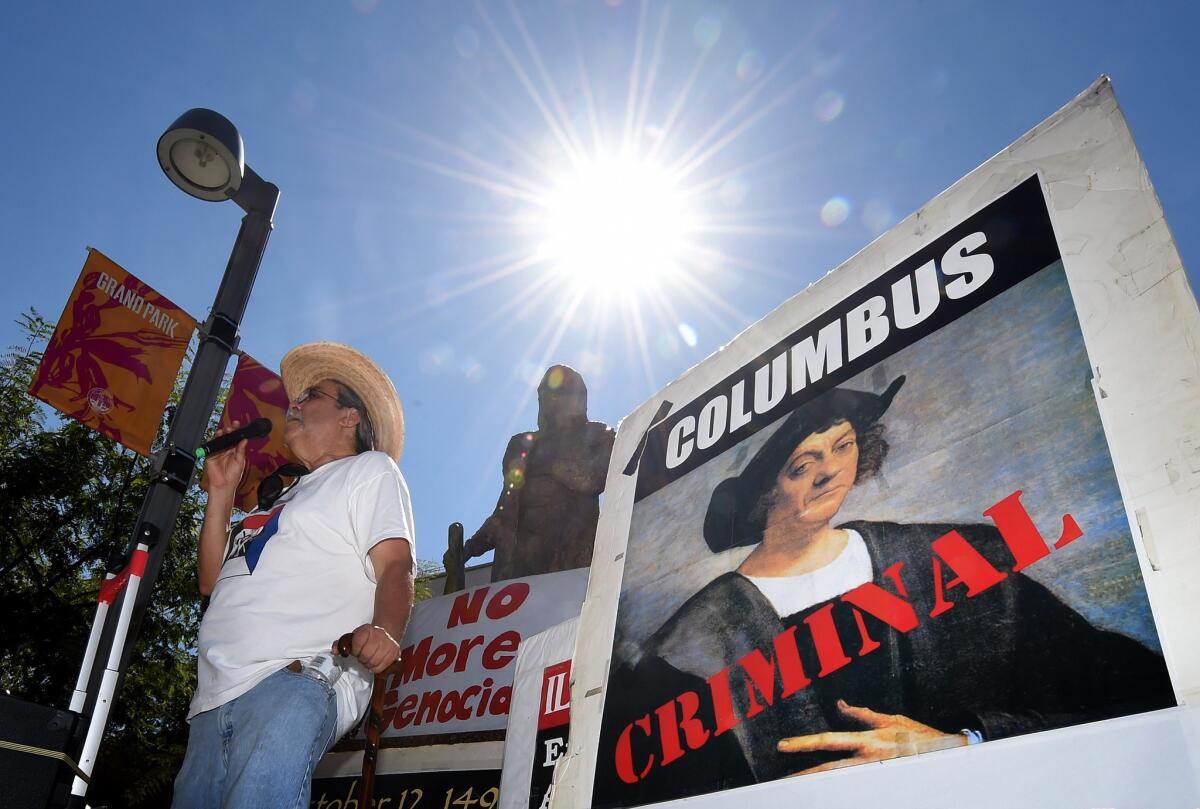 Every fall in recent memory has reignited the ongoing handwringing about the landing of Christopher Columbus in the New World, and the legacy his "discovery" left us.
For decades, the U.S. has celebrated the second Monday of October as a federal holiday, an "annual reaffirmation by the American people of their faith in the future, a declaration of willingness to face with confidence the imponderables of unknown tomorrows," according to a Senate report from the year Congress made Columbus Day a federal affair.
Native American activist groups, among others, see Columbus as a European colonizer who set in motion the genocide of an entire people. But the reasons we still have a holiday in his name are pretty straightforward.
RELATED: On Indigenous Peoples Day, some facts about California's Native students >>
Columbus Day was Italian Americans' idea, and many of them want to keep it
After strong lobbying from the Knights of Columbus, a Catholic service organization consisting largely of Italian Americans, President Franklin D. Roosevelt proclaimed Oct. 12, 1937, as the first Columbus Day and "directed that flags be displayed on all government buildings on that date," according to a front page item in the Los Angeles Times that September.
"Each recurrence of Columbus Day brings to all of us a greater appreciation of the heritage we have received as a result of the faith and courage and fortitude of the Genoese navigator and his brave companions," Roosevelt said to mark the occasion the next year. (Celebrations in Los Angeles honoring Christopher Columbus were happening as far back as 1932, according to news reports at the time.)
Congress passed the Monday Holiday Law in 1968, establishing the three-day weekend for some federal holidays and adding Columbus Day as an official public holiday. By then, 45 states were already observing it.
Since then, efforts to eliminate or rename the Columbus Day holiday in various states and cities have met strong resistance from Italian Americans, who have said Columbus is an important figure in their heritage and calling such efforts "anti-Italian American."
In 2002, the Los Angeles City Council voted to allow city employees to take Cesar Chavez Day as a paid holiday instead of Columbus Day, a move that prompted a slew of prominent Italian Americans, including former Dodgers manager Tommy Lasorda, to send a strongly worded letter to city officials. As a compromise, the council allowed city employees to celebrate either holiday. (Although California Gov. Arnold Schwarzenegger eliminated the Columbus Day state holiday as part of a budget-cutting measure in 2009, Los Angeles city and county offices still observe it. The Los Angeles Unified School District does not.)
When Montana state Sen. Don Ryan tried to swap the state's Columbus Day holiday in favor of a Sept. 11 holiday to avoid the increased cost of an extra paid holiday, Italian Americans spoke out against the bill and it was voted down, he told The Times in 2009.
See the most-read stories this hour >>
It would take an act of Congress to scrap the federal holiday — and it doesn't look like anyone has even tried
Since Congress enshrined the day as a public holiday in 1968, it would take another act of Congress to eliminate it.
And in a search of bills going back to 1973, it doesn't appear any have been introduced. There have been resolutions introduced, however "expressing support for students to learn about Christopher Columbus" and "proclaiming Christopher Columbus to be an honorary citizen of the United States." Another measure, which passed both houses in 1992, expressed support for the planting of 500 California redwood trees in Spain to commemorate the 500th anniversary of the voyage.
Robert Holden, deputy director of the National Congress of American Indians, said that although the idea has been brewing in the Native American community for years, there has been no political will to introduce such a measure. The organization has lobbied, however, for establishing November as Native American Heritage Month and other forms of recognition.
"We want to put some accuracy in history and acknowledge that we were here, and that we are still here," said Holden, who is of Choctaw and Chickasaw descent.
Interested in the stories shaping California? Sign up for the free Essential California newsletter >>
Alternatives exist, but millions of people still go to Columbus Day parades
In 1992, the city of Berkeley was the first to declare the day Indigenous Peoples Day. Last year, Seattle and Minneapolis followed suit, and this year, Albuquerque; Portland, Ore.; St. Paul, Minn.; and Olympia, Wash., did too.
Twenty-two states, including California, do not consider it a paid holiday. South Dakota celebrates Native American Day instead, and Hawaii and Alaska, which also have large native populations, don't recognize it at all.
In polls going back to 2007, very few Americans have said they believe Columbus Day is one of the nation's most important holidays. In 2014, 45% of those surveyed by Rasmussen said they consider it one of the least important.
Even so, according to a 2013 poll, 58% of Americans still think America should honor the Italian explorer.
And New York City's Columbus Day Parade is one of the city's biggest public gatherings of the year. This year it was expected to draw more than a million spectators. See the big crowd below.

For more breaking news and explanations, follow me @cmaiduc
ALSO:
Thought the scorching heat in Southern California was over? Think again
Sarkisian's firing 'in the best interest of' school and student athletes, Haden says
#MillennialPledge backlash is 'what you get when you raise an entire generation without spanking'
Sign up for Essential California for the L.A. Times biggest news, features and recommendations in your inbox six days a week.
You may occasionally receive promotional content from the Los Angeles Times.