L.A. County supervisors pick a temporary head of the public defender's office amid criticism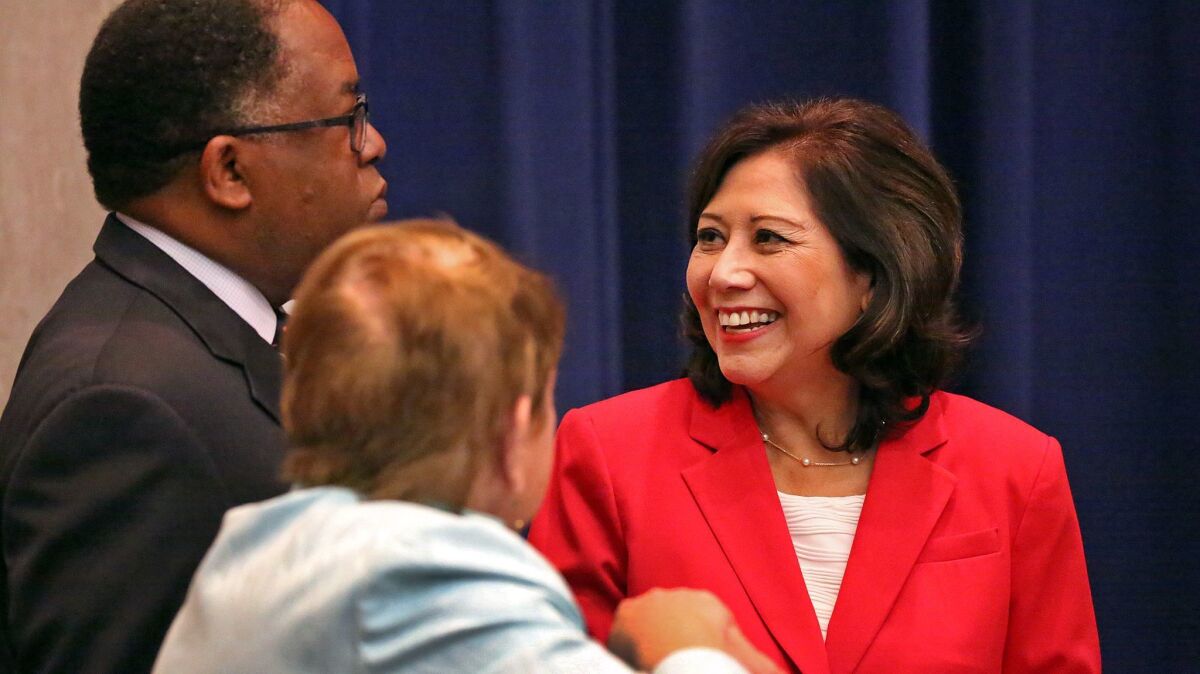 The Los Angeles County board of supervisors voted Tuesday to appoint a new interim head of the public defender's office, despite criticism from defense lawyers that the new pick has no experience in criminal law and previously defended law enforcement officers.
Six attorneys from the public defender's office publicly told supervisors at Tuesday's board meeting not to appoint Nicole Davis Tinkham, saying she knew nothing about the office's work of representing indigent clients in criminal cases.
The board unanimously approved Tinkham's six-month appointment without discussion.
In a letter sent to public defender's office employees last week, Supervisor Sheila Kuehl said Tinkham had a deep appreciation for the agency's work and expressed confidence that she could "help bring much needed stability" to the office.
Tinkham, she said, would bring a team from the county counsel's office. Kuehl's letter said the board is also considering commissioning a management audit to learn more about the challenges facing the public defender's office.
Tuesday's decision is the latest move by supervisors to find someone to run the agency — the oldest public defender's office in the nation — which has been without a permanent leader for more than a year since Ron Brown stepped down at the end of 2016. Deputy public defenders represent an array of clients who cannot afford their own lawyers, including adults and juveniles accused of crimes and people facing civil commitments for mental health treatment.
In the days before Tuesday's vote, around 390 of the office's 650 attorneys signed a letter questioning Tinkham's nomination for the temporary position, said Elizabeth Lashley-Haynes, a deputy public defender with the office for 15 years.
Tinkham, who has been a lawyer in California since 2003, works as a senior deputy county counsel and has defended sheriff's deputies in several lawsuits against the county.
Christine Rodriguez, a 14-year veteran lawyer in the public defender's office, told supervisors she was astonished and disappointed that they would appoint a person who lacked hands-on experience representing indigent defendants in criminal court. She said the office needs a leader who can help shape criminal justice policy at a state level.
"I understand that the label's an interim and that it's temporary," Rodriguez told the supervisors, "but this is at a critical juncture in our criminal justice system. There are issues such as bail reform, mental health issues and juvenile justice issues that require attention at this very moment."
Tinkham replaces Kenneth I. Clayman, who worked as the interim public defender for four months.
In a statement to The Times, she said she plans to uphold the mission of the office while tackling its challenges.
"I intend to foster a collaborative approach that recognizes the expertise of the staff while also bringing my own experience and skills to the issues confronting the office," the statement said. "I will have no divided loyalty as I dedicate my time and energy to this interim position."
Prior to joining the county, Tinkham was a trial attorney and partner at the law firm Collins, Collins, Muir and Stewart for 14 years where she represented clients that included the Sheriff's Department.
In one of those cases, she defended a sheriff deputy who shot a 15-year-old boy brandishing a toy gun at deputies responding to a trespassing call, according to court documents.
After Tinkham joined the county, she worked on other cases defending sheriff's deputies.
Thomas Tyler, a deputy public defender for 19 years, said he is concerned that Tinkham's involvement in such cases creates a conflict of interest, making it harder for him to build trust among clients he represents.
"This appointment makes zero sense," he said in an interview after the meeting.
Supervisor Mark Ridley-Thomas said the board last year offered the permanent head public defender position to two candidates. Each of them, he said, turned down the job for personal reasons. He did not identify them.
He said that the objections voiced at Tuesday's meeting over Tinkham's appointment would not be ignored.
"We listened carefully. Their concerns won't fall on deaf ears," Ridley-Thomas said.
Follow me on Twitter @melissaetehad
---
UPDATES:
6:55 p.m.: This article was updated with a statement by Tinkham.
This article was originally published at 6:40 p.m.
The stories shaping California
Get up to speed with our Essential California newsletter, sent six days a week.
You may occasionally receive promotional content from the Los Angeles Times.