Sriracha plant's possible move out of Irwindale called 'very extreme'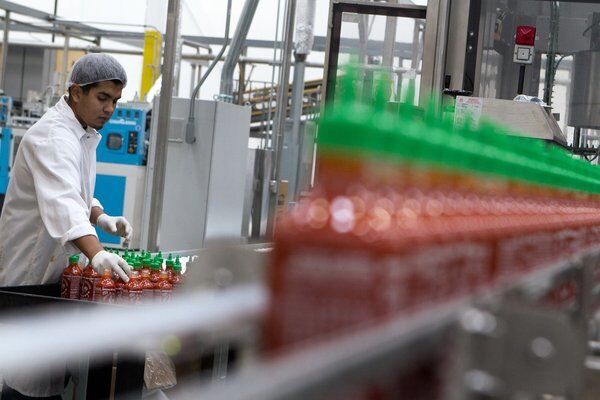 Jostein Reyes works in the packaging area at Huy Fong Foods Inc. in Irwindale. Huy Fong Foods Inc. is known for its Sriracha hot sauce.
(Cheryl A. Guerrero / Los Angeles Times)
Texas state Rep. Jason Villalba, right, tours the Huy Fong Foods plant, maker of Sriracha hot sauce, with founder and Chief Executive David Tran in Irwindale.
(Leo Jarzomb / Associated Press)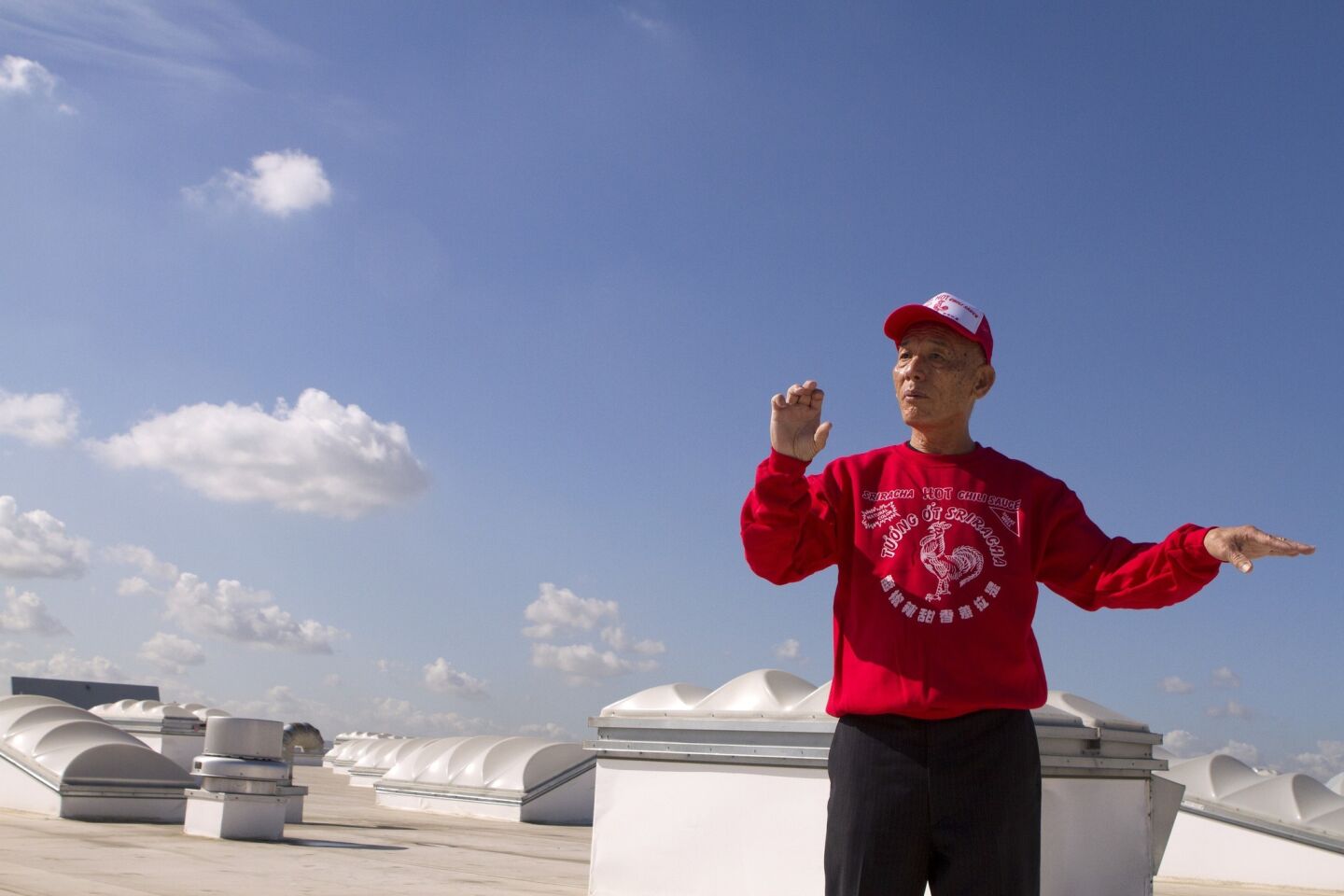 David Tran, chief executive and founder of Huy Fong Foods Inc., gives a tour of his facility in Irwindale. Nearby residents have complained about burning eyes, irritated throats and headaches.
(Cheryl A. Guerrero / Los Angeles Times)
Salvador Segura oversees hybrid jalapenos unloaded from a truck at Huy Fong Foods Inc. in Irwindale.
(Cheryl A. Guerrero / Los Angeles Times)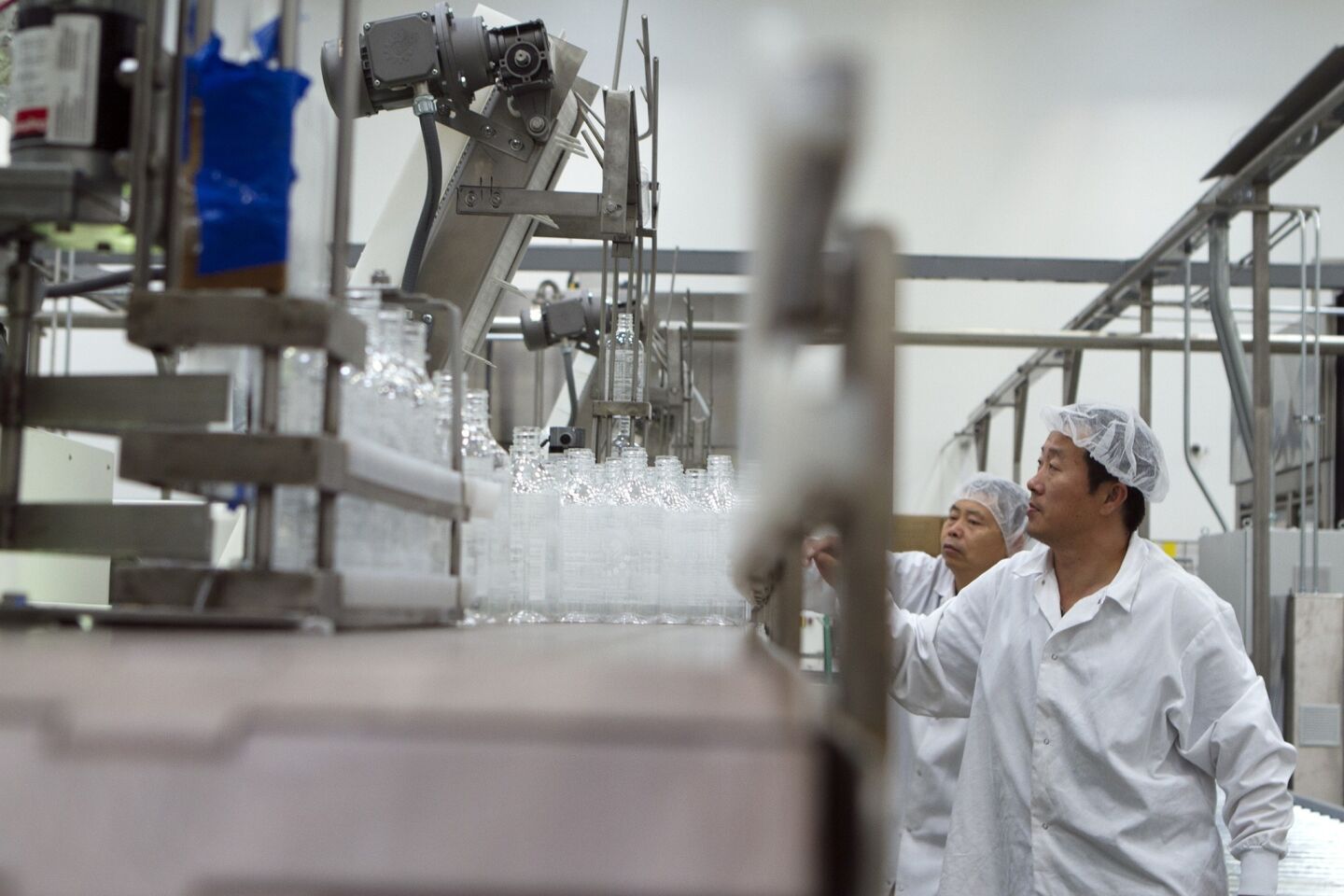 Wei Wang and Wei Zhang work in the packaging area at Huy Fong Foods Inc. in Irwindale.
(Cheryl A. Guerrero / Los Angeles Times)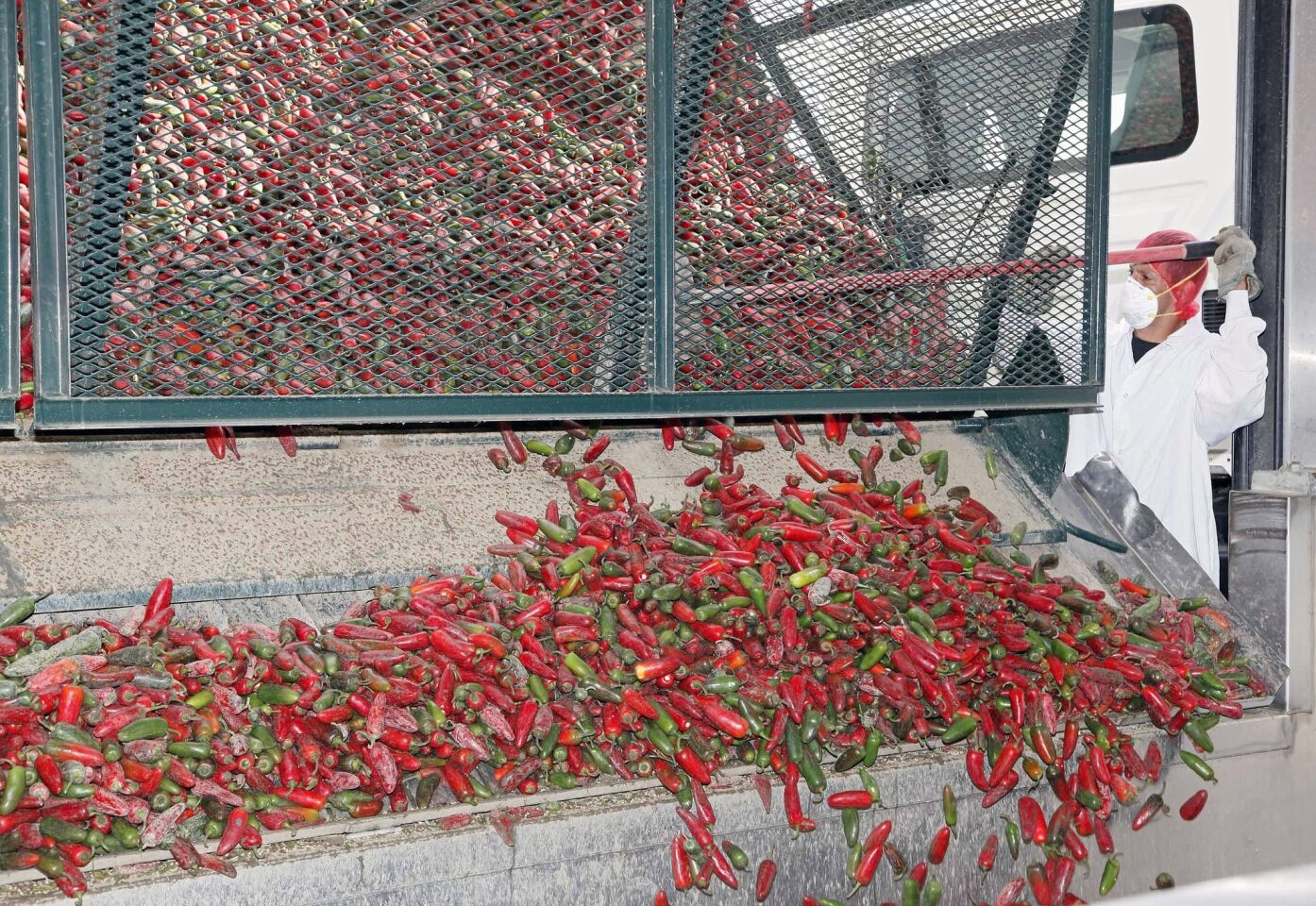 Sriracha chili sauce is produced at the Huy Fong Foods factory in Irwindale.
(Nick Ut / Associated Press)
William Barrios sweeps the floor while hybrid jalapenos are washed at Huy Fong Foods Inc. in Irwindale.
(Cheryl A. Guerrero / Los Angeles Times)
Irwindale's city attorney said he was confused and disappointed to hear that Sriracha hot sauce creator David Tran is seriously considering moving his factory -- the source of a months-long battle over spicy odor complaints -- out of the city.
"This seems very extreme," City Atty. Fred Galante said. "It's disappointing given that [air quality officials] have explained that there are readily available solutions."
Tran told The Times on Wednesday that he was exploring his options after the Irwindale City Council voted unanimously last week to designate the factory a public nuisance, despite promises from the saucemaker to submit an action plan and fix the smell by June 1.
Tran said he fears the city won't accept any solution he proposes. If Irwindale residents continue to complain even after smell-mitigation technology is installed, Sriracha's legal troubles could have no end, Tran said.
City officials "tell you one thing, but think another," Tran said in an interview at Huy Fong Foods. "I don't want to sit here and wait to die."
Tran responded Wednesday to the politicians and business leaders from 10 states and multiple cities in California that have offered to host the Sriracha factory. He invited them to tour the facility in Irwindale and decide if their communities would complain about the odors that arise during production.
Relocating Sriracha production would not be simple. Tran has been working with a single pepper grower in Ventura County for years, and the businesses have shaped their operations around each other, expanding in tandem. Since peppers for Sriracha hot sauce must be fresh ground on the day they are harvested, Tran said he'll have to find a new grower if he moves, as well as replace or relocate 60 to 200 employees.
Tran said his first choice is to stay in Irwindale, but the city government's actions have created an uncertain business climate.
Irwindale's public nuisance designation gives city officials the authority to enter the factory and install smell-mitigation technology if the company does not make the appropriate changes within approximately 90 days. Tran fears that the city's intervention could delay the crucial pepper harvest this fall and cause ruinous financial harm to the company.
Irwindale officials are also suing Huy Fong Foods in Los Angeles Superior Court, and the outcome of the lawsuit could jeopardize a pepper crop that's worth tens of millions of dollars, Tran said.
"I have had the bad luck to move into a city with a government that acts like a local king," he said.
Twitter: @frankshyong
---
The stories shaping California
Get up to speed with our Essential California newsletter, sent six days a week.
You may occasionally receive promotional content from the Los Angeles Times.