Brain-dead Jahi McMath could be transferred to New York facility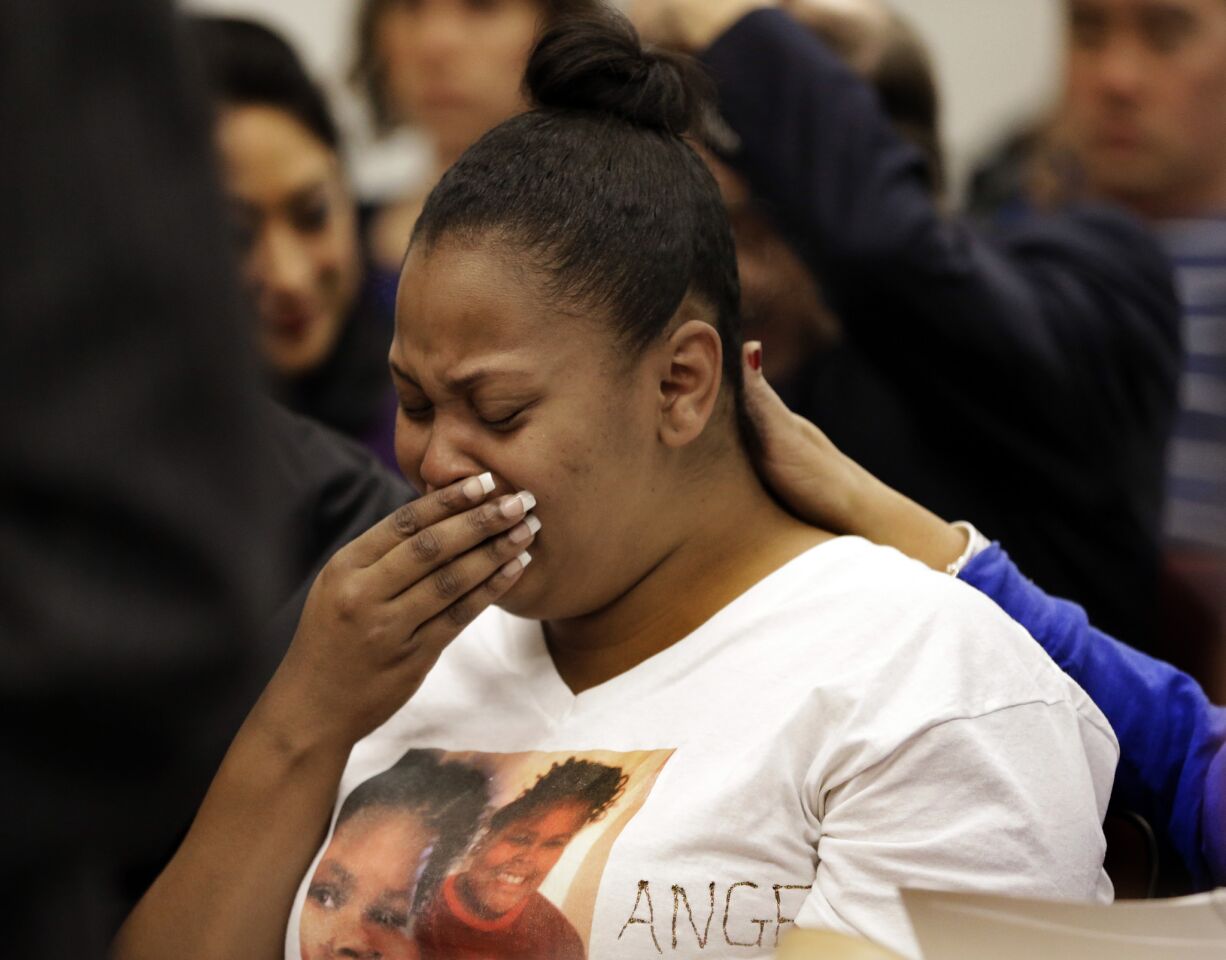 Nailah Winkfield, mother of 13-year-old Jahi McMath, cries before a courtroom hearing regarding McMath, on Dec. 20, 2013, in Oakland.
(Ben Margot / Associated Press)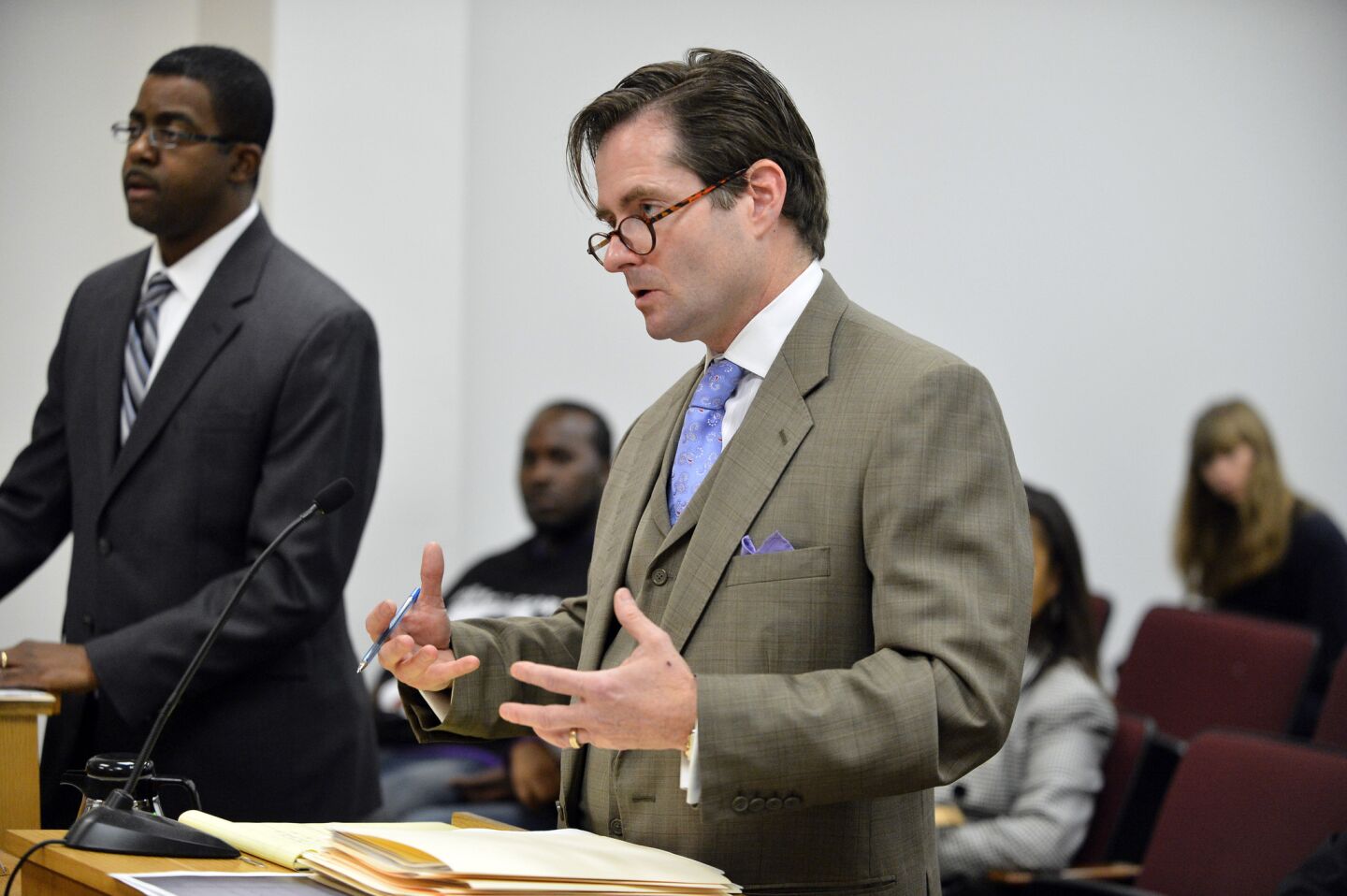 Christopher Dolan, attorney for Nailah Winkfield, mother of Jahi McMath, speaks during a court hearing in Oakland on Dec. 23, 2013.
(Kristopher Skinner / Associated Press)
Marvin Winkfield places his arm around his wife, Nailah Winkfield, mother of 13-year-old Jahi McMath, as they wait outside a courtroom Friday.
(Ben Margot / Associated Press)
Omari Sealey makes a statement to the media on the condition of his niece Jahi McMath on Monday.
(Marcio Jose Sanchez / Associated Press )
An attorney representing the family of a 13-year-old brain-dead girl in Oakland said in court filings Monday that it hopes to move her to a facility in New York.
The family of Jahi McMath has been trying to find a facility that will take her in while at the same time fighting in court to keep her on a ventilator at Children's Hospital Oakland, where she was declared brain dead on Dec. 12 -- three days after a complex tonsillectomy surgery.
Chris Dolan, who represents the McMath family, said in court papers posted by NBC Bay Area that New Beginnings Center in Medford, N.Y., had agreed to take Jahi in. The center -- which in a letter to the court describes itself as a "long term subacute care inpatient center caring for the severely brain injured patients" -- said it was aware of Jahi's "dire situation" and willing to accept her as a patient.
Medway Air Ambulance submitted a quote to transport Jahi and an attending physician to the facility for $27,950.
But a spokesman for Children's Hospital Oakland, Sam Singer, has said that even if a facility agrees to take the girl in, three conditions must be met. The family must find an outside physician willing to insert breathing and feeding tubes, a way to transport her, and a facility that is willing to accept "a deceased person," he said.
Singer spoke to a bank of cameras on Monday shortly after a temporary restraining order to keep Jahi on a ventilator was extended through 5 p.m. on Jan. 7. He said the hospital will comply with the order while its attorneys "attempt to deal with this in court."
Jahi suffered heavy bleeding, cardiac arrest and "whole brain death" -- defined as an irreversible cessation of all functions of the entire brain, including the brain stem -- on Dec. 12, three days after complex tonsillectomy surgery.
Two hospital physicians and three outside doctors requested by the family deemed her brain-dead, court records show, and the county coroner was notified of the death. But the family protested the hospital's intention to remove Jahi from a ventilator.
An independent physician named by Alameda County Superior Court Judge Evelio Grillo last week corroborated the determination that Jahi is legally dead, saying that testing showed no blood flow to the brain, no ability to breathe without the ventilator and no sign of electrical activity in her brain.
It was unclear if the bid to transfer Jahi to New York would actually go through. New Beginnings said in its letter filed with the court that a new facility where she would be housed, called the Brendan House, is only "near completion."
And Singer told reporters Monday that "this hospital has had no substantive conversations" with any of the possible outside facilities.
ALSO:
Large pothole damages 22 vehicles on 5 Freeway connector
Two children among four people found dead in Fontana home
Opponents say housing plan would destroy Native American site
---
The stories shaping California
Get up to speed with our Essential California newsletter, sent six days a week.
You may occasionally receive promotional content from the Los Angeles Times.