L.A. County to relocate some inmates, build jail to treat the mentally ill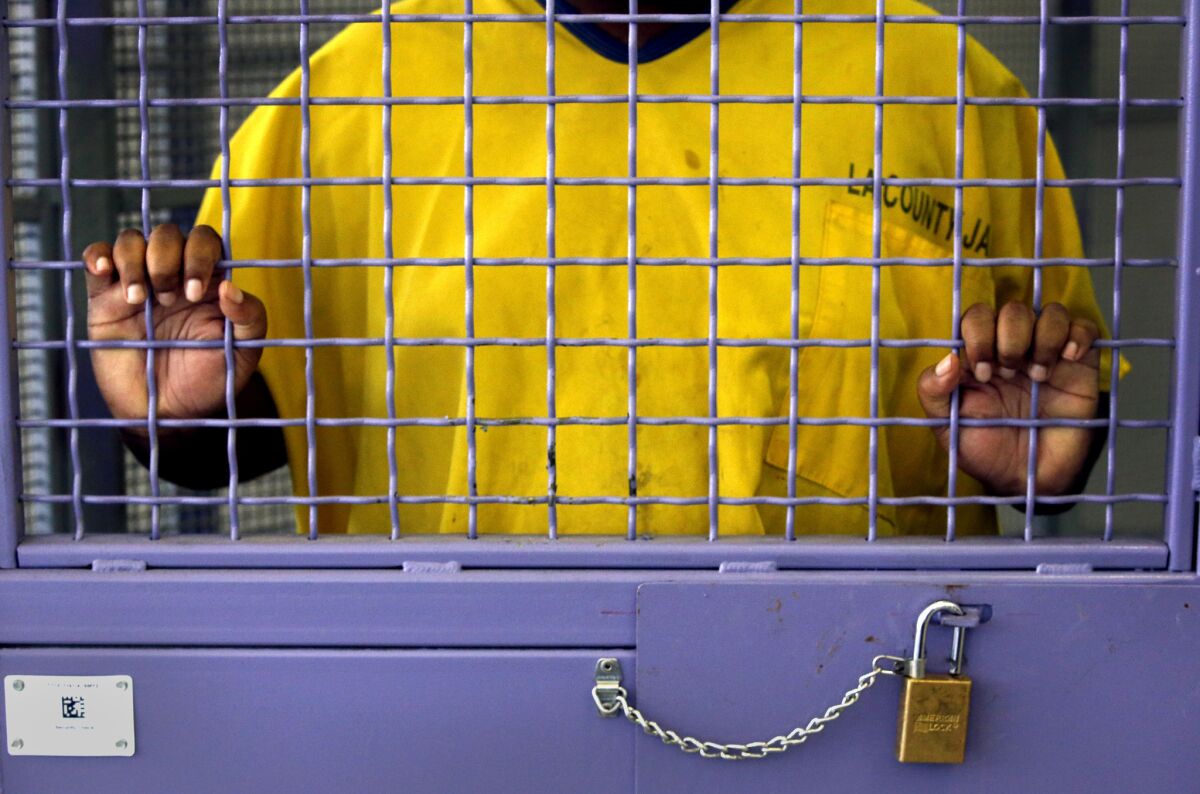 Setting a future course for the troubled Los Angeles County jail system, the Board of Supervisors on Tuesday approved a plan to move at least 1,000 mentally ill offenders out of lockups and voted to build a state-of-the-art jail focused on mental health treatment.
The moves come in response to a growing debate about how the county incarcerates its inmates — particularly the mentally ill, who make up 20% of the roughly 17,000 people behind bars.
County Dist. Atty. Jackie Lacey and others have called for a new approach that would move many mentally ill people out of jail and into treatment programs in hopes that they would get help and not commit more crimes. The supervisors' plan allocates about $10 million annually to such diversion programs.
On Tuesday, the supervisors voted 3 to 1 to build a 3,885-bed jail downtown that would replace the decrepit Men's Central Jail with one geared toward treating inmates with mental health and substance abuse issues. In the same vote, the board approved moving forward with the creation of a new women's jail in Lancaster. Supervisor Don Knabe voted no and Hilda Solis abstained.
Men's Central Jail is half a century old, with a crumbling infrastructure and an environment so oppressive that jail officials concede it puts inmates at a higher risk of suicide.
The dungeon-like jail has been the scene of brutal violence. Deputies have been accused of forming aggressive cliques and inflicting beatings on inmates. Calls to replace the facility date back more than a decade. At one point, a Sheriff's Department watchdog said the jail was at risk of being taken over by the inmates after a series of inmate-on-inmate killings.
Some critics of the plan approved Tuesday said the new jail would be far too large, but sheriff's officials said it would be too small and cause overcrowding elsewhere in the county jail system.
In June, the board — including the two new supervisors, Solis and Sheila Kuehl — pulled back on a plan approved last year for a larger, 4,860-bed, $2-billion jail. Proponents of diversion programs argued that the jail should be smaller because some offenders would be in treatment facilities and because the inmate population has shrunk since November, when Proposition 47 reduced the penalties for some property and drug crimes.
The new downtown jail will take six to eight years to build. Rather than traditional cells with metal bars lined up along narrow tiers, living areas will contain more open space and be easier for guards to monitor. The new women's jail at the now-vacant Mira Loma Detention Center will replace the overcrowded women's lockup in Lynwood with a campus-like environment focused on education and rehabilitation.
On Tuesday, the supervisors considered competing plans, including one from Supervisor Michael D. Antonovich for a 4,600-bed central jail and one from Solis for a 3,243-bed facility, before settling on Kuehl's compromise plan for 3,885 beds.
Kuehl said her jail plan is premised on more offenders being placed in treatment rather than behind bars.
"I see those two things moving forward in tandem," she said of mental health diversion and the new jail. "I'm trying to find a way to change this system, but I am not fantasizing that it changes in a minute."
Interested in the stories shaping California? Sign up for the free Essential California newsletter >>
Assistant Sheriff Terri McDonald said that with limited space in diversion programs, a new jail of the size approved by the board would probably "lead to ongoing crowding in our other jails."
Men's Central Jail currently houses about 4,000 inmates. Many of the inmates at the new jail would be moved from the Twin Towers Correctional Facility, which is now used for mentally ill inmates. That would allow the department to move some inmates in Men's Central Jail to Twin Towers, which was originally designed to house the general population rather than the mentally ill.
It's unclear how much the compromise plan would cost.
The jail proposals were not listed on the public meeting agenda. Instead, during Tuesday's meeting, the supervisors tacked them onto the ambitious diversion plan for mentally ill offenders proposed by Supervisor Mark Ridley-Thomas and Kuehl.
Jail reform advocates praised the diversion plan but opposed the jail plan. They accused the board of violating open meeting laws by voting on the jail plan without written notice.
Anna Mouradian, a justice aide to Antonovich, said the county could have jeopardized $100 million in state money for the new women's facility at Mira Loma if the board had not voted on the jail plan. The State Public Works Board is scheduled to consider the Mira Loma project on Monday.
Mouradian said the county was justified in voting on the jail plan on Tuesday because the diversion plan was on the meeting agenda, and the two issues "go hand in hand."
Peter Eliasberg, legal director of the ACLU of Southern California, threatened a lawsuit over the vote.
"This is an enormous construction project," he told the board. "It should not be rushed ahead, no matter how much this board is afraid of losing money for Mira Loma."
After approving the jail plan, the board voted 4 to 1, with Knabe casting the dissenting vote, to move forward with the plan to place at least 1,000 mentally ill offenders in community treatment programs.
Knabe voted against the compromise jail proposal, arguing that the county needed the option of a larger jail in case diversion did not sufficiently reduce the number of inmates. He did not say why he voted against the diversion plan.
The board's new initiatives come on top of a settlement with federal authorities announced last week that aims to improve the treatment of mentally ill inmates and to curb excessive force by deputies against inmates. Sheriff's officials have said that the deteriorating condition and antiquated design of Men's Central Jail will make it difficult to fulfill all the terms of the settlement, which was prompted in part by an increase in inmate suicides and will be overseen by an independent monitor and a federal judge.
The diversion plan approved Tuesday, which follows recommendations from a task force headed by Lacey, sets up an Office of Diversion and Re-Entry and creates a fund to pay for more mental health services. Some of the roughly
$10 million a year for diversion will come from state money set aside for supervising and helping offenders.
Forty percent of the diversion funds will be spent on housing, including 1,000 housing units for mentally ill people who might otherwise be in jail or homeless. A similar, small-scale program was launched at the San Fernando courthouse last year.
Most of the rest of the money will go toward expanding outpatient treatment programs, substance abuse programs, mental health urgent care centers, and facilities for people with severe mental health issues.
On Tuesday, Lacey praised the board's diversion plan.
"The old way of doing things simply isn't working and isn't just," she said.
Twitter: @sewella, @cindychangLA
Hoy: Léa esta historia en español
ALSO:
L.A. County jail itself poses hurdle to helping mentally ill inmates
Mentally ill woman in LAPD assault a case study in system's lapses
After years of scandal, L.A. jails get federal oversight, sweeping reforms
---
The stories shaping California
Get up to speed with our Essential California newsletter, sent six days a week.
You may occasionally receive promotional content from the Los Angeles Times.