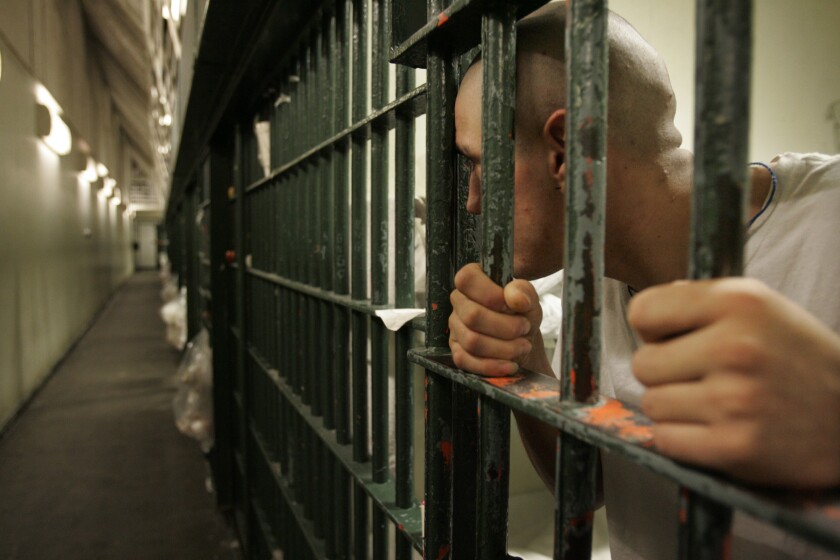 Citing a dramatic increase in jail suicides and "deplorable" conditions for mentally ill inmates, the U.S. Department of Justice announced Friday that it was seeking court oversight of how the Los Angeles County Sheriff's Department treats those inmates.
The move marks a significant escalation by the federal government in its efforts to improve conditions in the nation's largest jail system.
A report by the Justice Department found that living conditions in the jails "are deficient (dimly lit, vermin-infested, noisy, unsanitary, cramped and crowded)."
Federal officials said that those conditions contributed to 15 suicides in less than 30 months. They said some of the deaths might have been prevented with better monitoring by jailers.
Jail officials did little to address the situation even after suicides more than doubled from four in 2012 to 10 the following year, the report said.
Federal officials said they wanted to negotiate an agreement with the county in which a court would be able to enforce reforms. But county officials disputed the federal government's findings and defended its treatment of mentally ill inmates.
"We are disappointed that today's report fails to fully recognize the additional progress made over the last year and a half to improve mental health services," the sheriff's department said in a prepared statement. "The report also mischaracterizes and significantly understates the incredible efforts made to improve our suicide prevention practices."
Since 2002, the Justice Department has monitored the county jails under a Memorandum of Agreement after federal officials found that prisoners' constitutional rights were being violated.
Federal authorities said the sheriff's department had made improvements over the years, but they concluded that the constitutional rights of mentally ill inmates are still being violated.
---