South L.A. high school students stage sit-in to protest mismanagement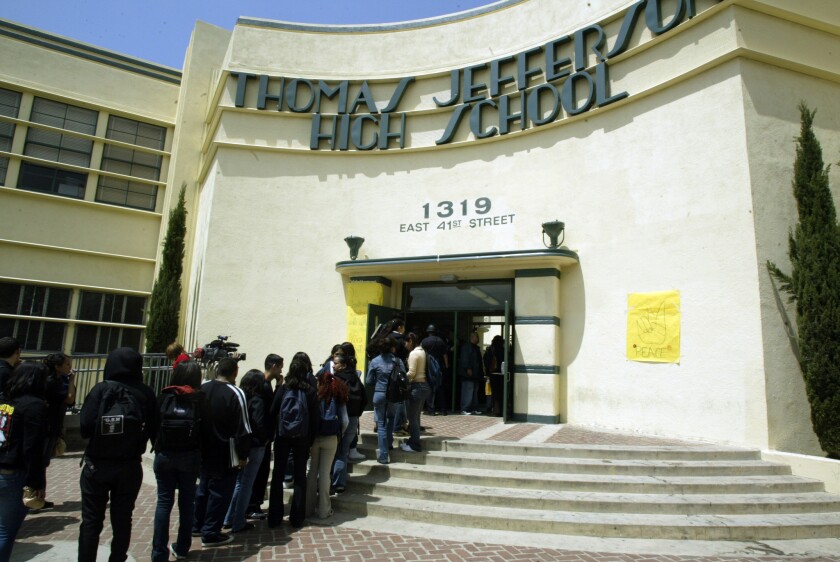 Hundreds of students walked out of class at Jefferson High School on Monday morning, holding a sit-in to protest a host of issues at the South Los Angeles campus -- among them a scheduling snafu that has extended into the third week of school.
Students gathered in the quad after first period, sitting in a grassy area in a silent protest of what they contend has been weeks of mismanagement by administrators that has wasted their time and severely interrupted their education.
For the first weeks of school, many students were left without class schedules, others were given courses they did not need and some were without those required for graduation, students and teachers said.
Several Advanced Placement courses were scheduled at the same time, leaving students unable to enroll in all the college-level courses they desired. Students still learning English were unable to enroll in courses at their level, as they were scheduled during the same periods.
Problems were apparently intensified by a new computer database, known as the My Integrated Student Information System, which caused a litany of scheduling problems around the district in the first weeks of school.
Teachers have described over-enrolled classes, missing or inaccurate rosters, students without schedules and an inability to take attendance in the system.
Last week, district officials overhauled Jefferson's master schedule and removed the principal. The district then installed another principal, Jack Foote, whom the district described as an "experienced administrator who brings to his role a track record of success."
But the issues have persisted, students say.
Foote did not return requests for comment. Students returned to class Monday afternoon.
Senior Jade Garcia, 17, an organizer of the demonstration, said the group decided against the disruption of a walk-out or loud protest, preferring instead to remain on campus and silently express demands to the administration.
"It's the third week of school and we haven't learned anything," she said. "What's the point of being here if I'm not going to learn? We're tired of it."
Among the demands: that the administration provide each student with a proper schedule by the end of the week; that student input be included in how best to fix current issues; that access to laptops be provided for students to work on college applications; and that the administration and staff treat students respectfully.
During a meeting with Foote, in which they presented their demands, the students expressed that if progress was not made by the end of the week, they would begin other forms of protest, Garcia said.
Tommy Chang, a senior district administrator with jurisdiction over Jefferson, said in a statement that the initial class schedule was "unacceptable" and that changes were made "in the best interests of students."
"We absolutely agree that Jefferson Senior High School students deserve a quality education, which is why we have made extra investments to hire more teachers, counselors and other staff to support students to graduate ready for college and career," Chang said.
Ludin Lopez, 17, a senior, was enrolled in four classes he did not need for graduation for the first week of school. Some of his classmates were forced to spend entire days in the auditorium with nothing to do as they awaited their schedules. Freshman were enrolled in classes for seniors, and vice versa, he said.
Lopez's schedule was eventually fixed, but he was angered that, after two weeks, some of his peers were still without relief.
"I had to fight for my classmates," Lopez said. "We're not getting an education. It's not being given to us."
Aissa Riley teaches world history and AVID, a program geared toward helping minorities and low-income students get into college. The class, which assists students with their college applications, lacks the computers to do so. Students have resorted to applying to colleges on their cellphones, Riley said.
Her students, some of whom participated in Monday's demonstration, were proud to advocate for their education.
"They feel good about being a part of a movement for change," she said. "We have a history of being portrayed as a bad school, but our students are good people who want an education and want to go to college. They're being set up for failure so far this year."
For education-related news, follow @stephenceasar on Twitter.
---
The stories shaping California
Get up to speed with our Essential California newsletter, sent six days a week.
You may occasionally receive promotional content from the Los Angeles Times.