Testimony gets steamy in lawsuit against City of West Hollywood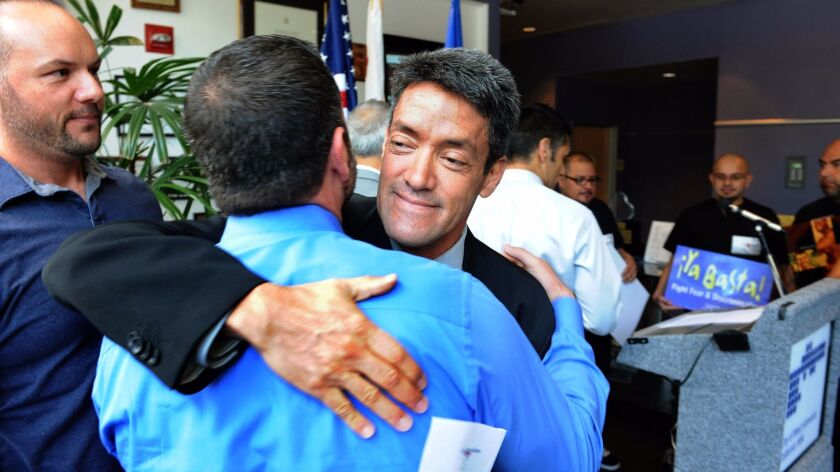 West Hollywood City Councilman John Duran had his deputy, Ian Owens, listed in his cellphone contacts as the "hot Greek" and considered him a close friend.
They went to Disneyland together. They posed for selfies, discussed their sex lives, told bawdy jokes and — the politician testified this week — showed each other photos of men they were dating.
A few times, Duran said, Owens would say to his boss, "Ha, ha, ha, Duran, keep this up, and I'm going to sue you for sexual harassment." But, Duran said, "it was clear [Owens] was joking" because Owens would continue to share his own risque images and tales.
Owens later did accuse Duran of sexual harassment.
Duran's relationship with Owens has been a major focus in the wrongful termination case of another council deputy, Michelle Rex, who says the city retaliated against her and fired her because she supported Owens' claims of mistreatment. Duran, who was reelected for a fifth term in March, took the witness stand Wednesday in a downtown Los Angeles civil courtroom.
The councilman's colorful description of his relationship with Owens — which included photos of the two in revealing Halloween costumes — elicited chuckles from some of the jurors.
Rex, a former aide to Councilman John D'Amico, was employed as part of a controversial system in which each part-time council member had a highly paid, full-time deputy. The council voted to eliminate the deputy system in June 2015 after a headline-grabbing scandal involving Duran and Owens.
Duran hired Owens after they met on Grindr — a dating app for gay and bisexual men — and became sexually intimate, according to Duran.
Owens was a controversial presence at City Hall. He was suspended, with pay, from his job in January 2015 amid allegations that he had placed a listening device in the office of Councilman John Heilman's deputy, Fran Solomon, whom he suspected of illegally soliciting campaign contributions for her boss on city time.
After his suspension, Owens sued the city and Duran, claiming sexual harassment and wrongful termination. They later settled for $500,000.
Rex was interviewed as part of an investigation into the conduct at City Hall and verified Owens' claims, according to her attorneys. Rex said she witnessed Duran making sexually charged comments toward Owens and had shown her pictures of naked men, according to her lawsuit.
Rex alleges that the deputy program was eliminated — and she was put out of work — as retaliation for her standing up for her friend, Owens.
On the witness stand, Duran, who publicly called Owens and Rex "two of the most detested employees at City Hall," described Owens as a problematic employee who regularly fought with his colleagues.
Duran said Owens was angry at Solomon for taking up a collection for a gift for a pregnant colleague that he didn't want to contribute to, citing union rules. When Owens told Duran in December 2014 that he was convinced Solomon was engaging in illegal fundraising activities from City Hall, Duran thought it was just "Ian's latest scheme about getting back at his colleagues" and was related to the gift collection, he said.
Owens said he was a whistle-blower and that Duran ignored his claims because he had spurned his boss' sexual advances.
City Manager Paul Arevalo approached Duran numerous times about Owens and suggested he be fired, Duran testified. Arevalo and Duran spoke to Owens about his behavior and gave him critical performance reviews, Duran said.
Still, Duran said, he kept his deputy because he was "protective of him" and felt responsible for having hired a friend, which he later admitted at a council meeting was a bad decision. He said Owens and Rex never mentioned sexual harassment until after Owens was suspended.
Rex, who had previously worked as Duran's city council campaign manager and as an unpaid consultant for Duran's unsuccessful 2014 run for the Los Angeles County Board of Supervisors, reapplied for a job at City Hall after the deputy program was eliminated but was not hired, according to her attorneys.
Duran said Rex and Owens had long been scheming to get Arevalo fired and Heilman out of office. When Owens was placed on leave for allegedly spying on Solomon's phone calls, Duran said, they flipped the story to be about Duran.
"I've never had an employee complain about me, ever, in 16 years," Duran said.
Testimony in the trial is expected to continue through next week.
Twitter: @haileybranson
---
The stories shaping California
Get up to speed with our Essential California newsletter, sent six days a week.
You may occasionally receive promotional content from the Los Angeles Times.