Kathy Thomson, former chief operating officer and president of the L.A. Times, dies at 51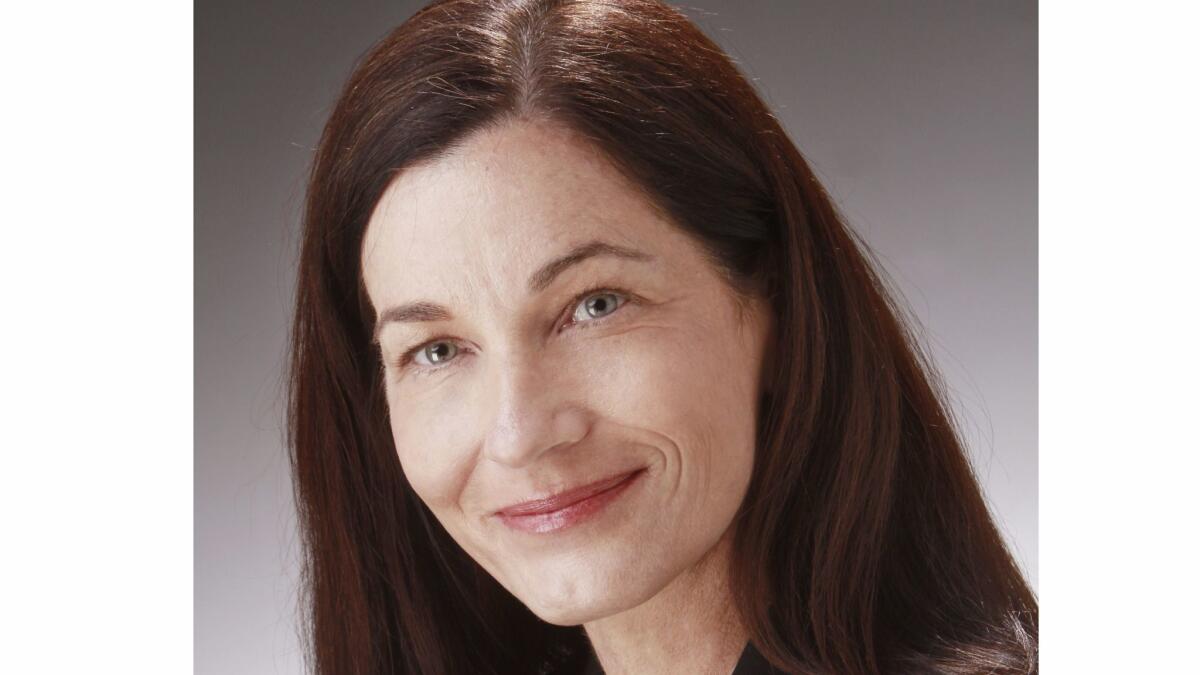 Kathy Thomson, the former president of the Los Angeles Times Media Group who helped steer the news organization's metamorphosis from print into a digital-age player, died Sunday. She was 51.
Thomson, of Manhattan Beach, died at UCLA Medical Center from complications of an aneurysm she suffered on June 17.
Thomson was chief of staff at The Times from 2008 to 2009. She returned in 2011 as president and chief operating officer, a job in which she oversaw editorial operations, advertising sales, marketing and business services.
She supervised the top-to-bottom revamping of latimes.com and the push to expand digital products at the eight daily newspapers operated by Tribune Co., then The Times' corporate parent.
"She brought in a sales organization to figure out how to sell digital advertising," said Eddy W. Hartenstein the former publisher and chief executive of The Times. "She recruited people to come get us hooked into social media."
Although Thomson had a background in finance rather than journalism, she had a strong sense of the media business from the 15 years she spent at DirecTV earlier in her career, said Hartenstein, the founding president and CEO of DirectTV.
Thomson brought to The Times "the belief that society and democracy do not work without a viable fourth estate," Hartenstein said. "The best description of her management style is she did it with a velvet hammer. She was fierce, she was compassionate, she did not suffer fools well."
Nancy Sullivan, The Times' former vice president of communications, said Thomson devoted resources to building the newspaper's events business, including a popular film-screening series and the Labor Day food event, The Taste.
"Kathy was an inspiring and steady force in a time of chaos and turmoil," Sullivan said. "When there was so little that was steady in the media landscape, she was steady."
Sullivan said that when Thomson wasn't working she spent time as a community volunteer with her family. "She did it in a very unsung manner," Sullivan said. "She didn't say, 'Look at me.'"
In April 2013, Tribune Co. named Thomson chief operating officer of the company's publishing division. Later that year, she left to work for the satellite-radio company Sirius XM, where she was chief marketing officer and executive vice president.
"She built the Sirius XM marketing organization into possibly the best in all of subscription media," said Sirius XM Chief Executive Jim Meyer.
Meyer, who had known Thomson for years, said she "had a remarkable mix of humanness and a really strong analytical sense. … Kathy knew how to get people to do their best and to perform. She always cared about how they were doing, but she also held people accountable for results."
Between her two stints at The Times, Thomson was vice president of business operations at Flo TV Inc., a subsidiary of Qualcomm.
Previously, she held various positions at DirecTV, rising to become senior vice president of sales and marketing.
Thomson earned an undergraduate degree from the University of Utah and a master of business administration degree in marketing and finance from Loyola Marymount University in Los Angeles.
Hartenstein said she underwent a kidney transplant in the 1990s but rarely talked about it. Thomson had seemed to be improving following her aneurysm, but she suffered a brain hemorrhage over the weekend, Hartenstein said.
Thomson is survived by her husband Michael Thomson, 50; her son Nicholas, 19; her daughter Lauren, 16; two brothers, Robert Kohler, 53, and Roger Kohler, 49; and her parents, Dorothy and Roy Kohler.
Service arrangements are pending.
Sign up for Essential California for news, features and recommendations from the L.A. Times and beyond in your inbox six days a week.
You may occasionally receive promotional content from the Los Angeles Times.