Kern County agrees to stop challenging L.A. over dumping of treated human waste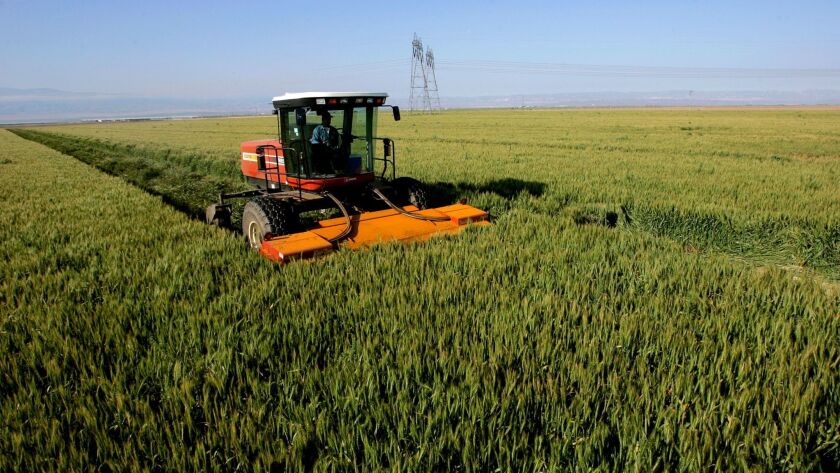 Kern County has agreed to stop challenging the City of Los Angeles over its practice of dumping treated human waste on Kern County farmland, capping a bitter legal battle that has spanned more than a decade.
The Los Angeles City Council voted unanimously Wednesday, with one member absent, to approve the settlement "to avoid further litigation or controversy" regarding the dumping of biosolids, according to the agreement.
"We are pleased that this settlement is beneficial in both protecting the environment and providing a way for the city to safely dispose of biosolids through recycling rather than landfill disposal," Rob Wilcox, a spokesman for the L.A. city attorney's office, said Wednesday via email.
The Kern County Board of Supervisors signed off on the settlement earlier this month.
"The bottom line is we have fought this as far as we think it was worthwhile to fight it," said Mark Nations, an attorney representing Kern County. "Anything beyond this would be futile."
Under the settlement, each party will cover its own legal fees. Kern County agreed to cover the city's court costs, which totaled about $54,000.
The saga stretches back to 2006, when Kern County voters overwhelmingly approved Measure E, an initiative that banned the dumping of sewage sludge onto Green Acres, a 4,700-acre farm the city of Los Angeles bought from Kern County in 1999 for $15 million. The sludge is tilled into the farm's soil to fertilize crops, including corn and wheat.
The initiative set off a protracted legal case in which Los Angeles sued to block the ban and Kern County fought to uphold it, saying it sought to protect underground water and the local environment from possible contamination and emissions from diesel trucks.
Los Angeles argued that the shipments were a legal form of interstate commerce and therefore beyond the reach of county legislation or ballot initiatives.
The city maintained that the shipments were necessary because federal and state environmental laws have stopped cities and counties from dumping sludge in the ocean and severely limited sanitation districts' ability to dispose of the waste in landfills.
After a trial, a Tulare County Superior Court judge in December struck down the ban, ruling that it "exceeds Kern's police power and is preempted by state law." The judge also ruled that "there is no evidence of risk to human health" posed by the shipments.
As part of the settlement, Kern County agreed not to appeal the ruling.
"The better approach from our standpoint now, given what the scientific evidence was at the trial, is to regulate the operation that's currently in place," Nations said. "Measure E is done. It's over."
Moving forward, Kern County will study the impact the dumping has on air, water and soil, Nations said. The county spent $7.6 million fighting the case.
Dean Florez, a former state senator who championed the ban in 2006, said he was disappointed with the settlement.
"It's been a David and Goliath battle from Day One," Florez said. "We probably won't know the effects of this for many years. We do know one thing: If it was healthy and OK, L.A. would do it in L.A. County."
Times staff writer Louis Sahagun contributed to this report.
alene.tchekmedyian@latimes.com
Twitter: @AleneTchek
ALSO
George Skelton: Why the Legislature probably can't fix California's affordable housing problem
Bill Plaschke: A nearly perfect game by Rich Hill is spoiled by a Dodgers TV blackout
After killing his son, a South Pasadena man enjoyed Vegas shows and skydiving. Now he is heading to prison for life
---
The stories shaping California
Get up to speed with our Essential California newsletter, sent six days a week.
You may occasionally receive promotional content from the Los Angeles Times.