Kern County pays $3.4 million to settle wrongful death suit against sheriff's department
Kern County has agreed to pay $3.4 million to settle a civil rights lawsuit brought by the family of a day laborer who died after he was struck with batons, bitten by a police dog and hogtied as deputies sat on him, attorneys said Thursday.
The settlement comes nearly three years after the death of David Sal Silva, 33, who according to witnesses had been beaten by deputies on an East Bakersfield street.
"It is a bittersweet end to a long journey to achieving justice," Neil Gehlawat, an attorney for Silva's family, said Thursday at a news conference in Bakersfield. "It's bitter in that David is not here with us. He is not here to be a father to his children … but it sweet that we know that [the settlement] we have obtained in this case is going to go a long way to helping David's children secure a brighter future."
Join the conversation on Facebook >>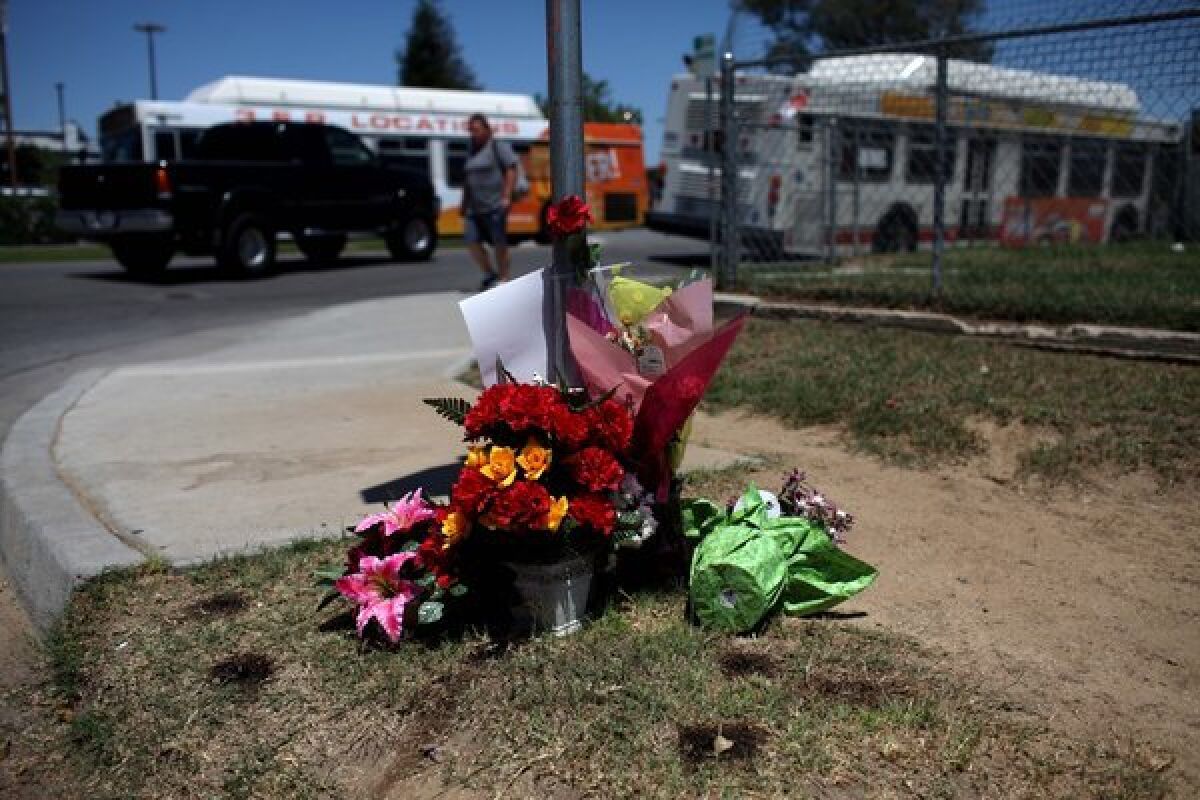 Sheriff Donny Youngblood has defended his department and said that his department's investigation and coroner's findings cleared them, as did county prosecutors and the U.S Department of Justice. He chastised the media for creating "hysteria" with its coverage.
On the night of May 7, 2013, Silva slept outdoors across from the Kern County Medical Center after he tried to get treatment for what his family described as depression. Shortly before midnight a deputy said he rubbed his knuckle on Silva's sternum to try to wake him. Worried that Silva might be on PCP, the deputy said he tried to handcuff him. When Silva tried to stand up, another deputy released a police dog on him.
------------
For the Record
7 p.m., May 7: An earlier version of this post said David Sal Silva died in 2014. Silva died in 2013.
------------
The 260-pound Silva struggled with the dog and grabbed its neck. The dog ended up biting one of the deputies. Silva was struck with batons and bitten 30 times by the dog before being hobbled and hogtied. A spit shield was placed on his head, according to court records.
See the most-read stories this hour >>
Silva vomited and stopped breathing at 12:44 a.m. on May 8. A number of witnesses stepped forward calling what happened a case of police brutality. Two people were detained until they turned over their cellphones with video recordings of the incident.
A Kern County coroner's report declared Silva's death accidental, attributing it to hypertensive heart disease. A pathologist said Silva's condition was complicated by acute intoxication, chronic alcoholism, severe abdominal obesity, chronic hypertension and acute pulmonary-cardiovascular strain. His blood alcohol level was 0.095%, slightly above the legal driving limit, and he had small amounts of methamphetamine, amphetamine and the anti-anxiety drug Clonazepam in his system, the report said.
Thomas Seabaugh, another attorney for the Silva family, disputed that Silva's death was accidental.
He said it was not credible that Silva happened to die of "natural causes" moments after "being beaten with batons, bitten in the face by a police dog" and hogtied with deputies sitting on him. Seabaugh said his lawyers retained the former medical examiner for Ventura County, who determined that "Silva died as a result of asphyxia because he was hogtied chest down with multiple deputies on his back for as long as 10 minutes."
"This settlement represents for the Kern County Sheriff's Department a richly deserved black eye," he added.
Youngblood on Thursday said he did not favor a settlement and there was no wrongdoing by his deputies. "Their actions were in policy and they were within the law," he said. The sheriff said the District Attorney brought in another pathologist who agreed with the Kern County pathologist. Youngblood blamed drug abuse as catalyst for the death.
"I haven't heard the Silva family talk one time that they wish their loved one hadn't been a meth addict," he said.
Gehlawat said $3 million of the settlement will go to four of Silva's children, his mother and brother, while another $220,000 will go to his girlfriend and $180,000 to his oldest child, who lives in Northern California.
For SoCal crime & investigations follow me on Twitter @lacrimes
ALSO
San Bernardino County plans to create a memorial to the terror attack victims
Guilty verdicts in Grim Sleeper serial killer case
Mother's boyfriend charged in fatal stabbing of 2-year-old South Los Angeles girl
---
The stories shaping California
Get up to speed with our Essential California newsletter, sent six days a week.
You may occasionally receive promotional content from the Los Angeles Times.