Brown will consider new DNA testing in Chino Hills murder case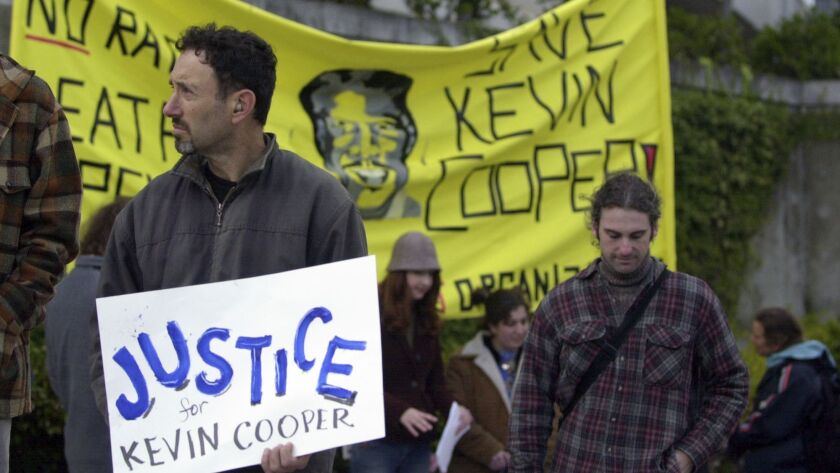 Gov. Jerry Brown this week said that he would consider additional forensic testing to determine whether a man sentenced to death for a quadruple murder in Chino Hills should have a chance at clemency.
Through more than a dozen rejected appeals, Kevin Cooper, now 60, has maintained his innocence in the murders that rocked the area in June 1983.
When 11-year-old Christopher Hughes did not return from a sleepover in time for church one Sunday morning, his father went to a hilltop home to pick him up.
He peered through the window and discovered the bloodied bodies of Doug and Peggy Ryen; their 10-year-old daughter, Jessica; and his son Christopher. The victims had been stabbed 143 times with an ice pick, an ax and a knife. The Ryens' 8-year-old son, Joshua, was slashed in the throat but survived.
Despite early suggestions that the brutal murders may have been committed by three white or Latino men, San Bernardino County sheriff's deputies homed in on Cooper, who had escaped from a prison in Chino two days earlier.
Cooper was convicted and sentenced to death in 1985. He lost his last appeal in 2009, when the U.S. Supreme Court refused to hear his case. If California resumes executions, Cooper could be third in line to die.
His attorneys have argued that law enforcement planted evidence to incriminate him and destroyed clues that would have weakened his prosecution.
In 2016, Cooper asked Brown to postpone his execution and order a new investigation, but there was little movement until the New York Times featured Cooper's case in May.
"Your allegations clearly deserve the serious consideration they have received," Brown's legal affairs secretary, Peter Krause, wrote to Cooper's attorney in a six-page letter dated Tuesday.
Cooper's attorney, Norman Hile, has until Aug. 17 to respond to questions that seek clarity on which pieces of evidence he wants retested and what a new DNA examination would show. San Bernardino County prosecutors previously have asked Brown to deny Cooper's petition for clemency.
Hile did not return phone calls Wednesday. In May, he told the Associated Press: "If there are tests that could be done and we will pay for them, why shouldn't they be done before somebody is executed?"
Cooper was arrested seven weeks after the killings. The case so rattled the area, according to news reports at the time, that homeowners began locking their doors at night and parents stopped letting their children attend sleepovers.
During a five-month trial, prosecutors presented no direct evidence linking Cooper to the murders. Witnesses — including the lone survivor — gave conflicting testimonies.
After Joshua Ryen was airlifted to a local hospital, he told a sheriff's deputy and a social worker that his attackers were three white men. An hour later, he said they were Latino. Later that month, the boy told a deputy that Cooper was not the killer after he saw the man's face on a wanted poster on television.
During three days on the witness stand, Cooper repeatedly said he was innocent. At one point, he told a prosecutor, "You're trying to make me remember detail by detail… I only know what I didn't do."
Cooper's attorneys argued at his trial and throughout the appeals process that the San Bernardino County Sheriff's Department had destroyed or suppressed evidence suggesting three white men were the attackers, including a convicted contract killer.
Police found ample evidence — cigarette butts, a button from a prison uniform, a leather hatchet sheath — that Cooper had spent two days in a house near the Ryens' after he fled the Chino prison, where he was serving a sentence for burglary.
But the clues at the Ryens' unlocked home were scant: a bloody shoe print on a sheet in the master bedroom, and a single drop of blood on a wall in the hallway.
In 2002, Cooper became the first death row inmate to win approval for additional DNA testing. The results showed that his DNA was on a bloody T-shirt found outside a bar near the Ryens' home, on two cigarette butts inside the family's stolen station wagon and in the blood droplet inside the home.
But the U.S. 9th Circuit Court of Appeals intervened eight hours before Cooper's execution in 2004, staying the lethal injection and ordering more tests on the bloodied T-shirt.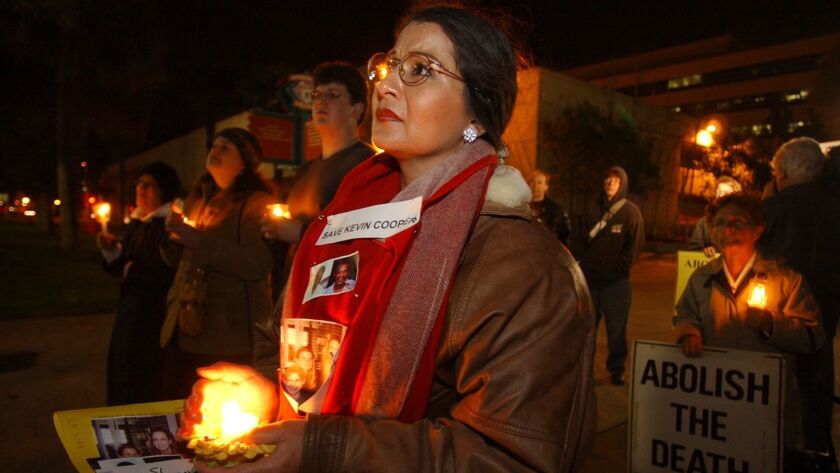 "Cooper is either guilty as sin or he was framed by the police," wrote Judge Barry Silverman in the 9-2 majority ruling. "There is no middle ground."
Tests later revealed that Cooper's blood stains on the T-shirt had a high concentration of the chemical EDTA, which is used to preserve blood samples in police labs. The chemical was not present in the victim's blood, suggesting that Cooper's blood had been added later from a sample that police officers had collected and preserved.
The 9th Circuit upheld Cooper's death sentence in 2007. But in a 101-page dissent, signed by four other judges, 9th Circuit Judge William A. Fletcher wrote that Cooper was "probably innocent."
Fletcher noted that one witness had told police her boyfriend was a convicted contract killer who had worn a T-shirt similar to the bloodied piece of evidence — and had an ax that resembled the murder weapon. Police also seized a pair of the man's bloodied overalls but destroyed them without testing them.
Fletcher added: "We owe it to the victims of this horrible crime, to Kevin Cooper and to ourselves to get this one right."
For more transportation news, follow @laura_nelson on Twitter.
---
The stories shaping California
Get up to speed with our Essential California newsletter, sent six days a week.
You may occasionally receive promotional content from the Los Angeles Times.