L.A. councilman to look at alternative site for Koreatown shelter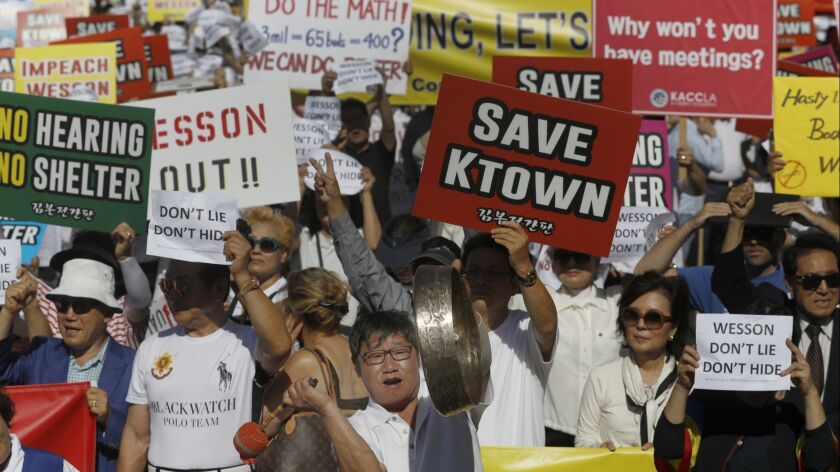 Less than two months after Los Angeles city leaders trumpeted plans to shelter dozens of homeless people on a Vermont Avenue parking lot close to the heart of Koreatown, City Council President Herb Wesson has agreed to look into at least one alternative site in the same neighborhood.
The decision follows a torrent of protest from Koreatown residents and business owners, who held rallies, launched a petition and packed City Hall to denounce the plan, angrily accusing Wesson of shutting the Korean community out of the process.
Wesson said he would ask city staffers to assess privately owned lots on Kenmore Avenue, in addition to the disputed site near the busy intersection of Wilshire and Vermont, as possible locations for temporary shelters. In a statement on his website, the council president pledged to review different sites and hold community meetings in Koreatown before making a final decision on a location.
The revised plan will be introduced at a council meeting Friday to "restart the process." Wesson said Thursday that he would look at any other recommended sites that could be submitted promptly, but "every day that we delay, somebody is going to sleep on the streets — and that is what we are trying to avoid."
The fate of the Koreatown proposal is being closely watched by local lawmakers as they float plans for new shelters in their own districts. Mayor Eric Garcetti plans to devote at least $20 million in an effort to put temporary shelters in every council district, an amount that council members could boost to $65 million with a new infusion of state funding.
Garcetti spokeswoman Anna Bahr said the mayor would support the choices of council members in choosing shelter sites and was not worried about lawmakers backing away from making such proposals after the Koreatown uproar. Wesson said that once a Koreatown shelter is built, "I believe the exact opposite will occur."
Exploring an alternative site is a good option, but "the critical thing is, will the Koreatown residents again oppose it?" said Mel Tillekeratne, founder of the SheDoes campaign that advocates to shelter homeless women. Still, he said, "if this becomes the first one to open its doors, I would consider this a win."
The council is slated to vote Friday to start assessing possible shelter sites in Venice, Hollywood and West L.A., along with taking up the Koreatown proposal.
The Koreatown site was publicly announced at a May news conference attended by Wesson and Garcetti.
Critics argued the Vermont Avenue lot was too close to schools and businesses. Loyola Marymount University professor Edward J.W. Park said the plan also tapped into enduring complaints about the marginalization of Koreatown, from its abandonment during the 1992 riots to being "gerrymandered" and divided among council districts.
For politicians, "Koreatown is a wonderful community to claim when they want to burnish their credentials as leaders of the cosmopolitan and global Los Angeles," Park said. "But when it comes to everyday quality-of-life problems … that's where I think Koreatown falls in between the cracks."
After protests began to erupt, Wesson and his staffers defended the site as the best location in an area with dire need. The council president also convened a rally outside City Hall to urge Angelenos to support "bridge housing" to get people off the streets.
Last month, Wesson told reporters that one of the shelter opponents had asked him, "Why don't you think about your future?"
"I'm not worried about my future," Wesson said, his voice rising.
"We are fighting for the future of the mother of two that is going to sleep in a doorway or sleep in her car with one eye open … I am fighting to get people off of the street. I am fighting to find me a place in heaven," he said. "I am not fighting to ensure that I win some future election."
Leaders of Korean community organizations said the dispute over the shelter remained at a standoff until a few weeks ago, when the United Way of Greater Los Angeles got involved, offering to mediate between opponents and city officials.
"We have relationships in the Korean community and at City Hall," said Elise Buik, president and CEO of the organization's L.A. chapter. "We had to get people talking again about a solution."
Buik said that a "private citizen" had offered up the Kenmore Avenue lots, but that the details had yet to be worked out. The property is owned by a company linked to businessman Stuart Whang, who could not be reached Thursday for comment.
And in reaction to arguments that Koreatown was being unfairly burdened with a broader problem, the council president now plans to evaluate a Western Avenue parking lot outside his Harvard Heights district office as a possible site for a second shelter, and will also assess lots in the southern part of his district for "safe parking" programs to assist vehicle dwellers.
"For me, it seemed to be a fair compromise," said Steve Kang, director of external affairs for the Koreatown Youth and Community Center. "He's fulfilling a lot of the demands of the protesters."
But Chan Yong "Jake" Jeong, an attorney who has helped organize many of the rallies, said the alternative site on Kenmore would do little to appease the protesters. Many of the opponents, who have been primarily organizing through the popular Korean chat app KakaoTalk, also see it as problematic because it is near a school and in a residential area.
"The backlash will be the same," he said. "This is still being done in a wrong model."
Jeong said his group wants Wesson to follow in the footsteps of Councilman Paul Krekorian, who wants to assess eight different possible sites in his San Fernando Valley district for shelters or other homeless services. If people can debate a larger number of possible sites, Jeong said, they would be more willing to accept whatever is collectively agreed to be the best option.
Grace Yoo, an attorney and community activist who has tried to unseat Wesson in the past, argued that he had not provided detailed data to back up his proposals.
"It just feels like he's always trying to pull a fast one on Koreatown," Yoo said.
Wesson also said he would create a commission on Koreatown homelessness to oversee the shelter. That commission would also provide recommendations on how the Vermont Avenue site could be used in the long term, possibly as a location for affordable or supportive housing for seniors.
Buik said she was optimistic that the plan offered "a real path forward." Johng Ho Song, executive director of the Koreatown Youth and Community Center, said he was confident once a shelter was built, the community would step up to help.
"If there's a fire, we can't sit around talking about who caused the fire and not put it out," Song said. "It's never perfect, but it's time to do something."
Twitter: @AlpertReyes
Twitter: @vicjkim
---
UPDATES:
5:40 p.m.: This article was updated with reaction and additional reporting.
This article was originally published at 5:35 a.m.
---
The stories shaping California
Get up to speed with our Essential California newsletter, sent six days a week.
You may occasionally receive promotional content from the Los Angeles Times.