Faced with rallies opposing a temporary shelter in his district, council president Herb Wesson holds his own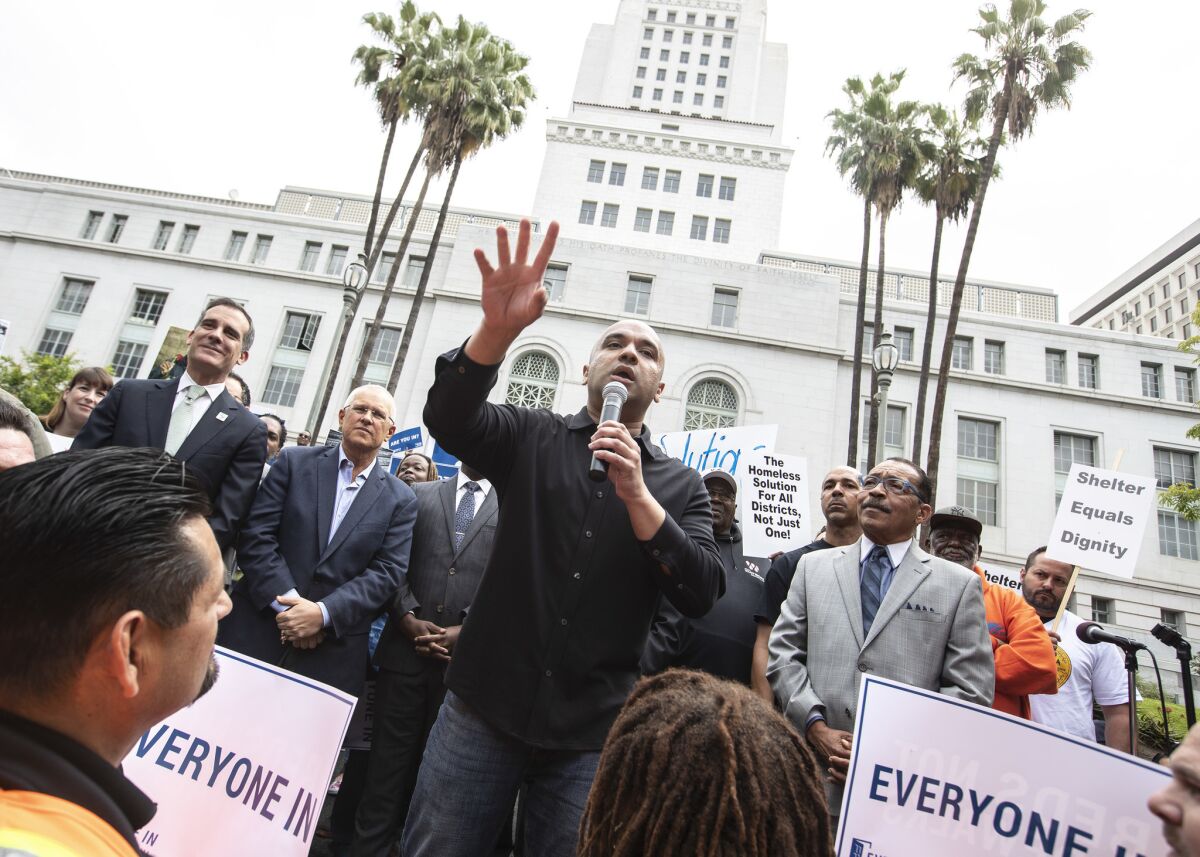 Faced with an uproar in his district over a temporary homeless shelter, City Council president Herb Wesson convened a rally Friday at which he urged Angelenos across the city to support "bridge" housing for those living on the streets.
To a crowd of a couple hundred homeless advocates, service providers, labor groups and activists assembled on the City Hall lawn, Wesson called homelessness "the most important issue in the city of Los Angeles." He called the temporary shelters, to be built in each of the 15 council districts, a "bold and creative" solution.
The announcement earlier this month that the first of the shelters will be built in a central corridor of Koreatown has been met with a groundswell of opposition, with residents and business owners staging their own rallies to protest that that site was chosen without input from the community. More than 9,000 people have signed an online petition protesting the site, which opponents contend is not optimal because of its proximity to schools and businesses.
Wesson, accompanied by Mayor Eric Garcetti and five members of the City Council, said at Friday's rally that "it takes power, it takes leadership" to get the temporary housing built.
"It's urgent because thousands and thousands of people are only one or two paychecks away from a room," he said.
Homeless advocates and City Council members who spoke in support of Wesson and the shelters said he was paying a political price for stepping up and being the first to commit to a shelter in his district.
Mel Tillekeratne, executive director of skid row service provider Monday Night Mission, said that in the fight to end homelessness, the city was "in front of a roadblock."
"We are gonna get through Koreatown, we are gonna get through West L.A., we are going to get through Orange County and the whole state of California," he said.
Councilman Mike Bonin, whose district includes Venice, where groups have sued over City Council laws around permanent supportive housing and motel conversions for the homeless, said the rally showed support from the various neighborhoods of L.A.
"We will show we are not Orange County," he said. "We will show that we are not NIMBYs."
Alexandra Suh, executive director of labor group Koreatown Immigrant Workers Alliance, said that although her group supports the shelter and help for the hundreds of homeless on the streets of the neighborhood, the way the decision was made and announced to the community was problematic.
"We could have done this in a different way and not come to this," she said, calling the outrage that has unfolded in Koreatown "heartbreaking." "We all need to work together, we need to be communicating … not dig down and say, 'We're going to push this through.' "
She said the consensus among Koreatown community leaders was that residents and community members are supportive of a shelter in the neighborhood, but are concerned about the particular site and lack of engagement with the community.
"Some question whether this is the best site, a reasonable question when there has not been adequate discussion," she said.
In addition to groups working on homeless issues including United Way, St. Joseph's Center and the Asian American Drug Abuse Program, the crowd included many corralled by labor groups, including the Carpenters Union and Ironworkers.
Also at the rally were lobbyists and special interest groups with business in City Hall, including those wearing T-shirts representing Airbnb or marijuana industry groups. Some wearing shirts for the California Minority Alliance, which advocates for the inclusion of people of color in the marijuana industry, stood on the steps alongside Wesson.
A Wesson spokeswoman said the rally was "free flowing" and "lots of folks found themselves on stage."
"It was open to everyone," spokeswoman Vanessa Rodriguez said of the rally.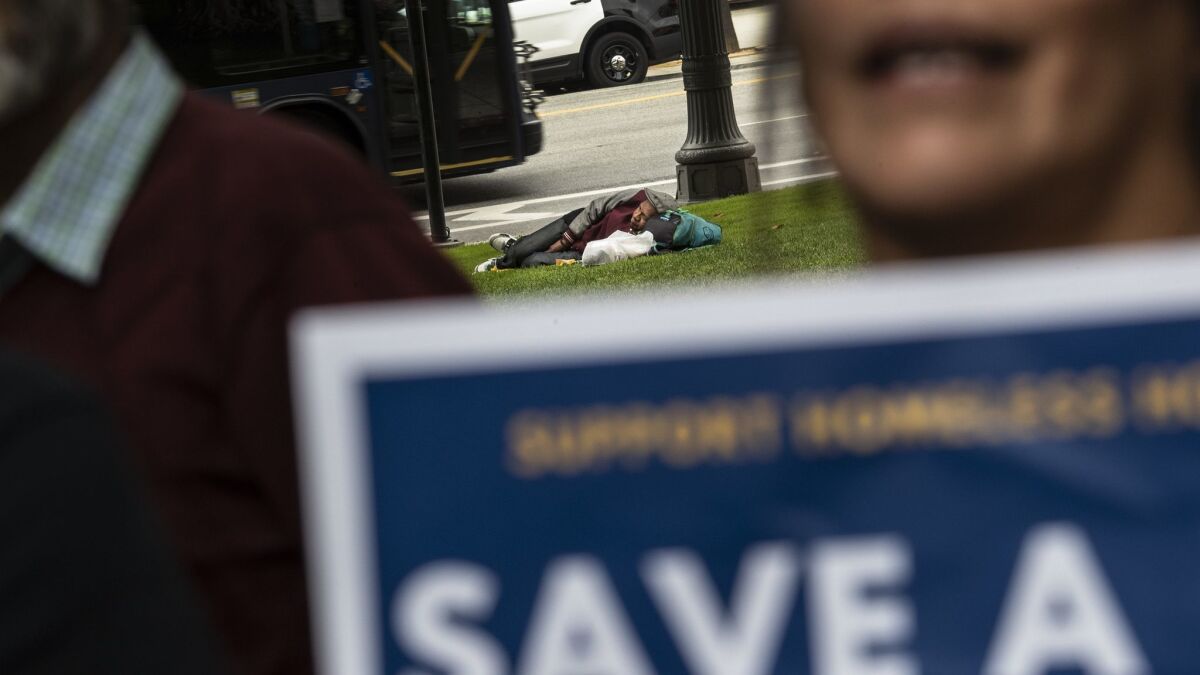 Not present was Councilman David Ryu, whose district only brushes the edges of Koreatown but who has been under pressure from the community to convey their opposition as the first and only Korean American member of the City Council. A spokesman for Ryu, who last week met with Korean community groups along with Wesson and Garcetti, said he had a previously scheduled family matter.
Vincent McDonald, 58, was at the rally holding a sign that said "Homeless Lives Matter." McDonald said he lived in his car for about a year before moving into a temporary home run by the Asian American Drug Abuse Program about a month ago. McDonald, who worked maintenance at UCLA for years and lived in a Westwood apartment until he retired, said he never imagined he would become homeless until the death of his father and grandmother sent him on a downward spiral.
"I'm bouncing back and feeling better about myself," he said of the shelter.
Jenny Seon, immigrant rights project director for the Korean Resource Center who lives in Koreatown a few blocks from the site of the proposed shelter, said she hoped the Korean community could see past the "fairness of the process" and assess the shelter for what it is. The temporary housing will be a lot easier to explain to the community's children than the homeless encampments that are currently on their walk to school, she said.
"It's wonderful for kids to see that the community will build housing for people on the street," she said.
Twitter: @vicjkim
---
The stories shaping California
Get up to speed with our Essential California newsletter, sent six days a week.
You may occasionally receive promotional content from the Los Angeles Times.