Judges to investigate Alex Kozinski as more women allege sexual misconduct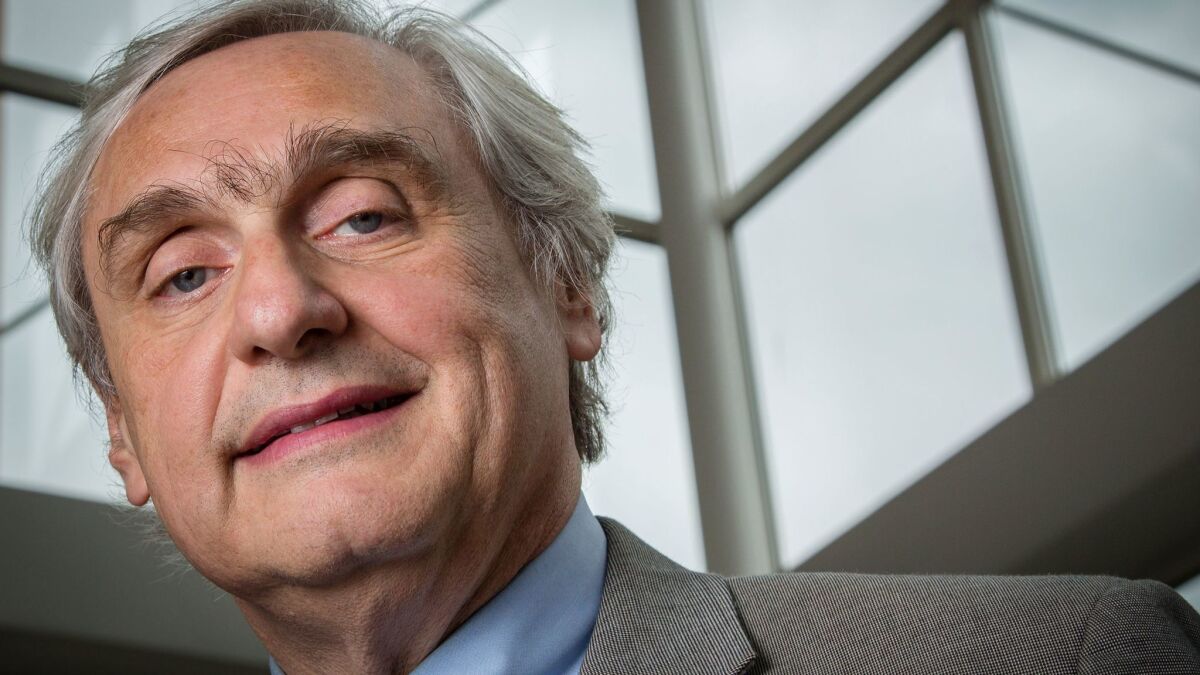 Reporting from San Francisco —
Amid new reports that Pasadena-based Judge Alex Kozinski groped women, including a law student, an East Coast federal appeals court was assigned Friday to conduct an investigation.
The Washington Post reported Friday that nine more women have complained of improprieties by Kozinski, including four who said he touched them improperly.
An unidentified former law student at the University of Montana, now 33, told the Post that Kozinski touched her breast last year during a reception.
UC Irvine law professor Leah Litman said he touched her leg and pinched her at a dinner in July.
An unidentified lawyer said Kozinski hugged and kissed her on the lips in 2008 after finding her alone in a room at a legal event.
Christine O.C. Miller, 73, a retired federal judge, told the Post that Kozinski squeezed each of her breasts after she told him she did not want to have sex with him during a drive in the mid-1980s.
With almost daily reports of new allegations, Chief Justice John G. Roberts assigned judges from the U.S. 2nd Circuit Court of Appeals on Friday to investigate Kozinski.
Roberts acted at the request of Sidney Thomas, chief judge of the 9th Circuit, who made the complaint after multiple media outlets reported charges of inappropriate behavior by Kozinski, a longtime 9th Circuit jurist.
The Post first reported that a former law clerk said Kozinski asked her to look at pornography about 10 years ago and showed her a list of sex partners he and his friends had in college.
That clerk was among six clerks or externs who complained to the Post of improprieties. On Friday, the Post said the number of women making charges had grown to 15.
Susan Estrich, a lawyer for Kozinski, read the Post a statement from Kozinski.
"Many of the things that are being said about me are simply not true, but I deeply regret that my unusual sense of humor caused offense or made anyone uncomfortable," the paper quoted him as saying in the statement.
At least two of Kozinski's law clerks resigned on Thursday, according to a source knowledgeable about the situation.
That source, who requested anonymity because of a professional connection with Kozinski, said it was almost unheard of for a circuit judge's clerk to resign from such a prestigious position midway through the term.
Ninth Circuit spokesman David Madden said he could confirm only that "one or more" Kozinski clerks resigned.
Each active 9th Circuit judge has four law clerks. They research the law for the judges, and some help draft the jurists' legal rulings.
The spots are highly coveted and generally given only to top law school graduates.
A clerkship for Kozinski has been especially prized because the Reagan appointee is considered a brilliant jurist who can get his clerks even more prestigious positions working for U.S. Supreme Court justices.
Kozinski could be reprimanded by the federal court system or asked to resign. He can be removed only by Congress.
In 2009, a committee of judges of the U.S. 3rd Circuit Court of Appeals admonished Kozinski for being "judicially imprudent" and "exhibiting poor judgment."
Kozinski asked for the investigation after The Times reported that his private server containing sexually explicit material was accessible to the public. Kozinski said he hadn't realized members of the public could get access to the server.
Twitter: @mauradolan
---
The stories shaping California
Get up to speed with our Essential California newsletter, sent six days a week.
You may occasionally receive promotional content from the Los Angeles Times.