Sheila Kuehl says she prefers a different subway route in Beverly Hills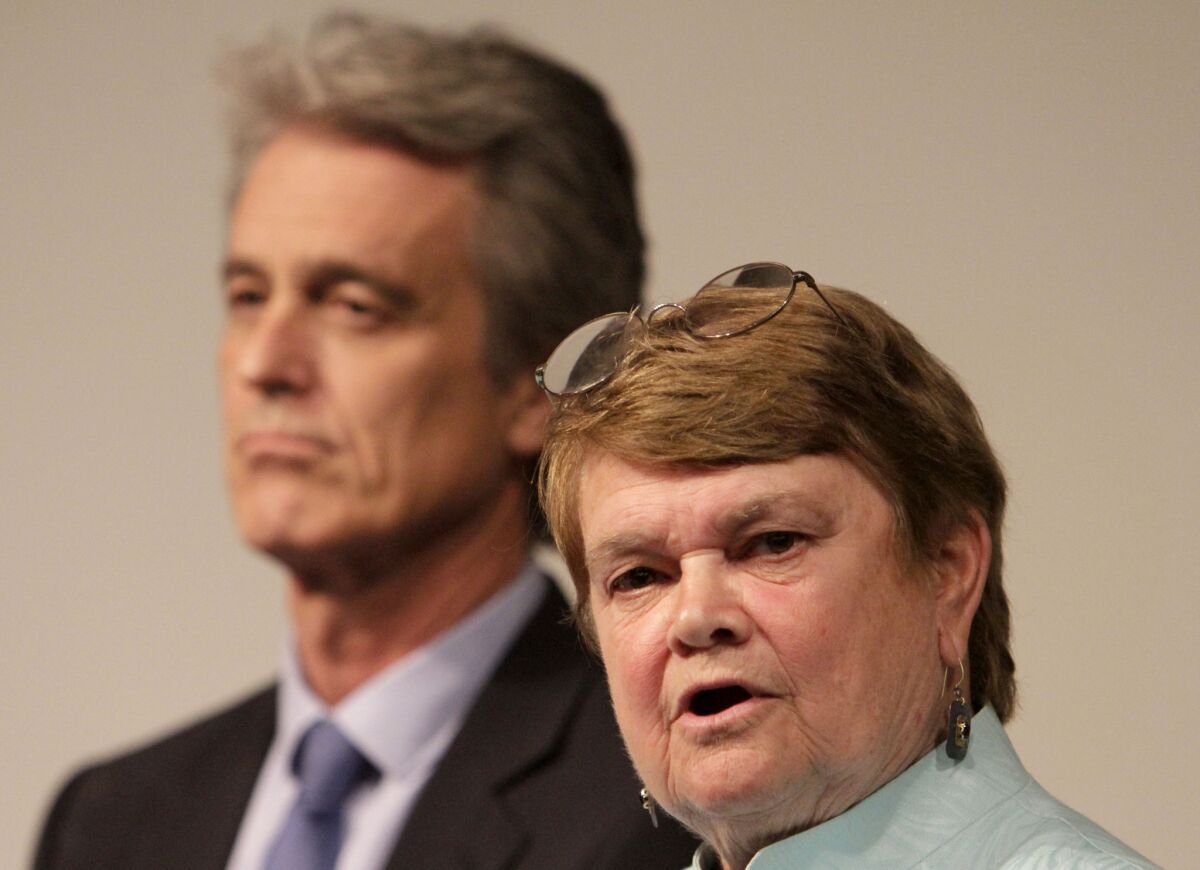 Los Angeles County supervisorial candidate Sheila Kuehl said Friday that she would support altering the route of the proposed Westside subway if a consensus can be reached to avoid tunneling under buildings on the Beverly Hills High School campus.
Kuehl said she was not proposing a new plan or specific action but stating a personal preference.
Her comments highlighted a difference on a sensitive issue with her two main opponents in the race to replace Supervisor Zev Yaroslavsky. Both former Santa Monica Mayor Bobby Shriver and West Hollywood Councilman John Duran said they support the currently adopted route under Beverly Hills High, which has been supported by Yaroslavsky.
The city of Beverly Hills and its school district have been engaged in a years-long battle to stop subway construction under the high school, arguing that tunneling would present a danger to students. Beverly Hills officials and opponents of Metro's chosen route have lost lawsuits in state court. Litigation is continuing in federal court.
In an interview with The Times, Kuehl said she doesn't like the adopted route. She said she "would have preferred" a discarded plan that would have taken the subway along Santa Monica Boulevard and the northern edge of Beverly Hills.
She said she supports trying to seek agreement on an alternative route, but only if it doesn't jeopardize the project.
"I don't like the route under the high school. I had been hearing about a third way, which I hoped to help happen. But I am not in any way going to stand in the way of the completion of the Purple Line."
The Times interviewed Kuehl, a former state lawmaker, after the Beverly Hills Courier, a weekly newspaper, published an editorial endorsing her run and citing her backing of an altered route.
Kuehl's remarks raised concerns among some supporters of the $6.3-billion subway project.
Ilissa Gold, spokeswoman for the Miracle Mile Democratic Club, said she sent an email to Kuehl asking for clarification of her position after reading the endorsement. Club members are "extremely concerned," Gold said.
"The extension of the Purple Line is by far our biggest issue at the Miracle Mile Democratic Club, and we adamantly oppose anything that would delay it any further,'' Gold wrote in the email. "That includes opposing any candidates who would work to delay it."
Gold said Kuehl's staff sought to reassure the group that the candidate wouldn't delay the project. "It's something we will continue to monitor," Gold said.
Yaroslavsky said any attempt by a candidate who wins his seat to change the subway's route, other than minor alterations that would still place it underneath the Beverly Hills High campus, could put the project in serious jeopardy.
"If they want to keep it from going under the high school property that would kill the project,'' Yaroslavsky said. "There is no 'third way.'"
Shriver said that a statement in the Courier's endorsement's that he, too, is opposed to the current route is incorrect.
"I support Zev's position,'' he said. "He's done a very thorough analysis. He's worked very hard to explain his analysis, and I support his position."
Duran, a West Hollywood councilman, said, "Los Angeles County must make the hard decision and build a transit grid for future generations."
A majority of the countywide Metro board would have to vote to make any changes to the subway route.
The stories shaping California
Get up to speed with our Essential California newsletter, sent six days a week.
You may occasionally receive promotional content from the Los Angeles Times.