In L.A.'s Koreatown, a mixed reaction to historic North-South summit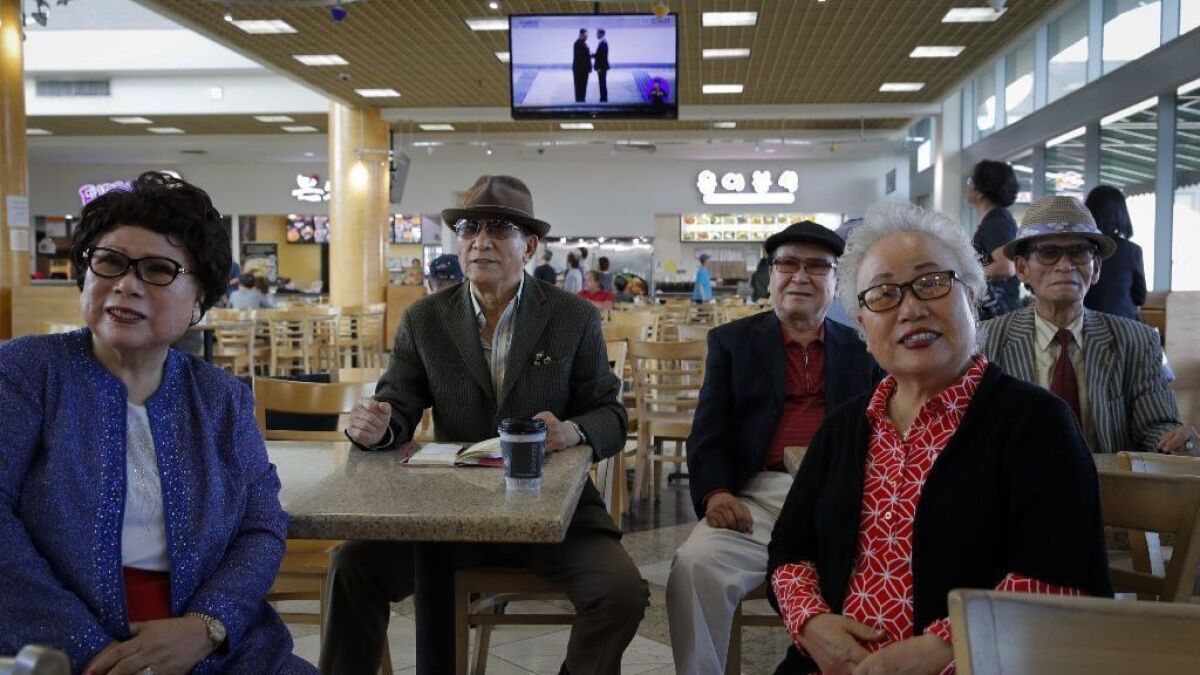 Jae Su An stayed up past 5 a.m. watching the historic summit between South Korean President Moon Jae-in and North Korean leader Kim Jong Un.
"If it goes as they said, that's to be welcomed .... But is he just putting on a show? I couldn't tell," said the 83-year-old Los Angeles resident, referring to North Korea's leader. He said when Kim first appeared on the screen, his face was colorless and without a hint of a smile.
"They worked on the nuclear weapons for 30 years," he said. "These rapid developments are scary."
In L.A.'s Koreatown on Friday, older immigrants who were children during the Korean War were busy analyzing every hand gesture and facial expression of the two Korean leaders. Most said that if Kim stuck to his word, it was monumental news for the peninsula, yet some said they remained skeptical.
An's friend, Min Kyu Park, said he noticed that Kim's military entourage saluted the South's Moon, while the South Korean officers did not do the same for the North Korean leader.
"It won't be like before," Park countered, "he won't be like his father and grandfather."
As he perused a stack of the morning's Korean-language papers, Hae Seok Kim, 81, said he was hopeful.
"It will be different this time for sure," he said. "It has to be different this time for the North to survive."
He remembered the three months he lived under communist rule in his hometown of Suncheon, South Korea, when North Korean soldiers swept through the region during the war. They fled after U.S. forces under Gen. Douglas MacArthur landed at Incheon in September 1950.
"Any agreement will have to come after the nuclear weapons are fully discarded," he said. "With a peace treaty, the war will finally be over."
Early Friday, the leaders of the two countries, both smiling, greeted each other along the Military Demarcation Line, the border that has separated the two countries for more than six decades. They crossed briefly to the northern side, and then entered a diplomatic building for their meeting.
On their agenda were three key issues: improved inter-Korean relations, which have been especially strained in recent years; a sustainable agreement for peace, which could set a path to formally end the Korean War; and the potential denuclearization of the North, which spent last year antagonizing the world by testing ballistic missiles and detonating an underground hydrogen bomb.
Kim and Moon were expected to meet inside the Peace House, a building on the South side of the compound, throughout the day before a banquet there Friday night.
A meeting between President Trump and Kim is expected to happen in the next several weeks. The United States and South Korea are close allies, and more than 28,000 American troops are stationed in and around Seoul, the capital, and elsewhere in the country.
Twitter: @vicjkim
---
The stories shaping California
Get up to speed with our Essential California newsletter, sent six days a week.
You may occasionally receive promotional content from the Los Angeles Times.