L.A. Now Live: 20th anniversary of Northridge earthquake
Only rubble remains at the junction of the 5 and 14 freeways following the 1994 Northridge earthquake.
(Jonathan Alcorn / For The Times)
The interchange of the 14 and 5 freeways, where LAPD Officer Clarence Wayne Dean died. Dean, 46, had left his Lancaster home after the quake struck. Driving south on the 14 in the dark, he rounded a bend on the transition road and plunged 30 feet from the roadway, which had collapsed in the quake.
(Los Angeles Times)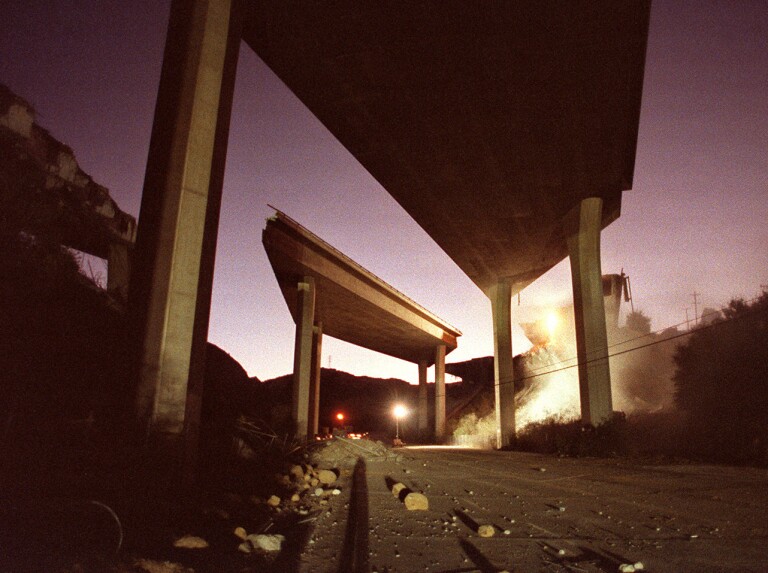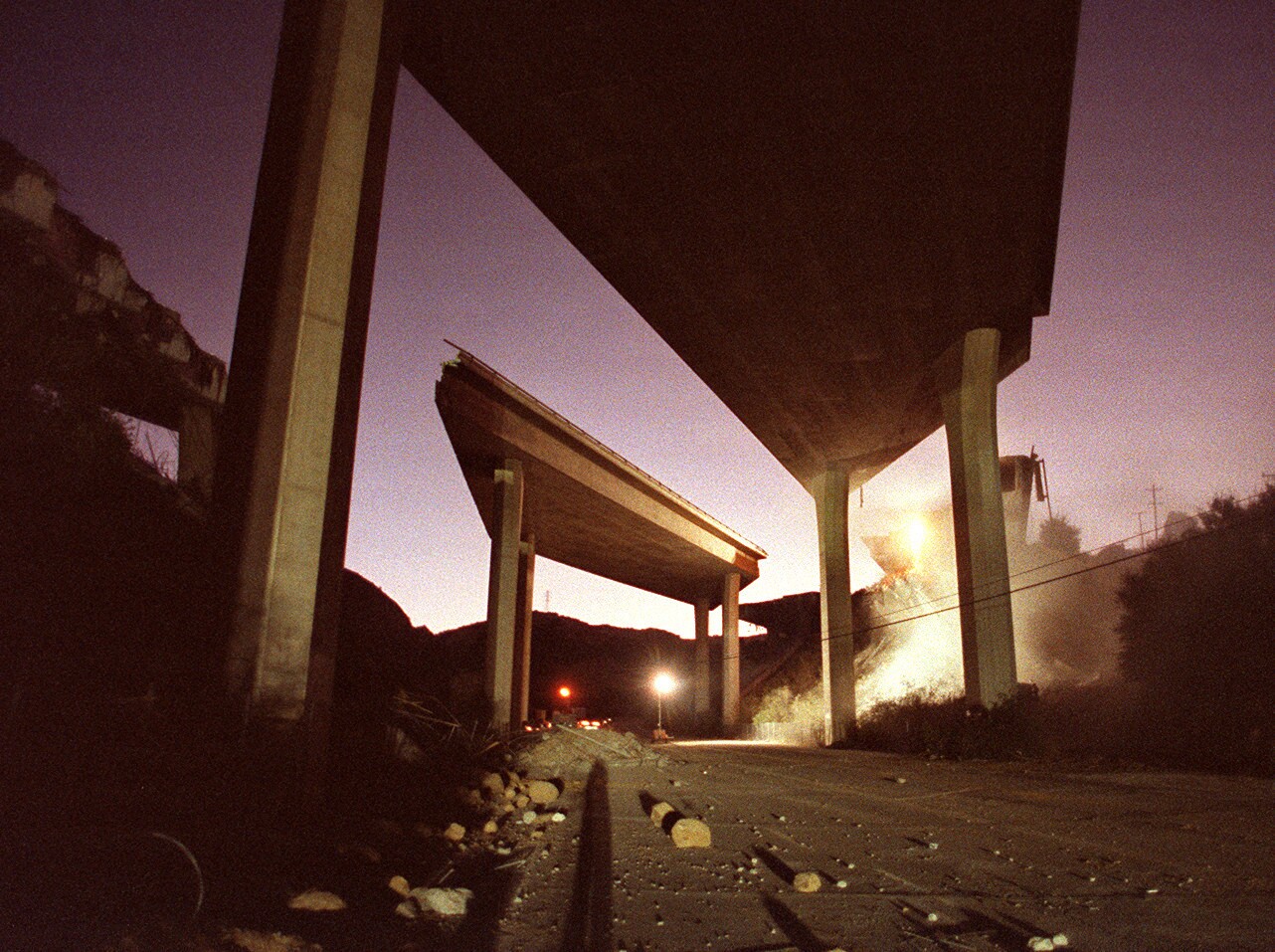 Before dawn, repairs begin on the collapsed 5 Freeway.
(Los Angeles Times)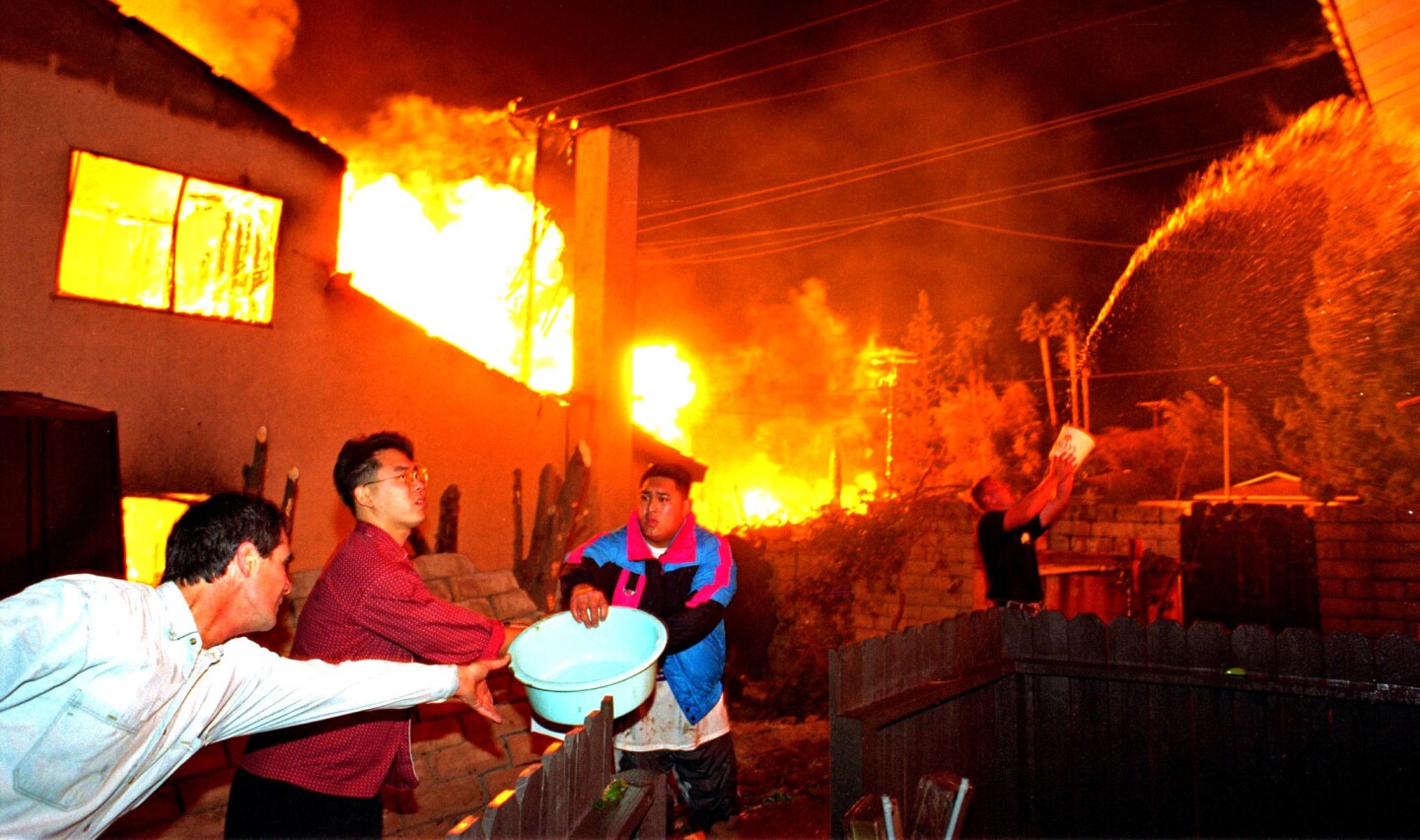 Neighbors use a bucket brigade to fight a fire in the 11700 block of Balboa Boulevard in Granada Hills.
(Los Angeles Times)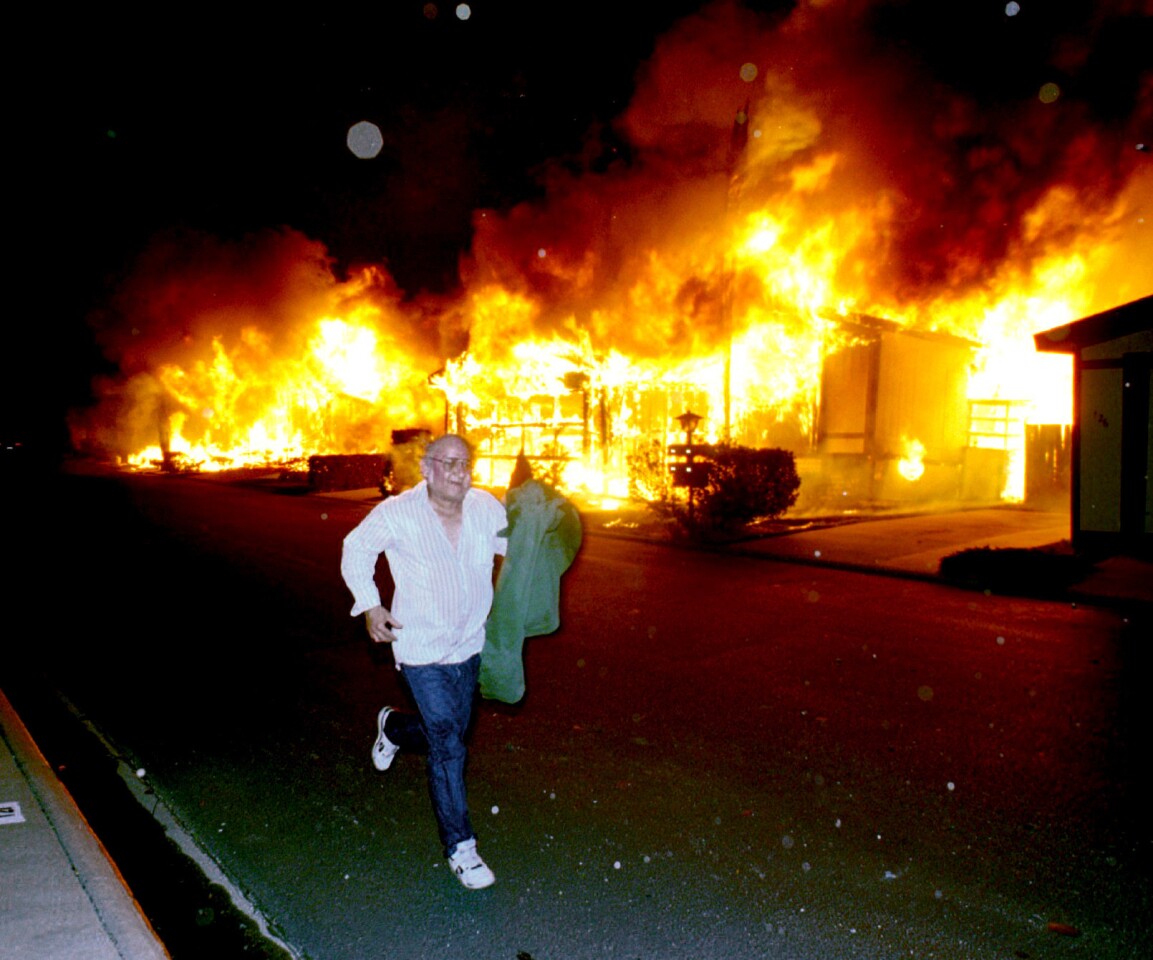 Sylmar resident Brian Demetz flees from his burning home.
(Los Angeles Times)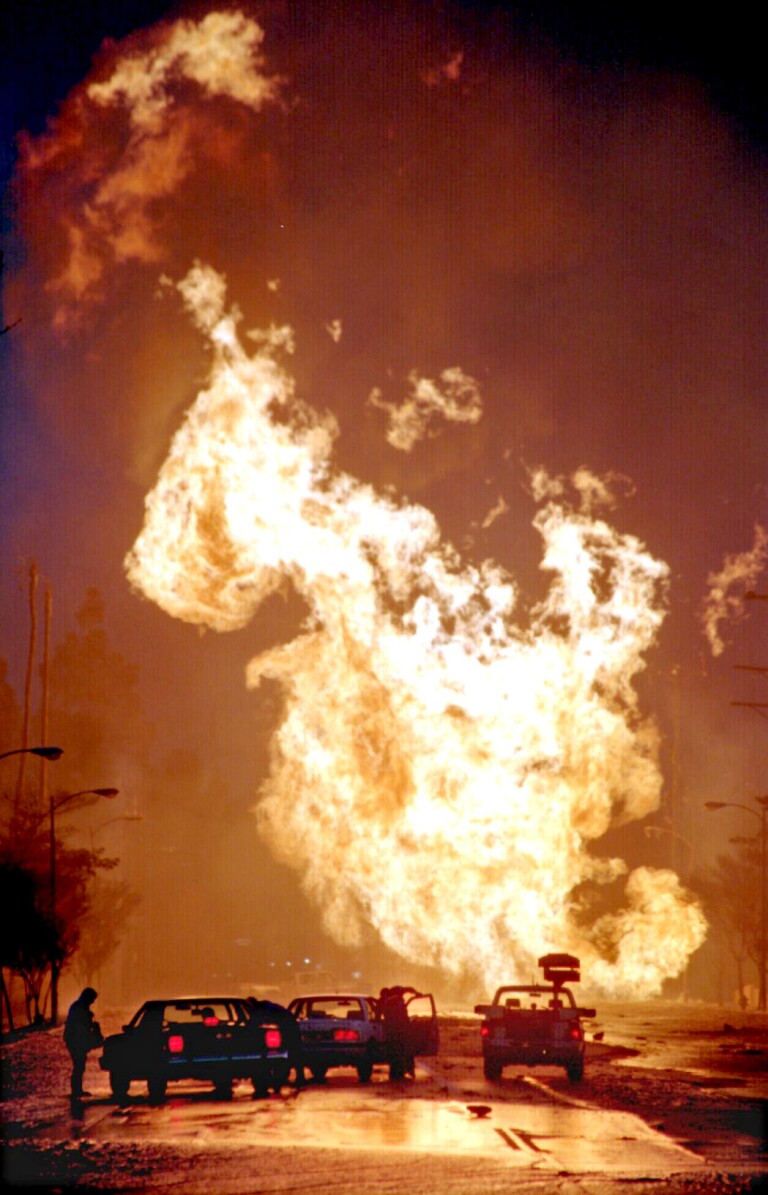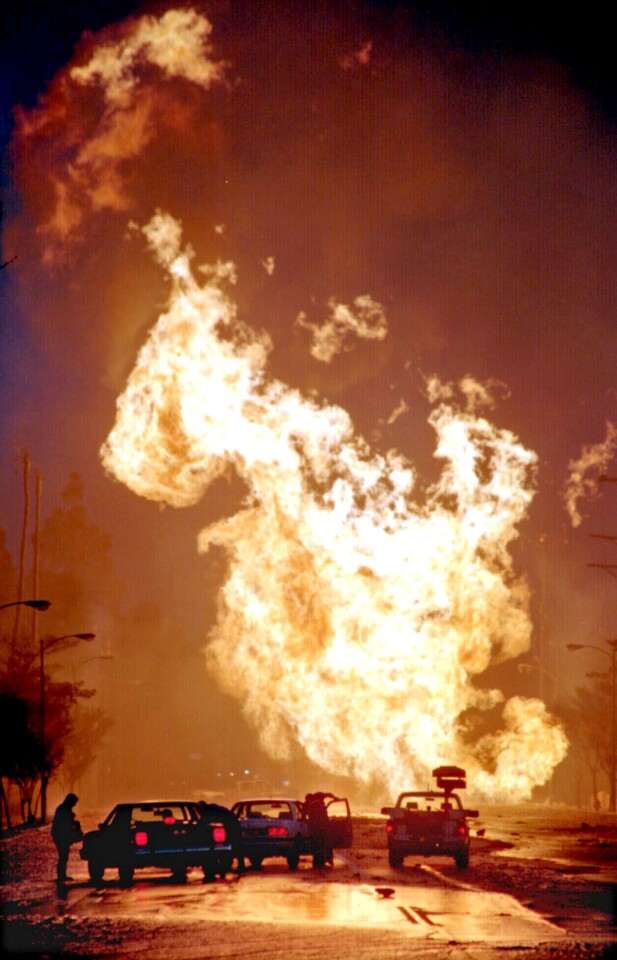 Cars are dwarfed by a wall of flames that was created when a natural gas line ruptured in the earthquake.
(Jonathan Alcorn / For The Los Angeles Times)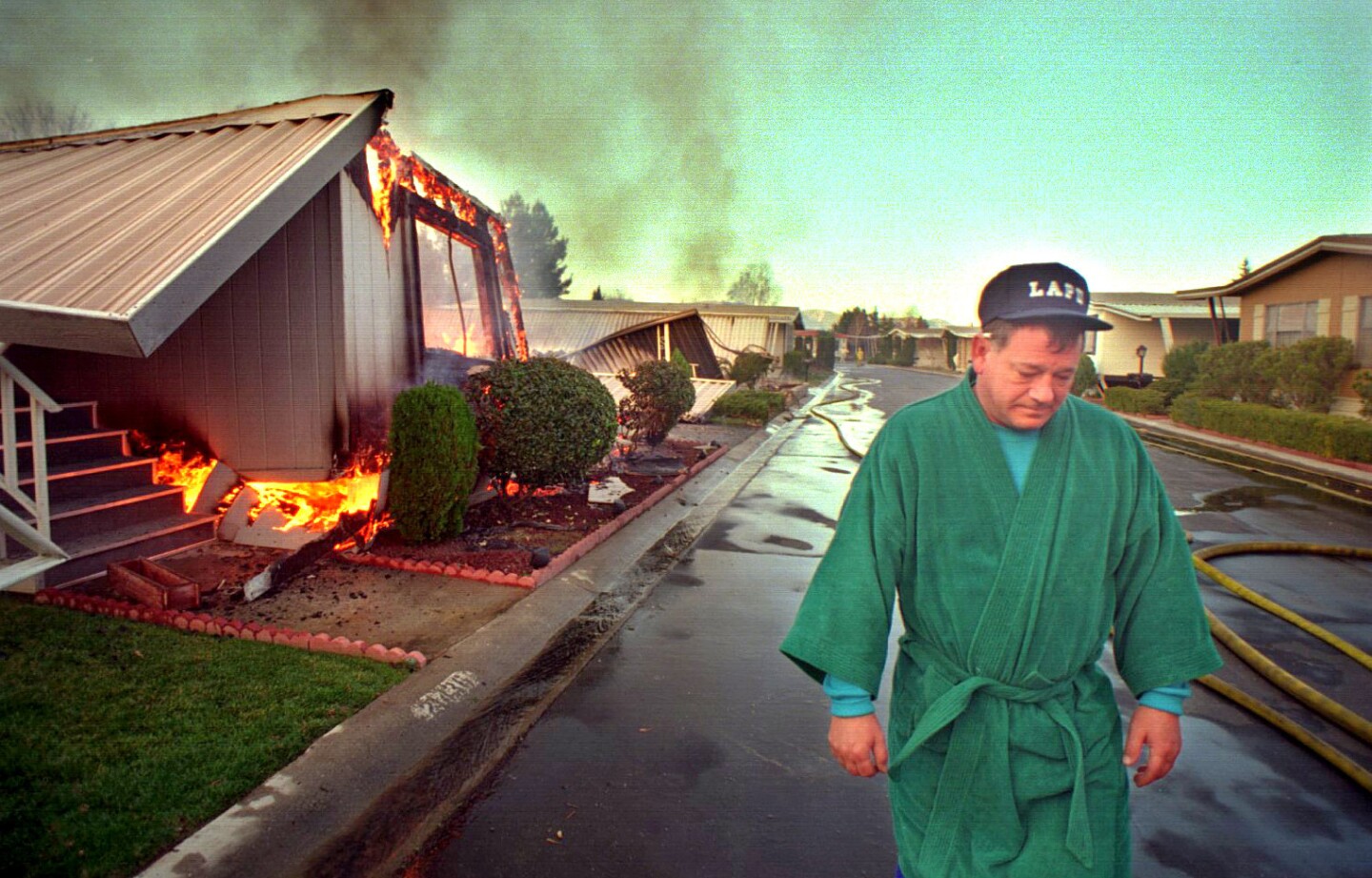 Michael Evans walks through a mobile home park in Santa Clarita. His residence was among those that burned.
(Los Angeles Times)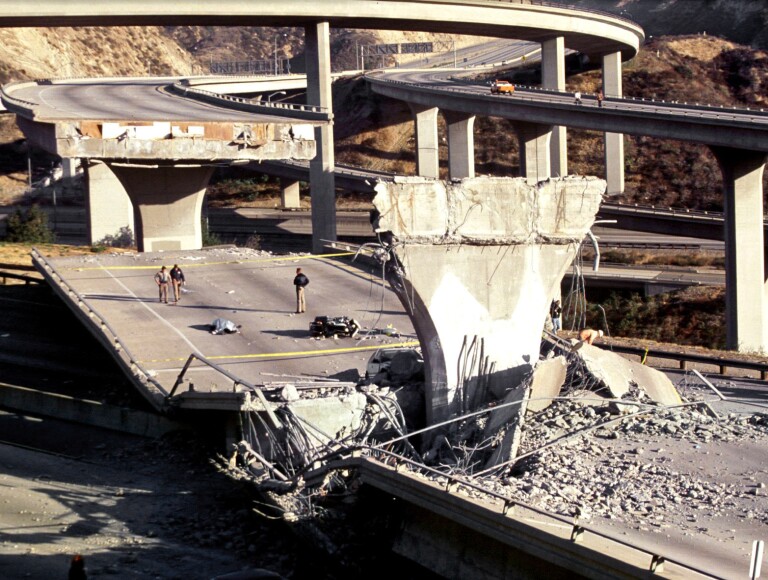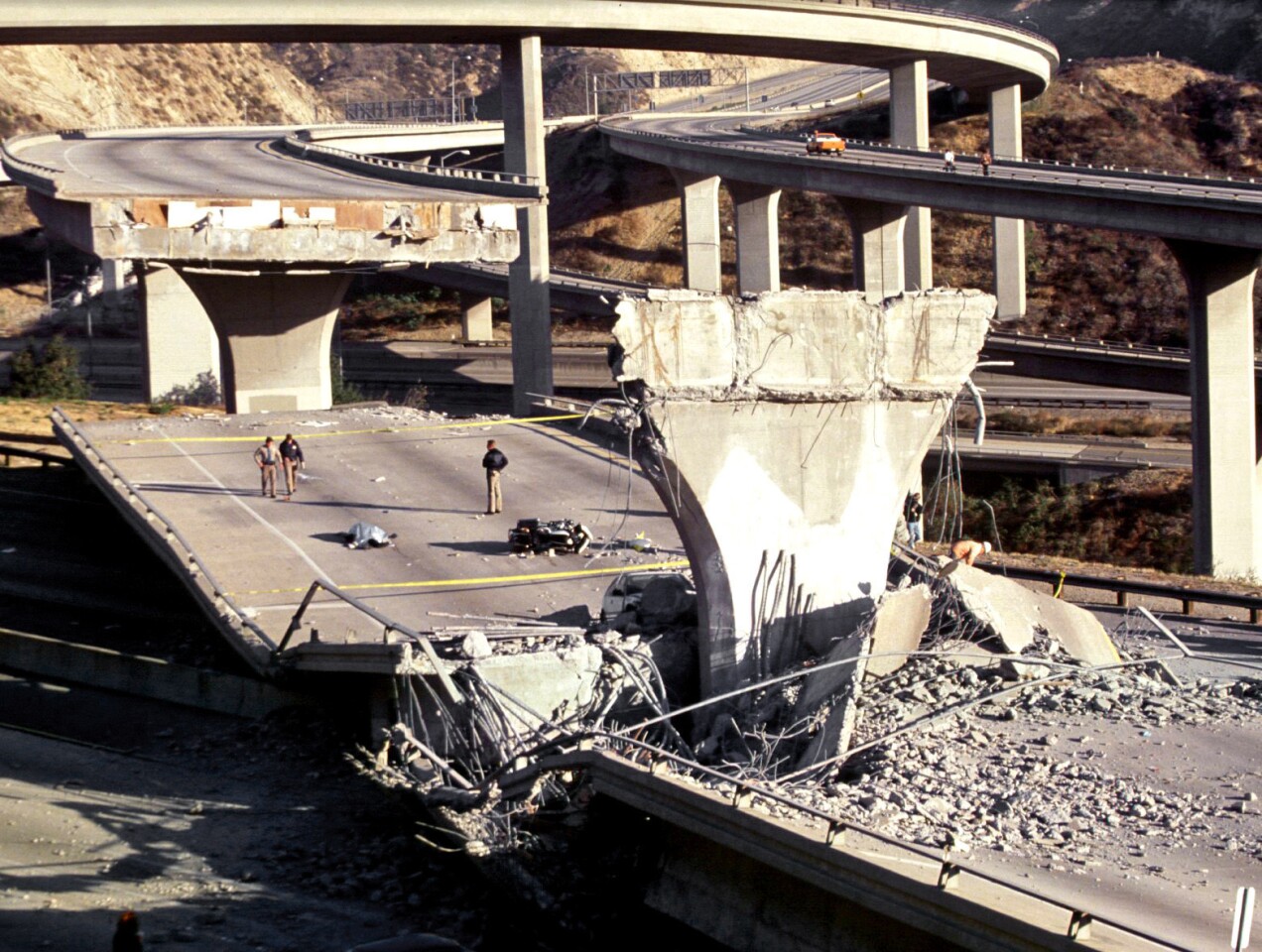 The body of Los Angeles Police Officer Clarence Wayne Dean lies near his motorcycle, which plunged off the 14 Freeway overpass that collapsed onto the 5 Freeway during the earthquake.
(Jonathan Alcorn / For the Los Angeles Times)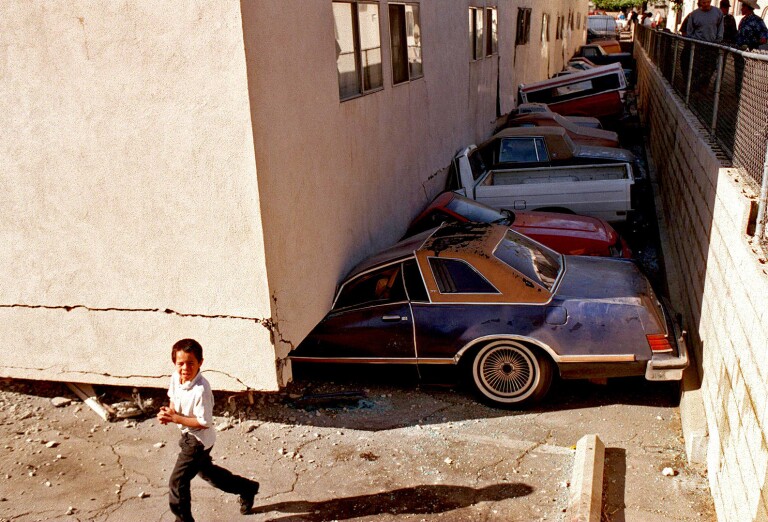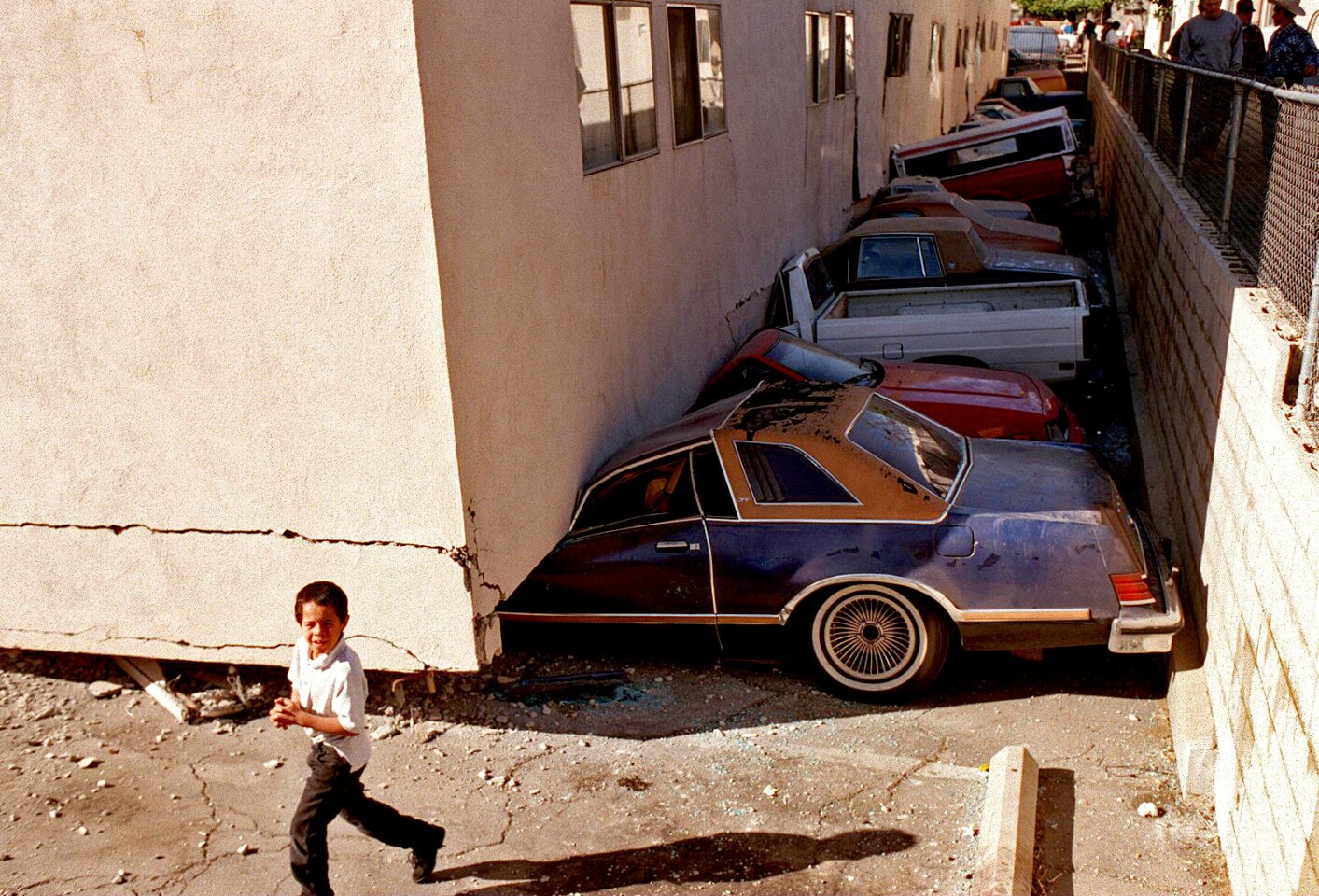 A row of cars is crushed beneath a collapsed apartment building in Canoga Park.
(Los Angeles Times)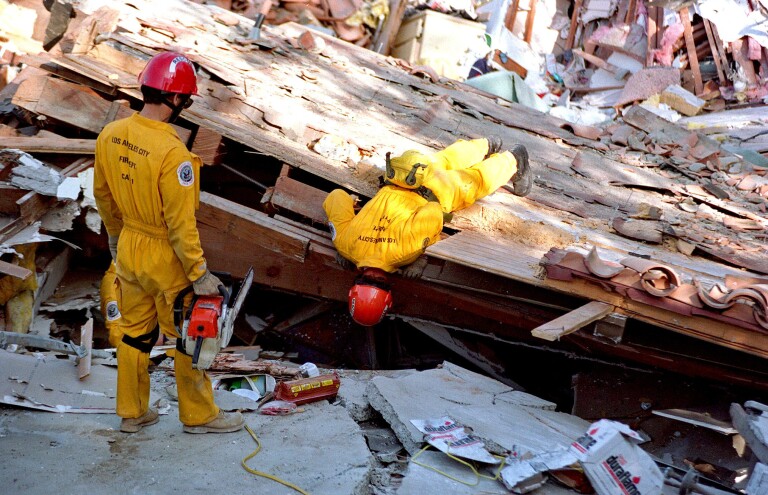 Rescue workers peer into the wreckage of a Studio City house that slid down a hill and collapsed in the earthquake.
(Los Angeles Times)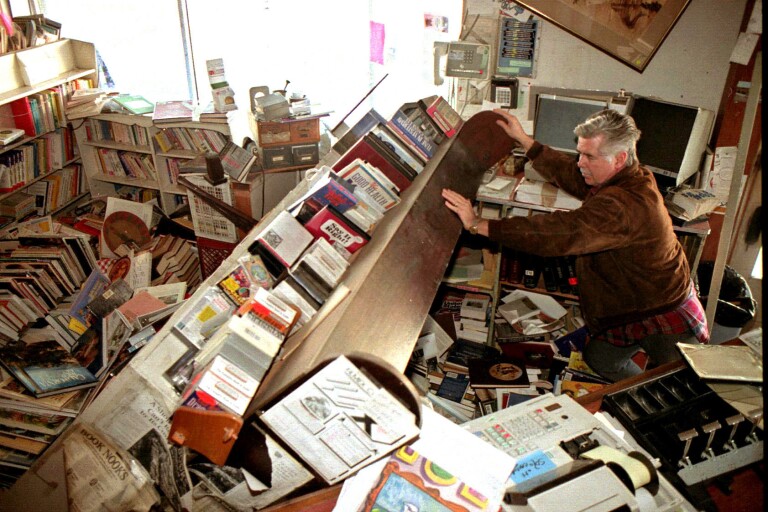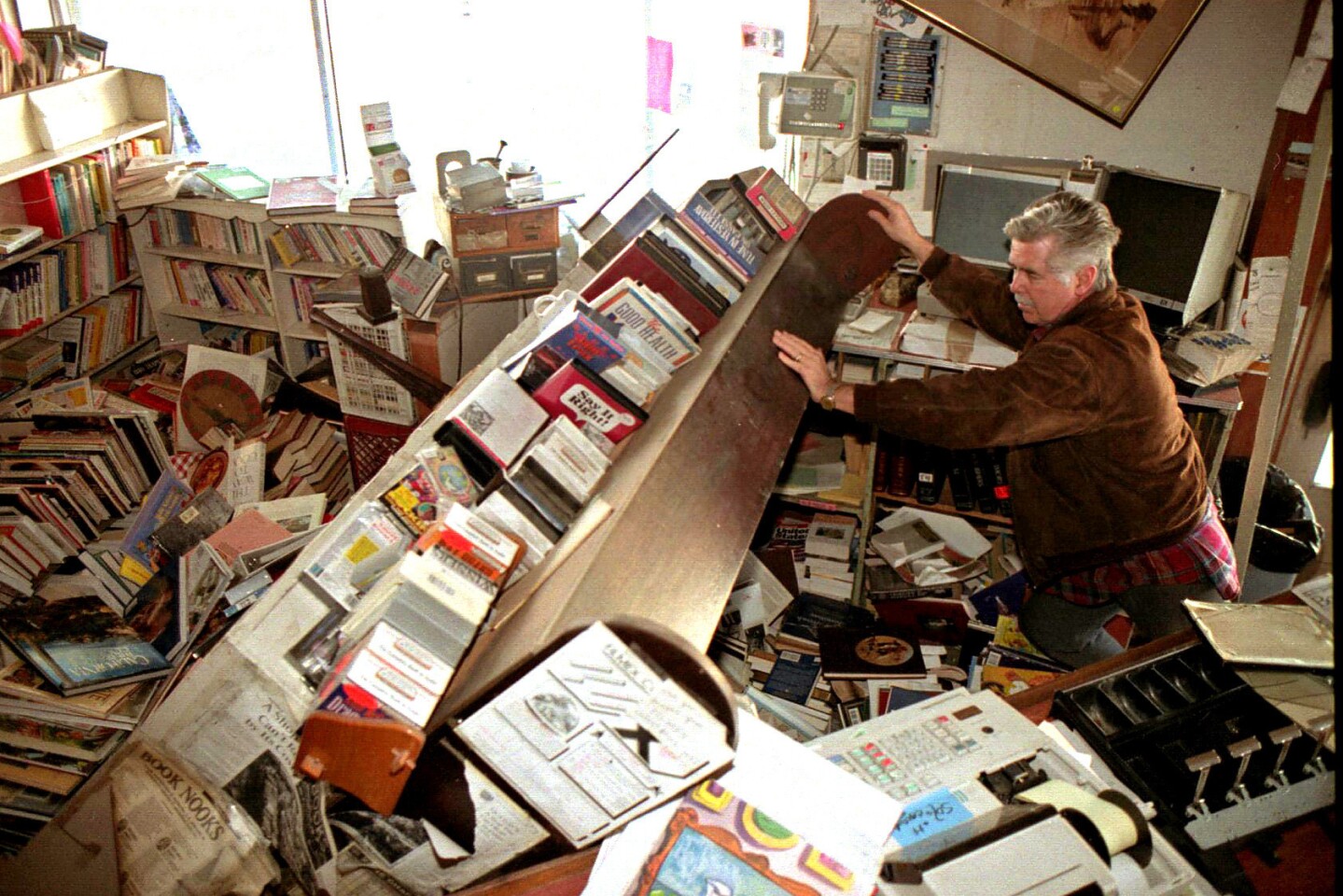 Dave Dutton found chaos at his Dutton's Books in North Hollywood.
(Julie Markes / For the Los Angeles Times)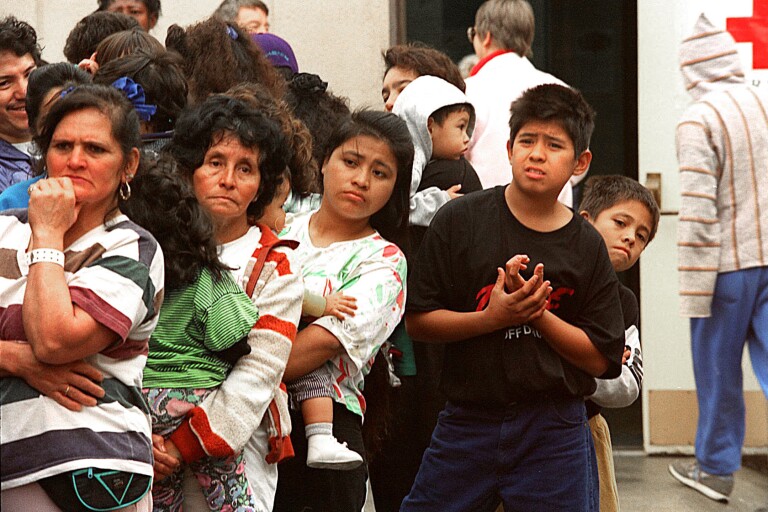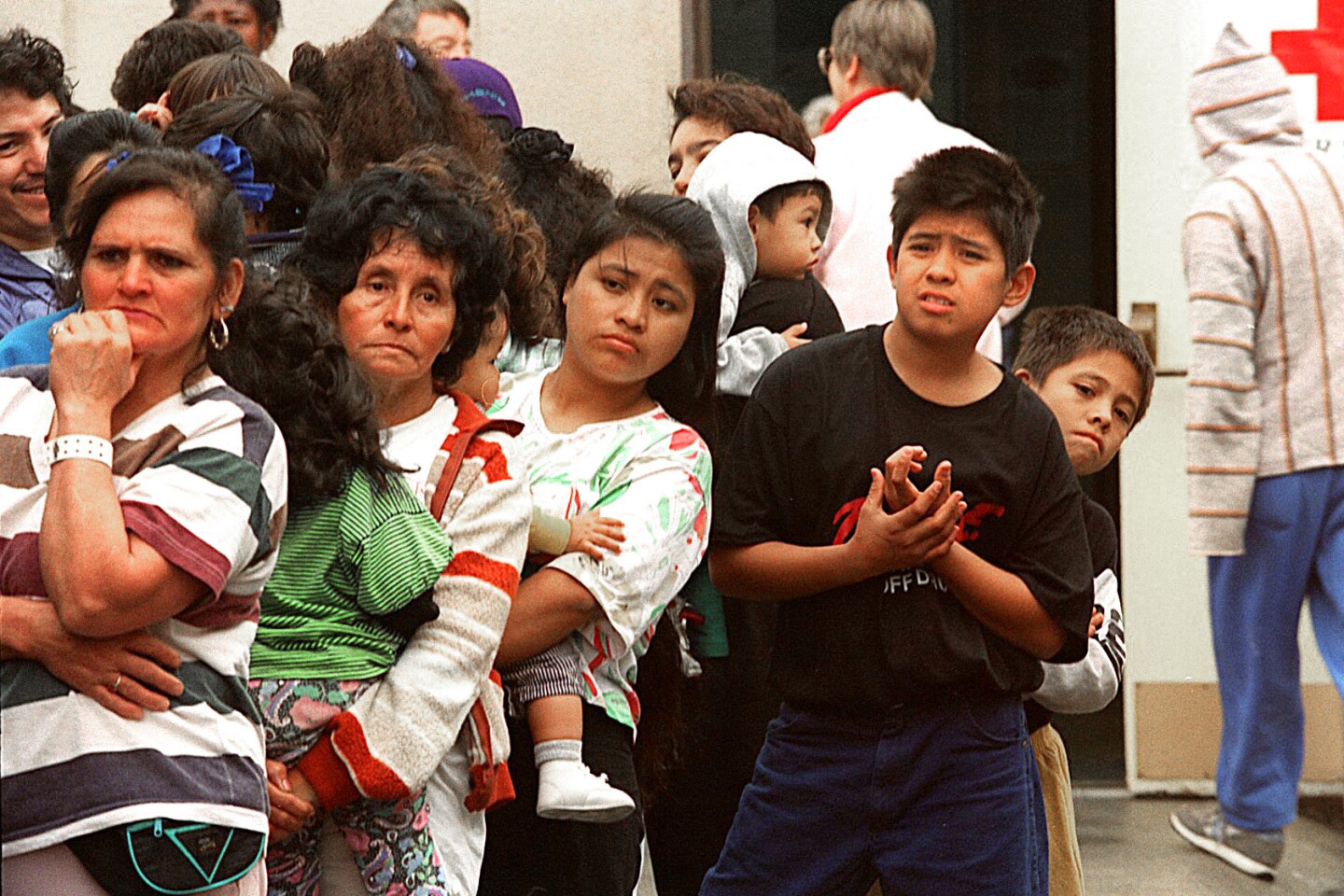 People stand in line at a Canoga Park High School shelter to pick up children's sweat suits donated by a sporting goods manufacturer.
(David Bohrer / For the Los Angeles Times)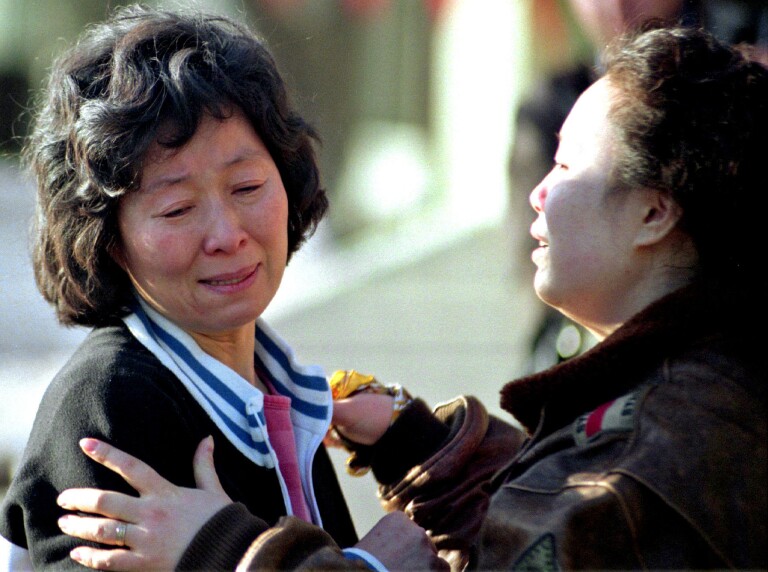 A mother's face reflects her grief on learning that her 14-year-old son had been found dead in a closet in their Northridge apartment.
(Los Angeles Times)
L.A. Mayor Richard Riordan, left, Gov. Pete Wilson and President Clinton listen on the 118 Freeway as Caltrans engineer Andrew Ponzi explains the extent of the damage to L.A. freeways.
(Los Angeles Times)
Jessica Hernandez, 7, clutches her teddy bear outside the makeshift shelter where her family and other residents of a Van Nuys apartment complex are living because they are afraid of return to their homes.
(Al Seib / Los Angeles Times)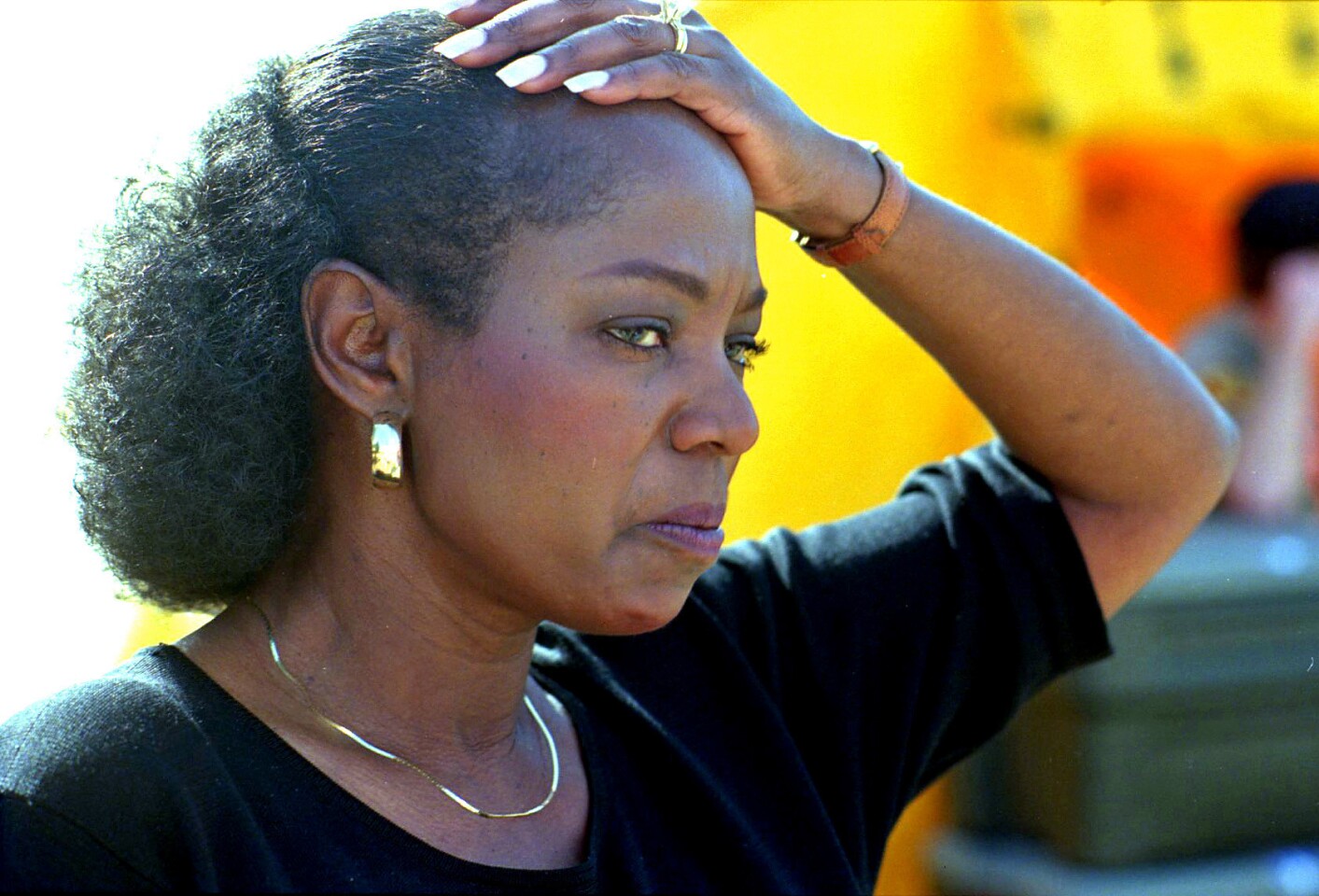 Cal State Northridge President Blenda J. Wilson said: "The moment of returning to the campus and seeing the parking structure demolished ... was the most terrifying moment of my life."
(Los Angeles Times)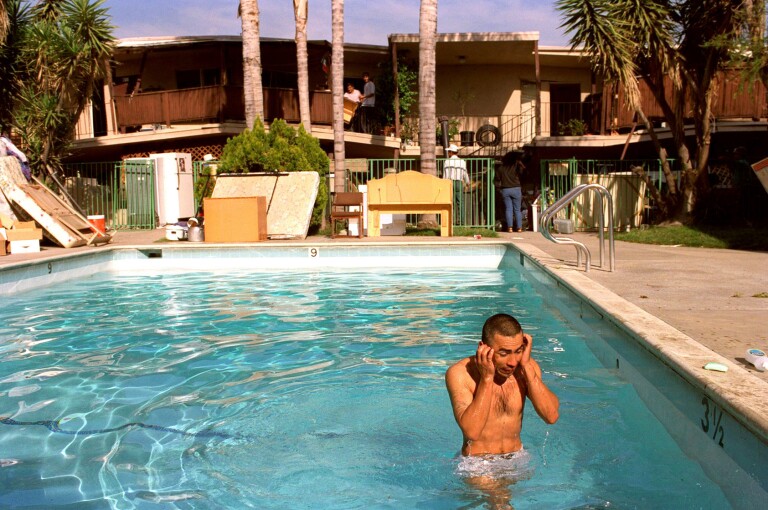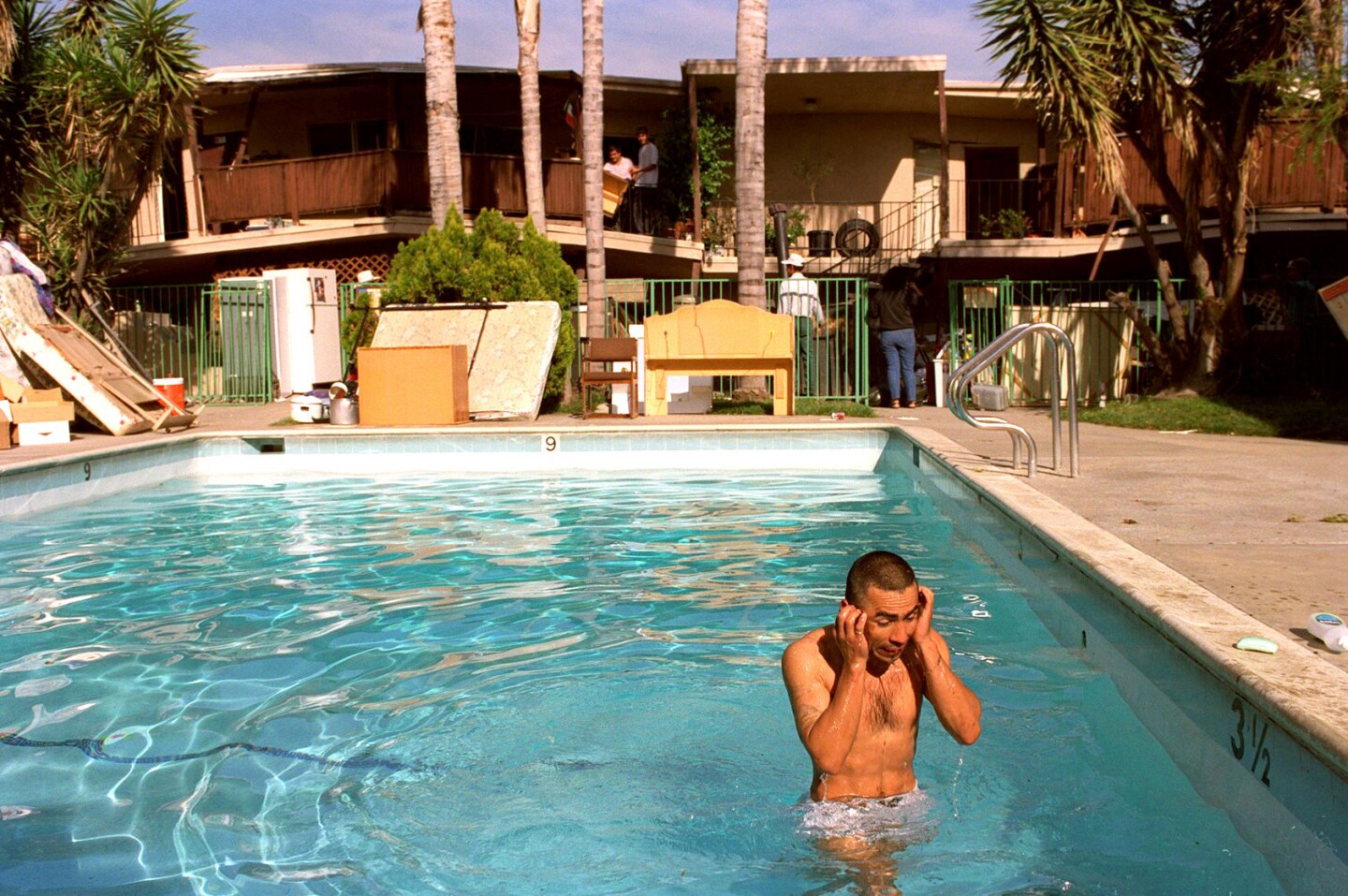 Unable to bathe since his Canoga Park apartment was condemned, Jose Aguilar rinses off in a pool.
(Ricardo DeAratanha / Los Angeles Times)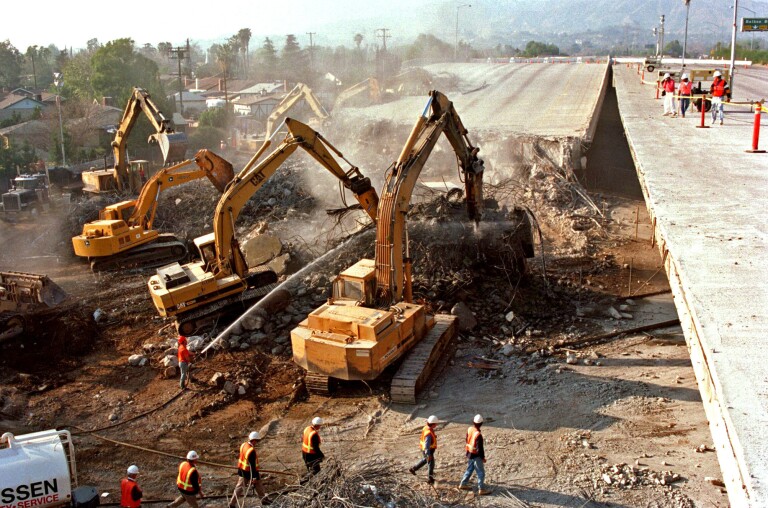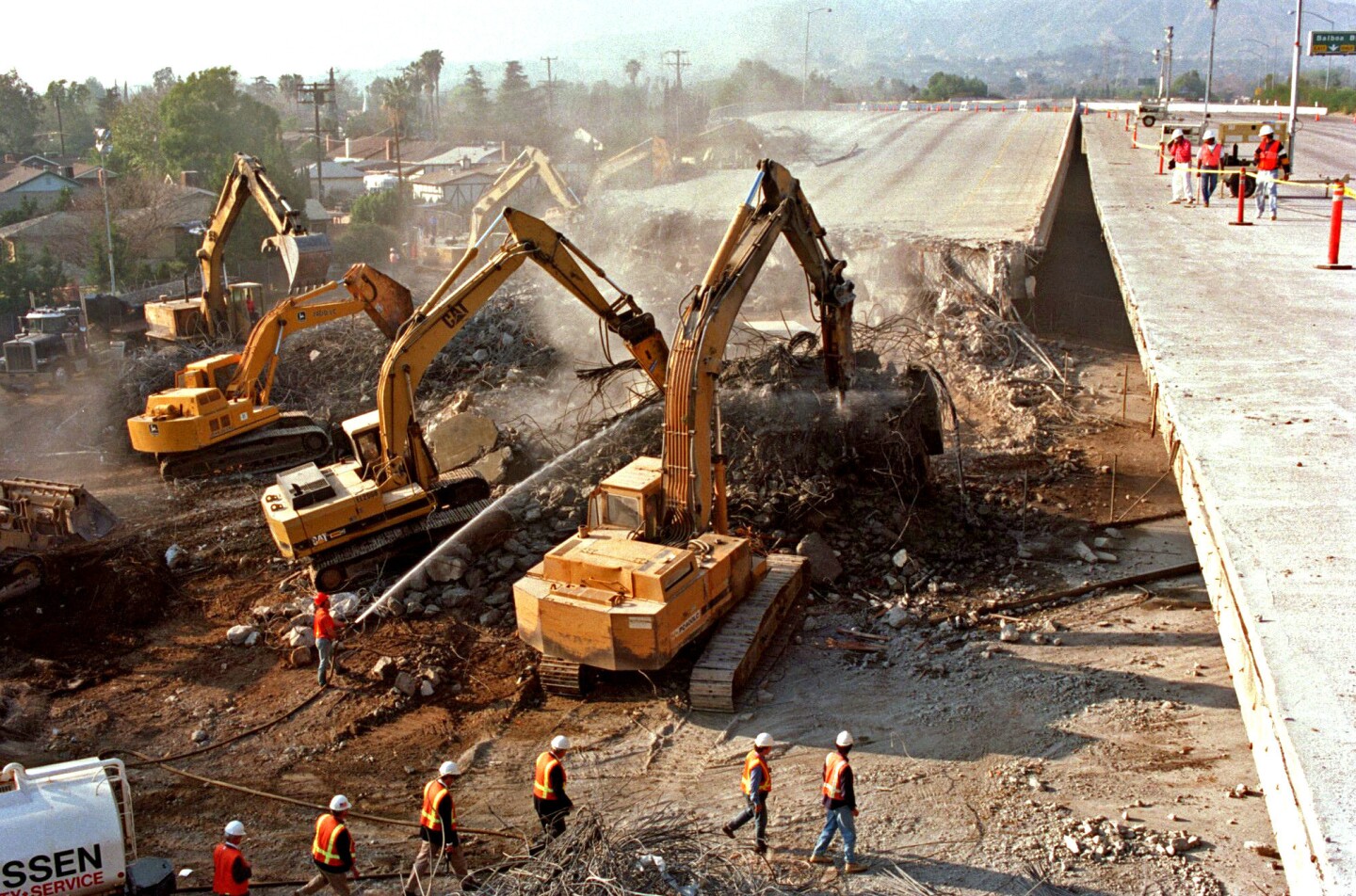 Heavy-equipment operators remove pieces of the 118 Freeway's eastbound lanes.
(Los Angeles Times)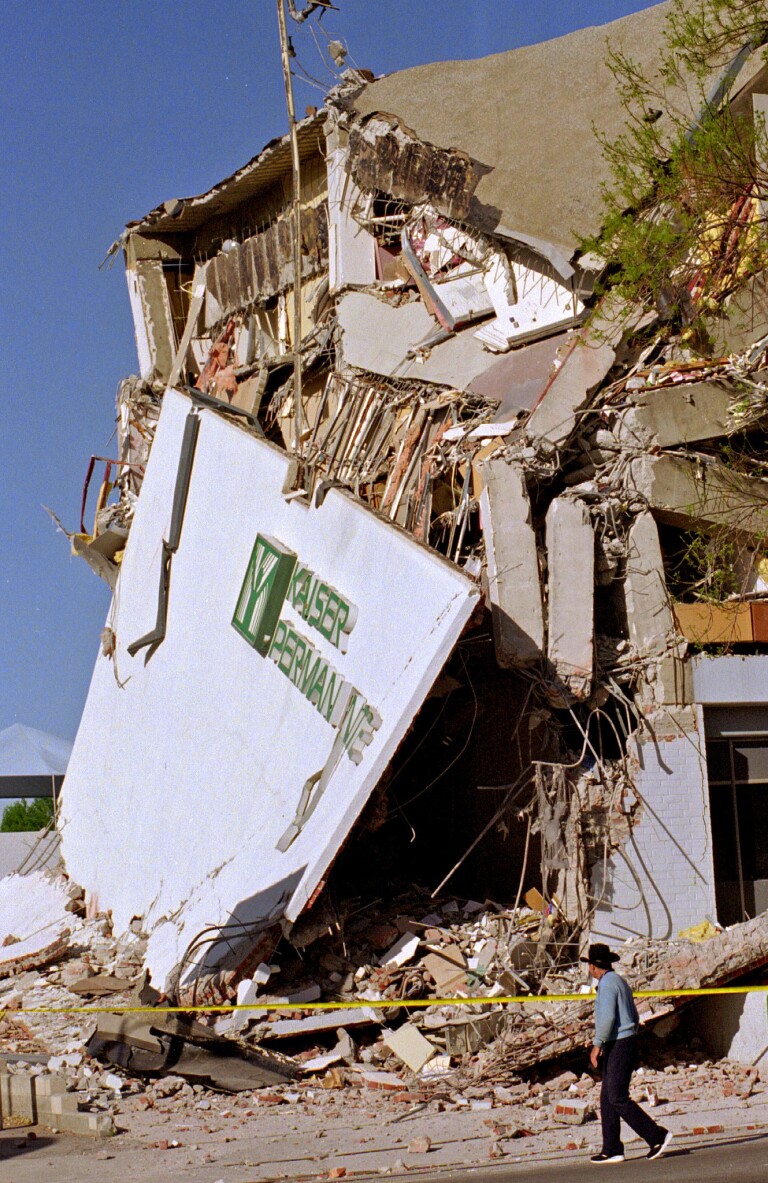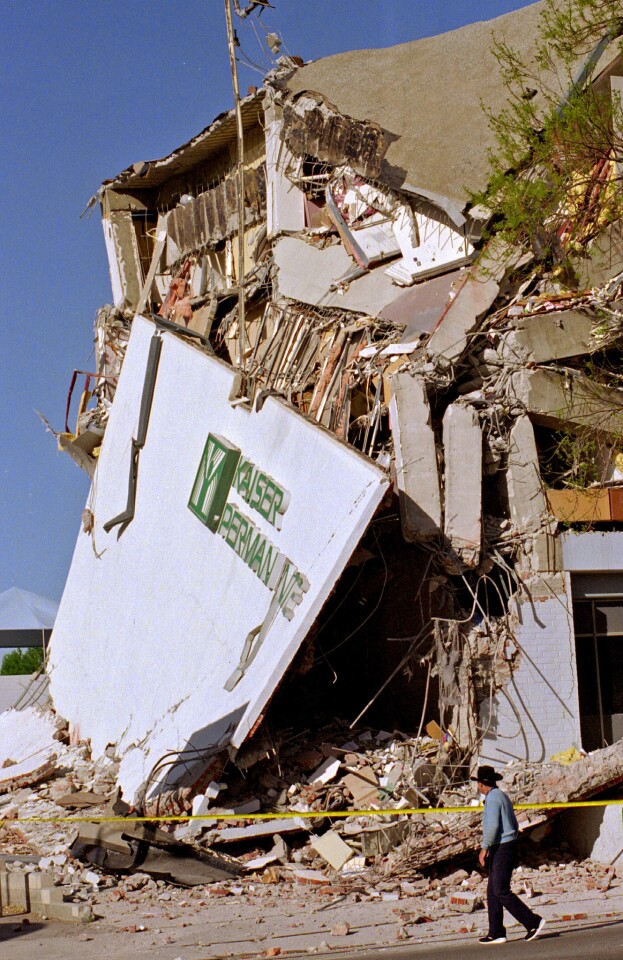 Both ends of this medical administration building collapsed, and the second floor pancaked.
(Ricardo DeArantha / Los Angeles Times)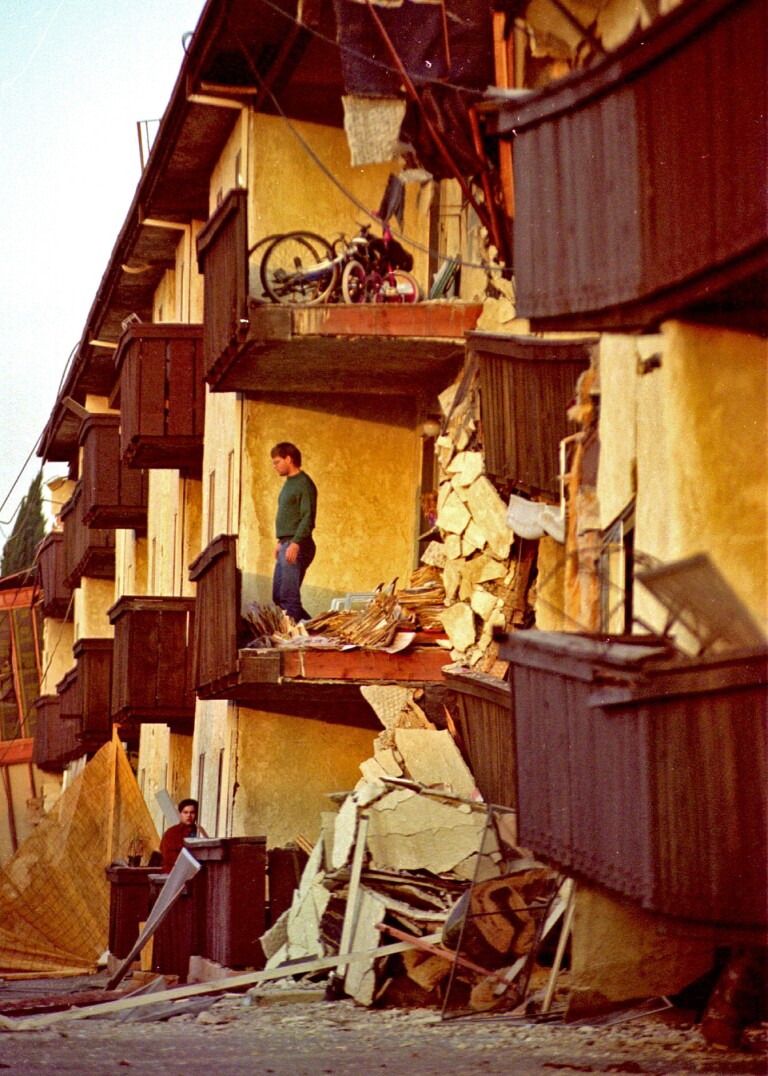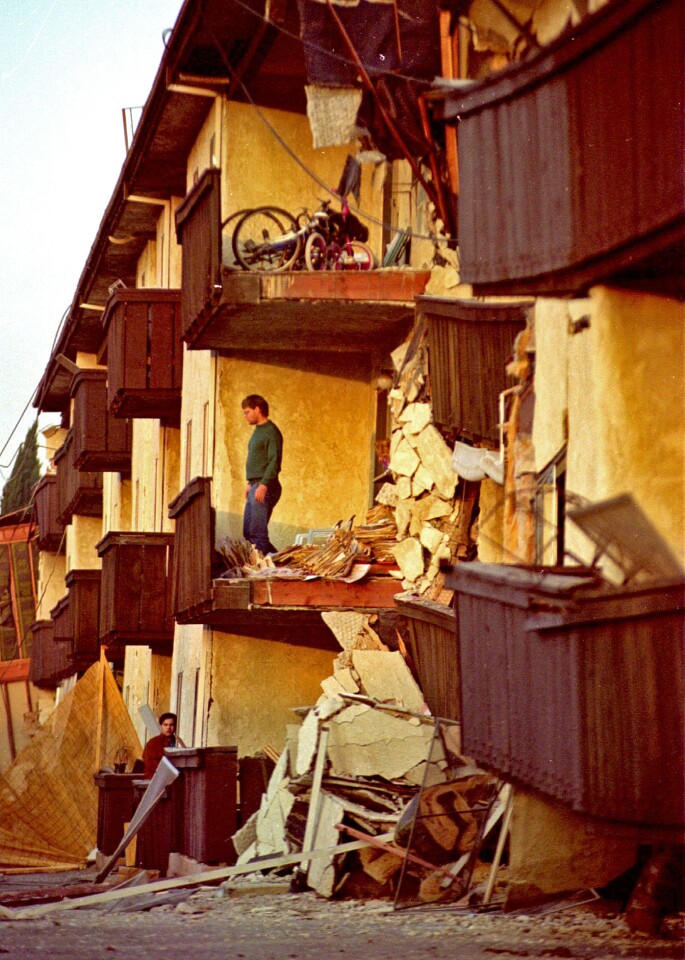 A man stares out to the street from his wall-less home at the devastated Northridge Meadows apartments.
(Joel P. Lugavere / Los Angeles Times)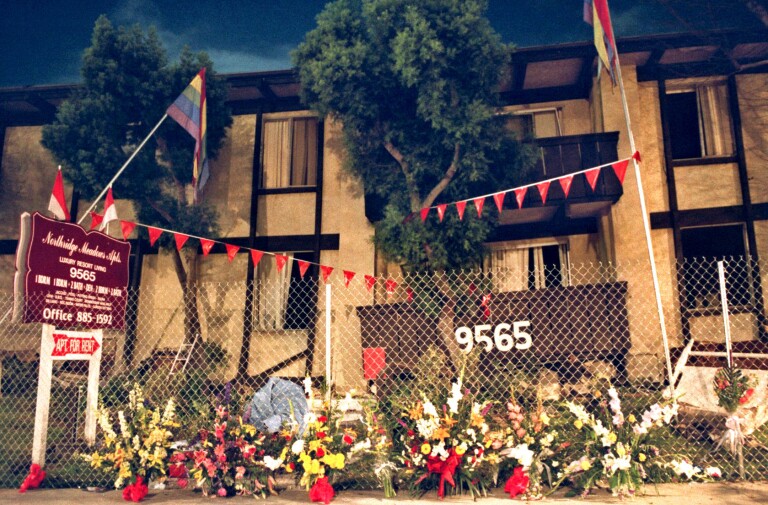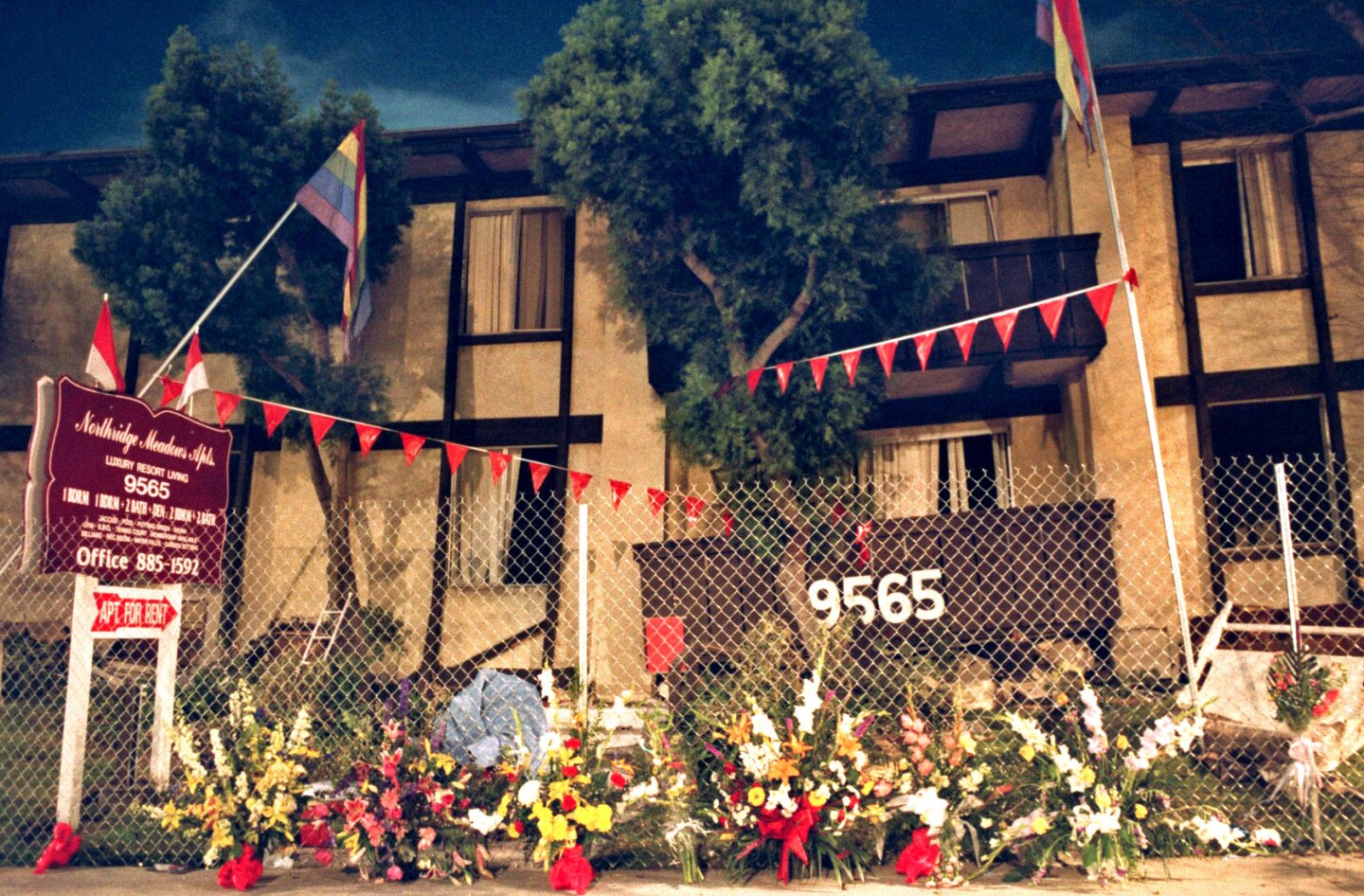 Flowers line a fence at the Northridge Meadows apartment complex a week after the quake.
(Julie Markes / For the Los Angeles Times)
Join Los Angeles Times staff writers Doug Smith and Bob Pool at 9 a.m. Friday as they talk about their experience reporting on the Northridge earthquake 20 years ago.
Pool lived not far from the epicenter and will discuss both the personal and professional challenges he faced after the magnitude 6.7 earthquake rocked the region. In addition to covering Northridge, Smith has been part of a L.A. Times team that reported numerous buildings were approved for construction on or near faults in the region without extensive seismic review. State and city leaders have since called for greater earthquake safety initiatives.
Readers who experienced the earthquake are welcome to join in on the conversation and share their memories.
---
The stories shaping California
Get up to speed with our Essential California newsletter, sent six days a week.
You may occasionally receive promotional content from the Los Angeles Times.