L.A. Unified sides with farmworkers union in dispute with grower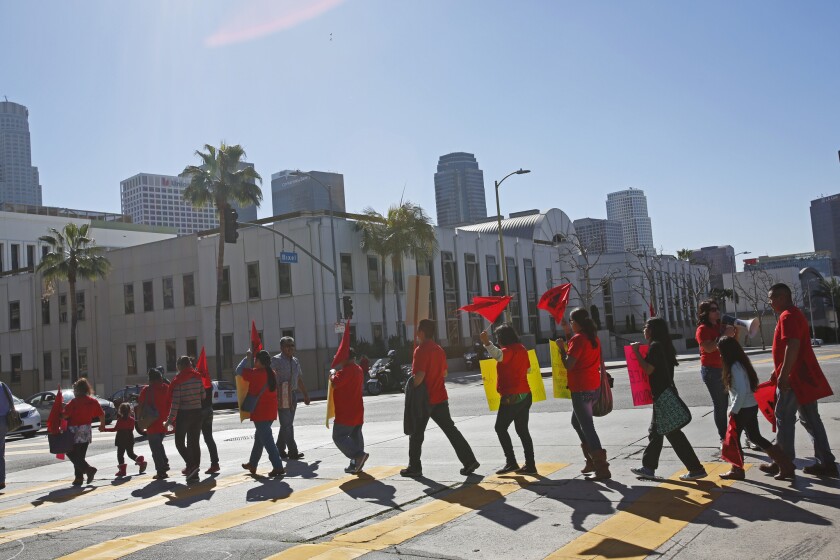 The Los Angeles Board of Education on Tuesday sided with United Farm Workers in its dispute with an agricultural firm, calling on the company to honor a labor contract.
The vote was 6 to 0, with one abstention, and was greeted with rousing approval by dozens of union members who were on hand.
The resolution called on Gerawan Farming "to comply with state and federal laws, including labor relations, anti-discrimination, and minimum wage and hour laws, and to immediately implement the agreement issued by the neutral mediator and the state of California."
The resolution also directed district staff to review the company's "compliance with fair labor practices" should it be part of any potential contracts with the L.A. Unified School District.
"Gerawan already owes its thousands of workers millions of dollars in pay raises and other benefits," UFW President Arturo S. Rodriguez told the board. "Yet Gerawan fiercely resists its workers at every turn, committing some of the most flagrant labor law violations in California history."
In an interview, the company's co-owner denied any wrongdoing and challenged the validity of the contract.
"There is no contract," said Dan Gerawan. "There is a government order."
Gerawan insisted that most of the company's employees side with management. He wrote to the board, defending the company's practices and compensation package. He urged L.A. officials to stay out of the dispute, but the labor-friendly body showed no hesitation deciding which side deserved its support.
There are charges of unethical conduct on both sides and a disputed union election.
The Fresno company employs 5,000 and grows peaches, plums, nectarines and grapes.
"This is not something we can look away from," said board member Steve Zimmer, after donning a red farmworkers T-shirt. "Our contracts are our values."
Zimmer said the nation's second-largest school system can and should use its influence to promote the best labor and environmental standards.
Board member Tamar Galatzan abstained. A spokeswoman said Galatzan doesn't believe the matter is an issue for the board because Gerawan is not a district vendor.
Gerawan has supplied a relatively small amount of produce as a district subcontractor in the past.
For more education news, follow me @howardblume.
---
For reporting and exclusive analysis from bureau chief John Myers, get our California Politics newsletter.
You may occasionally receive promotional content from the Los Angeles Times.