A woman got 'lamb fat' injected into her buttocks; now she needs major reconstructive surgery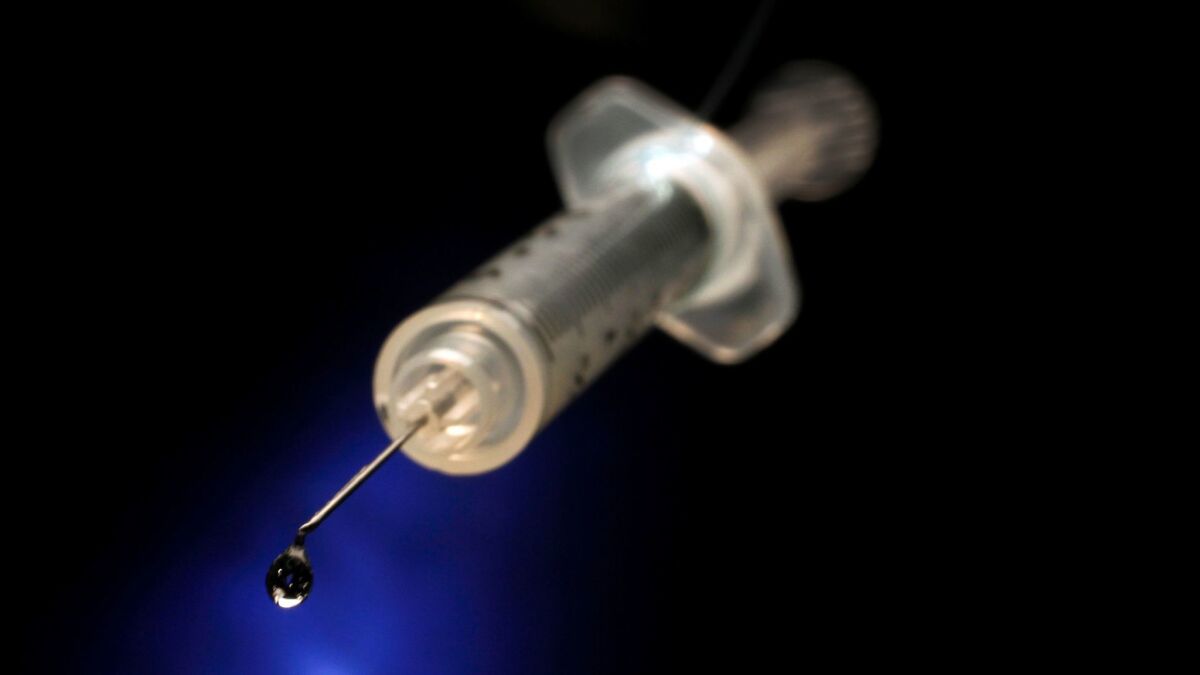 She wanted a backside that was "bigger and plump," according to federal authorities, but what she got instead was a medical nightmare.
The woman, who was identified only as I.T. in a federal affidavit filed Friday, told authorities her troubles began when she employed the services of Ana Bertha Diaz Hernandez — a Monterey Park beautician who promised to make the woman's callipygian dreams come true with a series of lamb's fat injections.
Diaz Hernandez told the woman the cell-infused injections were guaranteed "safe and will stay in place until she dies," federal authorities said.
But after getting the injections at Diaz Hernandez's home in 2015, the woman soon noticed that the so-called "nature product" had moved into her back, hips and legs. She later underwent a major surgery to reconstruct her buttocks.
Last week, authorities arrested Diaz Hernandez on federal felony charges alleging receipt of an adulterated and misbranded medical device, smuggling of merchandise and misbranding of prescription drugs, according to the U.S. attorney's office in Los Angeles.
Federal authorities said Diaz Hernandez is not licensed to perform medical treatments or cosmetic procedures in California.
Her arraignment is scheduled next month. Meanwhile, Diaz Hernandez, 47, remains in custody in lieu of $100,000 bail, according to Thom Mrozek, a U.S. attorney's office spokesman.
Five visits and numerous injections of "cellulas de borrego" (lamb cells)
Federal authorities first learned about Diaz Hernandez on June 1 when the victim filed a complaint with the Medical Board of California, Zeva Pettigrew, a special agent with the U.S. Food and Drug Administration, wrote in the affidavit.
The woman told authorities she heard about Diaz Hernandez through an acquaintance who had received injections from her and had no side effects.
She contacted Diaz Hernandez, who said she could inject "cells" into her buttocks, according to the affidavit.
At Diaz Hernandez's home, the woman told authorities, she was led into the living room and noticed certificates on the wall.
To reassure the woman, Pettigrew wrote, Diaz Hernandez pulled out a cellphone and showed her photographs of other patients and the procedures she had performed.
She told the woman she trained with a doctor in Mexico, where she also picked up the substance, the affidavit said. Diaz Hernandez described the substance as "cellulas de borrego," which is the Spanish translation for lamb's cells.
From there, the woman was led into a treatment room, which was a detached building in Diaz Hernandez's backyard.
Clad in a white lab coat and latex gloves, Diaz Hernandez examined the woman's buttocks.
With a black marker, she pinpointed several areas of the woman's buttock and began injecting the "clear and firm" liquid with a large syringe, Pettigrew said.
During the procedure, Diaz Hernandez removed the "oily and unscented" product from an armoire. According to FDA officials, the clear and oily liquid is consistent with silicone.
Diaz Hernandez told the woman "the product is so popular that she had to leave the country to buy some more," Pettigrew wrote. She recommended the woman get 15 injections in each buttock to see results as well as "amino acid" shots to remove stretch marks.
After the first visit, the woman returned four more times to receive injections, spending $5,000 to $6,000 for the treatment.
Portions of buttocks were removed
Authorities still don't know what substance was injected into the woman, but they suspect it could be silicone.
By the end of 2015 and the start of 2016, the woman began feeling cramps, itchiness, and stinging in her buttocks. Her fingers also became swollen and she developed lumps in her buttocks.
After her primary care doctor told her she was fine, the woman sought help from other medical professional experts who would be able to remove the substance from her buttocks.
In August 2016, the woman traveled to Colombia to see Dr. Carlos Alberto Rios Garcia after learning he had removed a similar substance from other Americans.
The doctor removed the substance as well as portions of her buttocks, according to the affidavit. He had to use skin grafts to rebuild the skin on her buttocks.
She stayed in Colombia for 23 days to recover from the surgery.
The Colombian surgeon told her the substance was "halogen," but authorities believe that she misheard him and that the substance was probably hydrogel, a liquid silicone.
According to FDA officials, any silicone or lamb's fat substance that will be used for body contouring requires the agency's approval.
The FDA has never approved the use of injectable silicone for body contouring because of the potential risks to the patient's health.
Silicone injections could lead to scar tissue, necrosis, disfigurement, skin discoloration, embolism and sepsis and could interfere with organ function.
According to the affidavit, using lamb's fat for body contouring could also pose health risks and has not been approved by the FDA.
The woman says she still needs at least two more surgeries to reconstruct her buttocks.
After returning from Colombia, she notified authorities.
Bottles of anesthesia and bloodstained gauze in trash
The woman called the Monterey Police Department twice looking for help. Then she contacted the Medical Board of California.
Meanwhile, the woman did a little investigating of her own.
She organized a meeting between herself, Diaz Hernandez and a friend, who posed as a potential patient and made an audio recording of the encounter, according to the affidavit.
In the meeting, Diaz Hernandez told them she would be injecting lamb's fat and claimed it "will not harm her, nor will it settle in her body," Pettigrew wrote.
"Diaz stated if [the friend] has ten shots in each cheek, it will cost $1,000 to give her a good look…. Too much product would make her look big," the special agent wrote.
The friend said she would come back when she had more money.
Investigators later went to Diaz Hernandez's home and found a bag of maggot-infested trash that contained latex gloves, bloodstained gauze, a water bottle containing a brown murky substance, empty syringe needle boxes and bottles of anesthesia that were labeled in Spanish, Pettigrew wrote. The labels read: "Amino Cell III, Corporal" and "Amino Cell III, Fibrosis."
In May, investigators began monitoring Diaz Hernandez and saw several women visiting her home for procedures. When an agent called Diaz Hernandez to inquire about the injections, she said she didn't provide services.
As authorities dug into Diaz Hernandez's past, they discovered she had been stopped by U.S. Customs and Border Protection agents in San Diego years earlier.
In March 2013, she tried to smuggle medications and beauty products in a spare tire and in the seats of her Jeep, according to the affidavit.
At the time, agents seized more than $24,000 worth of products, including needles and anesthesia.
If Diaz Hernandez is convicted, she faces up to 26 years in federal prison.
---
The stories shaping California
Get up to speed with our Essential California newsletter, sent six days a week.
You may occasionally receive promotional content from the Los Angeles Times.