The Antelope Valley's only homeless shelter is shutting its doors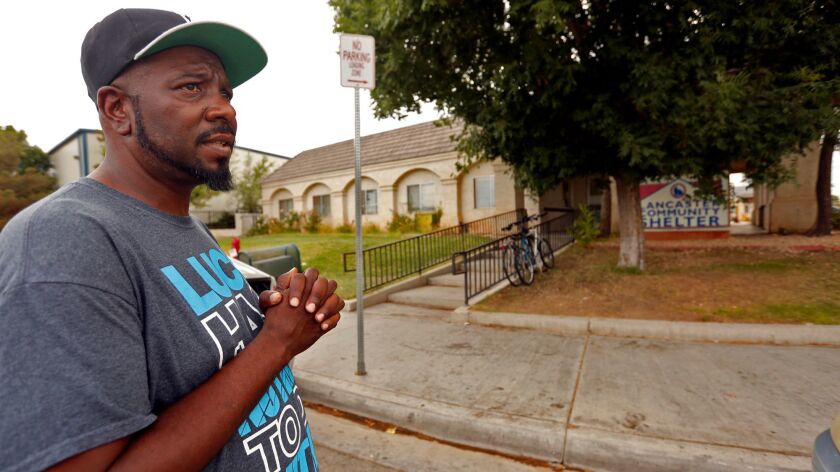 The rationing system at the Lancaster Community Shelter worked on a simple principle: priority to those who slept on the street the night before.
They lined up on the right. Everyone who had a bed the night before lined up on the left and got a raffle ticket. When the doors opened around 4 p.m. the right line went in first. Then those on the left were called by number until the shelter was full. Usually about a dozen were turned away.
"You come here at 3 o'clock," said Adam Mandolph, who stood in the left line one afternoon last week. "The anxiety goes up. Will the little blue paper with your number on it come up?"
Mandolph's number didn't come up. The former music producer, 46, began what he called the long walk down Yucca Avenue, a quarter-mile hike to the city's charming main street, where he would spend the night.
"I have hours of just walking tonight," Mandolph said. He said he's afraid of being attacked while he sleeps.
Starting Monday, there will be no reason for Mandolph to come back at all. There will be no line and no lottery. The operators of Antelope Valley's only drop-in homeless shelter abruptly announced late last month that after struggling with red ink for years, they are closing their doors.
The move by Grace Resources, a nonprofit organization that also operates a food bank, educational programs and a thrift store, has set off soul-searching among Antelope Valley officials amid a frantic effort to find other accommodations for the occupants of the 108-bed shelter.
Families are being given vouchers and relocated to motels. Youth are being transferred to other facilities. Churches are stepping up to offer their pews at night for single men and women.
"I think we'll get most of them housed and in a bed," said Steve Baker, Grace's executive director.
The closure of the shelter has added new urgency to complaints that the Antelope Valley, whose homeless count climbed 50% this year to an estimated 4,559, is woefully short of services.
In June, the state's Joint Legislative Audit Committee ordered an audit to look into the complaint of state Sen. Scott Wilk (R-Santa Clarita) that the Antelope Valley receives a disproportionately low share of federal homeless funds.
On Tuesday, the Los Angeles County Board of Supervisors unanimously approved a motion by Supervisor Kathryn Barger and board Chairman Mark Ridley-Thomas to form an Antelope Valley homeless consortium to analyze the gap in services and develop solutions.
"There is an immediate need to increase the capacity of homeless services in a regional, holistic and collaborative fashion in the Antelope Valley," Barger said.
My board finally said enough is enough. I've gone way beyond my financial means.
Grace Resources Executive Director Steve Baker, on the decision to close the Lancaster Community Shelter
Last year, voters resoundingly rejected an attempt by Lancaster to unilaterally address its homeless problem.
At the urging of church groups, the City Council called a special election in October on a parcel tax to generate $4 million annually for both homeless services and law enforcement.
Baker said homeless advocates hoped to build a new shelter for 400 to 600 people to provide a regional solution.
Just over 34% of voters supported the measure.
Baker said Grace's board decided the shelter had to close after years of deficit spending wiped out its reserves.
"My board finally said enough is enough," Baker said. "I've gone way beyond my financial means."
The reasons for the shelter's financial collapse remain unclear. Like most shelters, Grace had a complex funding structure. It held two contracts with the Los Angeles Homeless Services Authority, one for 15 year-round beds and another for 39 winter beds, operations director Jeremy Johnson said. The city of Lancaster had a similar contract with the authority for 10 beds at the shelter and put up $200,000 in community block grant funds for it.
But Grace continued to take in clients for beds that weren't funded after the winter contract expired, Johnson said.
Johnson attributed the deficits to a combination of the organization's faith-based mission and the cumbersome contracting process.
"A generous heart and a gracious heart costs money," he said. Johnson said Baker, who has run Grace Resources since shortly after its formation by local pastors in 1991, will "just keep going and give this family this and that family that."
Grace's contract with the Homeless Services Authority, for example, provides $41,000 a year for vouchers to place families in motels, but the shelter gave out $56,000 in vouchers last year, Johnson said.
In March, Grace entered into a contract with Valley Oasis, a Palmdale-based social services agency, to provide 48 beds for crisis and bridge housing. The funding would come from the Homeless Services Authority, and while the contract provided steady income, it was too little, too late, Johnson said.
It also created a dilemma for shelter director Matthew Buck when Valley Oasis didn't refer enough clients to fill its beds, which were assigned based on specific requirements. Having only 20 beds for single men and 20 for single women, Buck said he had to turn people away even when there were empty beds, for which the shelter received no reimbursement.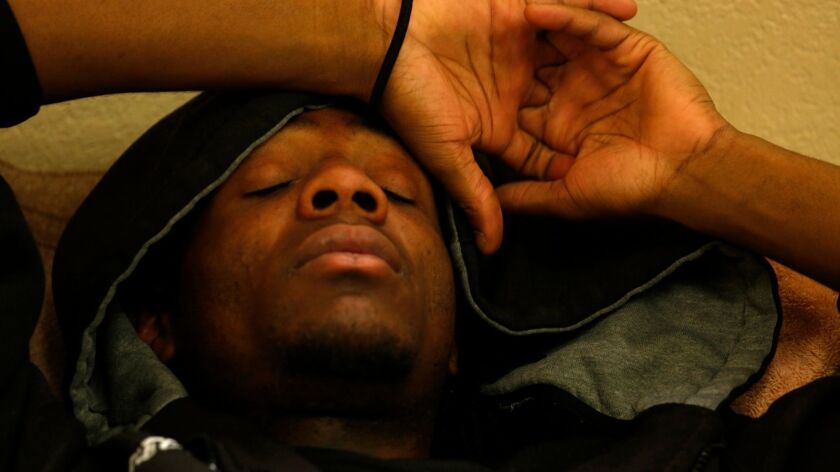 Mandolph, the man turned away last week, said he was one of those. He knew there were empty beds, but thought he didn't meet the requirements.
"I'm not a felon," he said. "I don't have a drug problem, don't have a mental illness. I would be appreciative to sleep on the floor, and even to receive a meal before they turn me away."
The Homeless Services Authority issued a statement Thursday saying it was working with the city of Lancaster to reopen the shelter. Authority spokesman Tom Waldman said the agency asked to both fund and continue operating the shelter and is also exploring "other temporary shelter arrangements."
Lancaster Mayor R. Rex Parris, who supported the shelter ballot measure last year, said he now has soured on it and is supporting Barger's proposal in the hopes it will lead to a regional solution.
The consortium is to include the cities of Palmdale and Lancaster, community and faith-based organizations, local providers and advocacy groups, the Lancaster and Palmdale sheriff's stations, local school districts and the Homeless Services Authority.
Parris said he thought Grace's board of directors was hoping "we would come riding in on a white horse," but he didn't offer help.
"Could we have figured out a way to keep that place open? Sure. But it would have been a detriment to the homeless population of the Antelope Valley," Parris said. "I'm glad it's closing because I think we're going to do something that's going to have a long-term success."
Even if the consortium to be convened by Barger takes a year to come up with a plan, he said, that's better than perpetuating the status quo.
"So you have a year of 4,600 people being homeless versus 10 years of 4,500 people being homeless," Parris said. "It took this to have people look at the reality of it."
Twitter: @LATDoug
ALSO
One size doesn't fit all: In Salt Lake City, a community rethinks how it helps its homeless
Homeless cleanups in L.A. have surged, costing millions. What has been gained?
Home at last: Vets' circuitous paths through homelessness meet in new permanent home
---
The perils of parenting through a pandemic
What's going on with school? What do kids need? Get 8 to 3, a newsletter dedicated to the questions that keep California families up at night.
You may occasionally receive promotional content from the Los Angeles Times.