LAPD officers who fatally shot a bottle-throwing man they mistook for a gunman won't be charged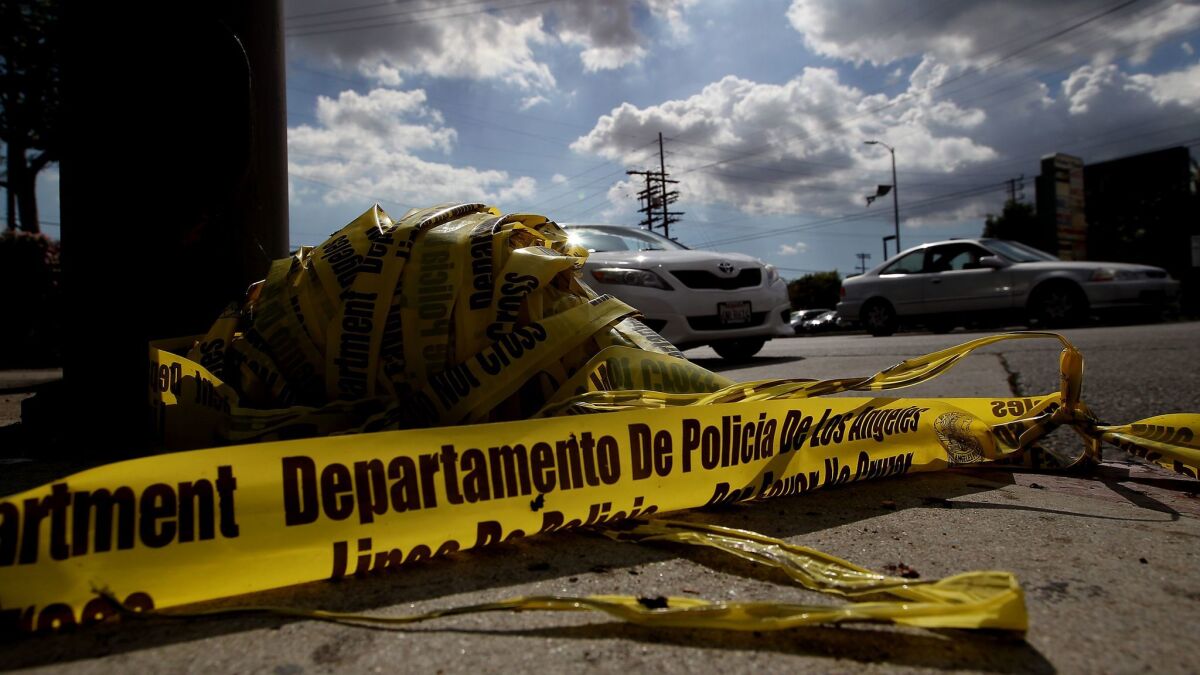 Prosecutors have declined to charge two Los Angeles police officers who shot and killed an unarmed man in Van Nuys after he threw a beer bottle through a window of their police car, authorities announced Monday.
Although the officers fired a combined 18 rounds at James Byrd during the 2015 shooting, prosecutors wrote, their actions were legally justified because they reasonably believed Byrd was armed with a gun and had shot at them.
No gun was ever found at the scene. Instead, authorities determined, Byrd shattered the police car's back window with the bottle — a sound the officers and witnesses believed was a gunshot, prosecutors said.
READ: Memo from prosecutors outlining their decision not to file charges against the LAPD officers who shot James Byrd »
"The fact that Byrd did not actually present a deadly threat when the officers reacted is immaterial," prosecutors wrote in an 11-page memo outlining their decision. "[The officers] were entitled to respond to an apparent deadly threat with deadly force and they were entitled to engage Byrd until he no longer presented a threat."
Although some of the evidence indicated that police continued to fire at Byrd as he ran — including gunshot wounds to his back and a witness' comments that Byrd was "ducking from shots" — prosecutors determined the officers' actions were legally allowed. Because the officers reasonably believed Byrd tried to kill them, a "forcible and atrocious crime," they had the legal duty to stop him and were entitled to use deadly force to do so, prosecutors wrote.
In the end, prosecutors said, they felt there was "insufficient evidence to prove beyond a reasonable doubt" that the officers used unreasonable force.
The decision echoes another announced by L.A. County Dist. Atty. Jackie Lacey's office last week, when prosecutors said they would not file charges against a now-former LAPD officer who shot and killed a 29-year-old homeless man near the Venice boardwalk.
After LAPD Chief Charlie Beck took the unprecedented step of suggesting charges be brought against the officer who shot Brendon Glenn, many wondered whether the 2015 case would become a watershed moment in L.A., where a law enforcement officer has not been charged in an on-duty shooting in nearly two decades.
Both Byrd and Glenn were unarmed and were killed during a period of intense scrutiny of shootings by police. In both cases, prosecutors said it was reasonable for the officers to perceive the men as threats.
As in Glenn's death, the Police Commission — the civilian oversight panel that reviews all shootings by LAPD officers — determined the officers who shot Byrd violated the department's rules for using deadly force.
Beck believed the initial rounds fired by the officers fell within policy, but faulted them for firing an additional 11 rounds, according to a written report he sent to the commission. During the later bursts of gunfire, Beck said, it was not reasonable for the officers to believe Byrd still posed an imminent threat.
Byrd had a history of schizophrenia, according to his autopsy report. Prosecutors revealed in their memo that he had been living at a Van Nuys care facility, which he left a day before the shooting.
The Oct. 3, 2015, shooting came during heightened tensions within the LAPD after a video had circulated on social media showing what police feared was a threat against officers: a person filming an LAPD patrol car, then flashing the camera down to show a revolver.
The officers were warned about the video at a briefing before they started their shift, which prosecutors noted in their memo. (The LAPD later determined that the video wasn't a threat against officers but a promotional clip filmed by an early 1990s rap group trying to make a comeback.)
About 4 ½ hours after the briefing, Officers Andrew Hacoupian and Zackary Goldstein were stopped at a red light around 11:35 p.m. when the back window of their patrol car shattered. Fearing they were under fire, authorities said, they jumped out of the cruiser and shot at Byrd, who they believed was responsible. The officers' rounds peppered nearby buildings.
One officer told investigators he thought Byrd had a gun in his hand, according to a report Beck gave the Police Commission in 2016. The other said he saw Byrd holding a "black object."
Comments made by the officers in the minutes following the shooting showed their "actual and honest belief" that Byrd shot at them, prosecutors wrote in their memo.
"He has a gun," Goldstein reportedly told another officer responding to the scene, according to the memo. And when a sergeant later asked the officer if it was possible that Byrd had fired at him, "Goldstein simply replied, 'Yes.'"
In the end, police determined Byrd had thrown a 40-ounce beer bottle.
---
Life is stressful. Our weekly mental wellness newsletter can help.
You may occasionally receive promotional content from the Los Angeles Times.