Activists to L.A. lawmakers: Drop your support of measure to reshape discipline at LAPD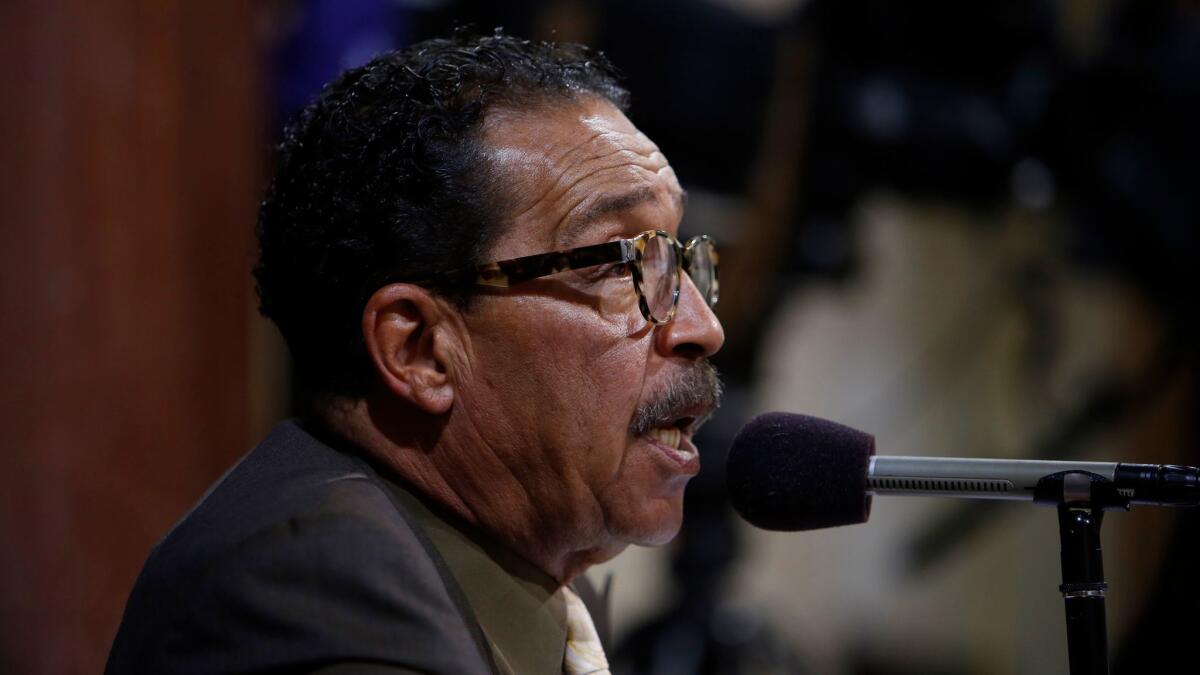 City Council President Herb Wesson convened a group of community activists this week for what he billed as the first of many meetings devoted to finding ways of reforming the Los Angeles Police Department.
But Tuesday night's two-hour session provided a platform for community activists to rally opponents against Charter Amendment C, a proposal on Tuesday's ballot to rework LAPD disciplinary practices. Participants tried, without success, to persuade Wesson and his colleagues to drop their support for the measure, calling it a "bad bill."
"The community wants me to ask you … will you join the people — and we want your response — in encouraging folks to vote no on Charter Amendment C?" said Melina Abdullah, an organizer with the activist group Black Lives Matter, seated before lawmakers.
As she and Wesson began talking over each other, Abdullah pressed again: "I'm asking politely, can you answer the question?"
The confrontation, which played out in front of an audience mostly opposed to Charter Amendment C, was unusual by City Hall standards. At committee meetings, those who are invited to sit at the council's front table to give their expertise usually speak in deferential ways.
Abdullah and her allies, by contrast, repeatedly informed members of the Ad Hoc Committee on Police Reform that community groups were cut out of the deliberations that led up to the announcement of a ballot measure. One panelist accused city lawmakers of failing to do their homework before sending the proposal to voters.
Wesson, who played a major role in shepherding Charter Amendment C onto the ballot, declined to answer Abdullah directly, saying he did not want to run afoul of rules barring public officials from using government resources to engage in election activity.
Instead, Wesson offered what he called a diplomatic statement on Charter Amendment C: "I am not of the mind to change action that I've done prior to the 16th" — the date of next week's election.
Wesson's answer to The Times on Wednesday was more straightforward. In an email, a spokeswoman said that he "definitely" supports the ballot proposal. In campaign mailers promoting Charter Amendment C, Wesson has called the ballot measure "critical to improving community and police relations."
Wesson had described this week's committee meeting as the inauguration of a dialogue between city lawmakers and residents about the police. For the first meeting, he invited to the table some of L.A.'s most vocal organizations on policing issues.
Those groups — which include the American Civil Liberties Union of Southern California and the South L.A.-based Community Coalition — contend that Charter Amendment C would result in less strict punishment for misbehaving officers. Opponents portray the measure as the product of a backroom deal between the city's elected officials and the LAPD's powerful police union.
Charter Amendment C would allow LAPD disciplinary panels, known as Boards of Rights, to be composed entirely of civilians. Under the current system, the panels are made up of two high-ranking officers and one civilian.
Union leaders say Charter Amendment C would address officer complaints that the disciplinary system is unfair because two of the three members on each board report to Police Chief Charlie Beck, who recommends punishment in those misconduct cases. Supporters have also said they believe the measure will bring more civilian participation to the LAPD.
Deputy Mayor Jeff Gorell, in an interview last week, disputed the idea that the measure is a backroom deal, saying voters will have the final say.
While Wesson worked to avoid explicitly mentioning Charter Amendment C at Tuesday's hearing, Councilman Paul Koretz expressed no such qualms.
Koretz told the audience that he supported Charter Amendment C and expects voters will approve it. But the councilman also voiced concern with the findings of a city report that civilians who serve on LAPD disciplinary panels have been "consistently more lenient" toward officers when compared with their sworn counterparts.
"I supported this [ballot measure] expecting it to be a positive. And then we find out that civilians actually, in this process, were more favorable to the officers than other officers," said Koretz, whose recent reelection bid was bolstered by more than $56,000 from the police union. "That's not necessarily anybody's intent on the council."
Koretz asked the activist panel for ways of selecting civilians who are tougher on officers. Pete White, executive director of the Los Angeles Community Action Network, responded by saying council members should have posed such questions before putting the plan on the ballot in January.
Melanie Ochoa, staff attorney with the ACLU of Southern California, told Koretz that the city's report on the leniency by civilians at the LAPD came out weeks before the council placed Charter Amendment C on the ballot. Opponents raised the issue as they tried, without success, to persuade council members not to put the measure up to a public election, she said.
"The record was before you when you voted," she told the committee.
Supporters of Charter Amendment C dispute the idea that all-civilian panels would be more lenient, saying that over the six years studied by the city, civilians rarely reached a conclusion different from their sworn counterparts.
"We feel the claim that civilians are more lenient is just not supported by the data," Dustin DeRollo, a union spokesman, said in a recent interview. "We're talking about a very small number of cases."
Twitter: @DavidZahniser
Twitter: @katemather
Sign up for Essential California for news, features and recommendations from the L.A. Times and beyond in your inbox six days a week.
You may occasionally receive promotional content from the Los Angeles Times.